BY SIMON EBEGBULEM, Benin City
Alhaji Asari Dokubo, a former President of the Ijaw Youth Council and leader of the Niger Delta Peoples Volunteer Force (NDPVF).
In this interview with Saturday Vanguard in Benin City, he bared his mind about current political situation in the country, saying that the people of the South South are prepared to protect the Presidency of Goodluck Jonathan, and warned the North against fielding candidates in 2015.
He insisted that after the tenure of Jonathan, the presidency must move to the South East for the interest of peace and harmony.
Ahead the July 14, governorship election in the state, he expressed optimism that President Jonathan will ensure a free and fair election.He also warned that the people of Edo State and the Niger Delta will resist any attempt to rig the election in favour of the Peoples Democratic Party (PDP). Excerpts:
Few months ago the PDP in Edo State threatened to take you to court after you endorsed Governor Adams Oshiomhole,and warned against rigging?
They say clear conscience fears no accusation. The warning was not directed to any particular party. It was made in the direction of any body who attempts to manipulate the election. But if the PDP believe that it was directed at them so be it because the people of Edo State cannot afford to go through the trauma that they went through the last time when their mandate was stolen and it took them time, as they went through pains and people even died to reclaim the mandate. I think the PDP should be calling for free and fair election. If there is no PDP Federal Government I don't think the PDP will be playing God in Edo state or else where.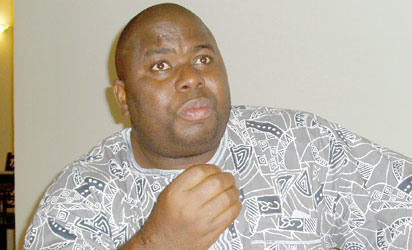 The truth is that without a PDP Federal Government I don't think the PDP can contest election in Edo state and hope that they can win up to five per cent of the votes because of their antecedent in the state. Benin City is like my second home after Warri. For eight years that the PDP was here they destroyed the state, there was nothing to show that there was government. Today, the people can see the difference between Adams Oshiomhole and the rest. After Dr Ogbemudia and Alli the state was dead, every body went to sleep.
But Adams has rejuvenated the state, he has woken the people up. If it was in a society where opinion polls matters, by now we would have known the loser and the winner. Oshiomhole would not even go through the rigours of campaigning. There is a new Edo State today and any body who cannot see it is not fair to the people of the state and the people of Edo state should reject such person.
So the PDP knows that they do not have any locus to take any body to court, I am free to say any thing I want to say, go any where I want to go to as long as I don't flout the law of the land. And what I have said in this particular situation is very very true that no body should attempt or even think of rigging this election. The people will not allow this election to be rigged, the peoples votes must count.
But there is this talk about Jonathan deploying the Federal Might in Edo state to capture the state for his party the PDP?
I am a supporter of Goodluck Jonathan and the Goodluck I know cannot do such a thing. However, some people change when they get into office. But it is not to the advantage of Goodluck to rig the election in Edo state for PDP because it will cause a serious problem in his base if he allows the unity that was there before his election to be eroded due to pressure from  few cabals.
The whole people of the South South got up to say to hell with tyranny, they look at arrogance eye ball to eye ball and told them you don't have the powers to stop us and they voted for Jonathan. We said we will stand you and any thing you bring we are ready to bring to fight.
Even though Oshiomhole is an ACN man,  though Alhaji Dokubo is not a PDP man, came together with one voice and brought Jonathan. It was not PDP that brought Jonathan to power, Jonathan enjoyed the popular vote of the people. Our people in the South South did not protest during the fuel subsidy removal because we are aware that some people said if they don't produce the president they will make the state ungovernable for Jonathan and they have been doing that.
We did that because Jonathan is our own. And if Jonathan with all these now decides to support those who want to steal the mandate Edo people will freely give to Oshiomhole, then I think people like us will start to question our support for Goodluck Jonathan.Then he will no longer be representing the collective interest of the people of the South South and the Niger Delta and the South East and all the oppressed people.
Our support for Jonathan was not because he is Jonathan, our support was that look for the first time after June 12, we are confronting tyranny and telling tyranny that you cannot cross this line.For the first time after June 12, we are confronting arrogance that we are born to rule, that this line you cannot cross it, we dared them and they could not cross the line. Jonathan may not be the best in the South South but he represents the symbol of our freedom.
If after the people made this sacrifice, then Jonathan will now turn round and connive with some people who for ten years, held the people of Edo State hostage, held the people in darkness, poverty and penury, then some of us will say no, you are no longer representing the interest of the South South, the oppressed people.
Look when people talk about money, I laugh because Jonathan will give me more money than any thing I can get from Edo state or Oshiomhole. But the battle we fight people don't understand, some people sat down some where to say we are minority and we asked, where have scientific census been held to determine who are minority and who are majority.
That you have the right to perpetually subjugate us, to take our resources, to destroy our environment, murder our leaders and nothing will happen. Jonathan did not fight to become President, it was the collective struggle of the totality of the people of the South South, the people of the Middle Belt, the South East who has been considered as second class citizens in a country that belongs to all of us.
And it will be  very wrong for Jonathan to pay back to the people of Edo State, by backing any plot to rig Oshiomhole out of power when the entire people of the state appreciate his performance. If that happens, people like us will say you no longer represents our interest so go and use your federal might to confront those who think that they are born to rule, they have the exclusive preserve for power, if you can go and confront them without our support we will say okay go.
I don't believe that there is any might that can stand against the might of the people when the people have spoken. And I don't think Jonathan will buy that because he is too intelligent for that.
Of what political value are these so called god fathers in Edo State other than they will manipulate the electoral process to rig election. Will Jonathan be interested in seeing the blood of the people who voted for him to flow? Because I know that the people of Edo State, the people of the South South who sees what Oshiomhole represents will resist them. I don't think Jonathan is ready to gambel with the good will he enjoys from the people, he will not.
June 12 and renaming of UNILAG after MKO Abiola
I think the renaming of UNILAG is a very small start. It is a step in the right direction but one comes to question the sincerity of those who has been crying all these about Abiola. Some of us now come to see that the MKO who we supported with out lives, that some people especially his people were only using his name, to get power. The decision of President Jonathan clearly exposed their hypocrisy. But I think it is not enough.
For those of us who believe in what Abiola did, some body who was close to MKO Abiola, I believe the President of Nigeria should go on and restore to MKO the status of a former President and pay all his entitlements for four years to his family.
Then June 12 should be declared an Abiola national public holiday and it is easy to do it through an act of parliament. This will not totally remove the injustice but it will go along way in mitigating the injustice that was done to MKO Abiola and Nigerians. And again those who are responsible for the annulment of June 12 election should be brought to book.
President Jonathan will take his two terms
Ordinarily it will be too early for any one of us to be talking of 2015. But I was the first to say in public  that Jonathan has no right to say he was not running because we in the South South are entitled to two terms. And Jonathan is in the best position as a sitting President to run for that two term.
That is the tradition every where. But I want to say it is premature for any one to start talking about 2015 now, Jonathan has just been in government for one year and he has to show reasons why the people should re-elect him. and these reasons will be based on his developmental achievements, fighting corruption, enhancing democratic values, for me these are the issues.
But for now because of the arrogance every body has taken a very rigid stand, we have been forced to take a stand. Jonathan is from the South South and as his people we have been forced to take a stand. So you now find out that judging Jonathan's administration based on performance is no longer there, people are now saying since you have decided we have decided too.
The situation has come to monkey no fine but the Mama like am. You cannot ask me now to access Jonathan's government based on performance, we have passed that stage because the day we decided to be fair, the Northerners are not ready to be fair. And you cannot sell your brother. So all of us have staked all that we have, all that we have laboured for all these years because we believe that the collective interest of our people is greater than our individual interest. And Jonathan today represents the collective interest of the Oshiomholes, Timi Sylva, Peter Odili, Dokpesi and so on, the collective interest of our people.
For over the years people have been feasting on us and insulting us. Now instead of discussing about our economy, no what they are saying is the right of the North to rule. No no, it is not your right. You don't contribute any thing to this fraudulent union.
These are the issues, but Jonathan has been there in one year and you expect him to clear all the rots of over 50 years. He is not Prof. Peller or TB Joshua, he is not a miracle worker. The rot has been there, but that does not mean that we are encouraged by what is happening no, but we cannot come out to say it because the battle line has been drawn. We cannot leave our flanks open because the enemy will infiltrate.
They said Boko Haram, how does Boko Haram affects me? If they are doing Boko Haram where they are and they don't come to my place to do their Boko Haram, that is not my business. But if we are living in a good society where every thing is fine, then we would have started making some comments that this thing is wrong or this is good. But we are no longer there. The North has created an atmosphere of a failed society where every body now is in the trenches to defend his or her territory.
I am not apologetic about it. So until the North goes beyond the stupid arrogance we cannot be united. No body will accept this arrogance. As far as I am concerned if there is a realistic census the South will be five times more populated than the North because there is no where in the world where the desert part of the world will be more populated than the tropical savanna, it is not possible.
As long as I am concerned there are more Ijaw people than Fulani people in this country because I have traveled to see Ijaw people every where. Ijaw people are migrant people as the Fulanis are also migrant people, so why should they call us minorities. So for me, 2015 Goodluck Jonathan does not have the right to say he is not running for presidency. It is our right to have two terms and they have to respect that right.
They have to wait for us to run our two terms but if they want to disrupt the polity by saying that they want to run, let them go ahead, we are ready for them and we are waiting for them. We are not going to let our right go because some people think they can kill, are they the only people who can kill? This killing business there are professionals in it o, if they feel they can kill we too can kill, we are not afraid of that.
It is to their interest that they should not disrupt the polity and that they don't attempt to run in 2015 because we the people of the South South must complete our two term and Jonathan is in the best position as the sitting President to ride on.
But are you not scared the insecurity will be worst if Jonathan decides to run for another term?
If we are living in a normal society, yes every body should be bothered about the carnage being masterminded by Boko Haram, it is lives of our brother and sisters that are being lost every day. But we are now living in a very rigid society where every body is standing on his own, you can no longer see what is right or what is wrong. For us the people who instigated this crisis in the North are there and I think the government of Jonathan has not done enough to bring these people to book.
These people openly told us that if you win the PDP primary we are going to fight you and that if you win the general election we are going to make the country ungovernable and that is what is happening. There is no smoke without fire. So when Azazi said that PDP is part of the problem, people started criticizing him but it was actually PDP that started the issue of zoning. The North said if they don't have power back every body will die but we confronted them that we are all human beings, if you have life and we have life so if we are going to die you too will die, there is nothing you can do.
The senseless  killing in the North does not represent Islam, it represents the narrow interest of a section of the North which I feel does not represent the totality of the interest of the people of the North.
It is the interest of the people of the North after criminally seizing power, appropriated the totality of the power of the people for over 30 years, it is in the interest of the North to relinquish power to the people of the South South and South East who has never tasted power in a country where they contribute over 80 per cent to the sustenance.