By Daud Olatunji
Dialogue with the Islamists now if you want peace! That is the message coming from the highest echelon of the Nigerian Muslim community to the Federal Government. The secretary general of the Nigerian Supreme Council for Islamic Affairs (NSCIA), Dr. Lateef Adegbite, disagrees with those with the position that dialogue is not a viable option to end the Boko Haram crisis.
In fact, Adegbite takes a swipe at the leadership of the Christian Association (CAN), questioning their opposition to dialogue with the Islamists. However, the NSCIA chief believes that for the dialogue with the group to be effective, it must go side by side with incentives, employment generation and poverty alleviation. Adegbite also speaks, in this interview, on government's new initiative on Almajiri education and his personal life. Excerpts:
How do you see the efforts of Federal Government to tackle the Boko Haram sect?
I think the efforts of the Federal Government should continue, government should continue to put in more efforts to effective dialogue because there is no solution other than dialogue. Those who are saying no,don't talk with violent people, there is no where in the world that you don't talk with violent people; even after wars, you must come around the table and dialogue to have terms of peace. We must stand up for solution through dialogue and then we must carry on other programmes, incentives; the poverty issue is important.
If I were in government, I will concentrate on poverty battle, the flash points like Boko Haram , so that they themselves will say there is something good for them to seek in the Federal Government. Incentives, employment generation, special programmes should go side by side with the dialogue especially in the areas where there are conflicts, as the number of Boko Haram members continue to increase because many of them are unemployed and an idle hand is the devil's workshop.
Then, government should also take tough measures against the recalcitrant ones amongst them, and those who are extremists; we cannot allow them to be killing innocent people. Those of them who want to be violent should be flushed out and dealt with, and those who are reasonable, you draw them down through incentives. Those who are violent and extremist, deal with them, but you must do things according to the law, without provoking more violent reaction.
What is your view on the seeming cat and mouse relationship between Muslim and Christian leaders. Sometimes, a Muslim leader will say `let's dialogue with these people' , the CAN President, Pastor Ayo Oritsejafor, and his people will say `NO, government should not dialogue with Boko Haram?'
I am surprised about the style of leadership of our colleague, the president of CAN. What solution does he have if he doesn't want dialogue? The solution has to be two approaches, you strive and lure those who are moderate and dialogue with them, those who are extremists, deal with them.
He (Oritsejafor), recently criticized us on a very serious issue. He has forgotten that maybe the world will listen and our own government will listen to us, that we must introduce incentives, we must solve  the problems, and he knows them. So he has to change his style of leadership.
Recently, government established the Almajiri education school in Sokoto, and the first set was launched by President Jonathan. How does that affect Nigeria in general?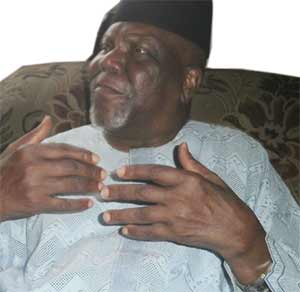 I was happy to be there when the president was launching the programme. It is a very important step taken by the Federal Government, we are going to mop up all these child street beggars and put them in school, some boarding house facilities, very modern gadgets, computers and so on, its a very fascinating programme, big programme, huge programme.
My fear Is the sustenance of the programme because government has built the school, equipped it, then hand over to the state government to run and manage, that is where the problem lies whether they will run it successfully. It is a very wonderful revolutionary step, and it will help to train young people, it will help curb or eradicate the culture of begging, you know, this street begging.
According to the statistics from government, there are 9.3million young people that they are going to look after. They gave the figures round the geo-political zones. In our zone here (south-west), it is just under one million, maybe 800,000 or something like that, but it is an enormous programme. If we agree on it, it will be good for the country and will be good for Islam.
It is like government is losing the battle against the Islamists. As a stakeholder, what is your candid view?
Well, I have given very candid views; unfortunately maybe by first or second chance, the situation got out of hand and that was very bad. I think the people, I mean the Boko Haram people, I don't know who they are and how many they are, whether there are other groups there calling themselves Boko Haram.
But the whole thing was unfortunately mishandled. The killing of their leader and the extra-judicial killings of many of their members, it was a terrible incident, with the shooting issue. I saw it, I was shaking with fear, I saw it on Aljazeera television, they were lined up, some of them were cripple and they shot them, and then the indiscriminate arrests of some of them got them angry and, instead of protesting constitutionally, they decided to use self help and started creating problems.
Now I will not say that the efforts of government have failed. These problems are not easily resolved, you know they have their own different versions, different books. In my own view,I believe that the Christians or Christendom, we must also come out with more objective, constructive view that their leader may find appealing.
For the upcoming ones, they will want to read about your life, how did you became what you are, because there is no where in the world that your name doesn't ring a bell. Can you tell us some things about your personal life?
You have to go into the archives. About five or six years ago, my biography was written, `Abdul-Lateef Adegbite," A life of the people', you have to get one copy of that (laughs). If we are to talk about my life now, we'll not go half way till midnight and there are other works in progress, more biography will come, they are expecting me to write my own memoirs which I will do.
I will not just say I was born on this date, I attended this school, it will be on issues, like education, legal practices, religion and sports. I was the president of the Nigeria Olympic Committee for eight years, so with many things like that and I know what sports journey has been like, that is why I decided to quit sports administration and all that, so its a lot of story to tell.
So what can you say about integrity as an integral part of leadership?
Well I think that's a very good question,we are where we are now, particularly on corruption that is virtually about to consume the nation, because personal integrity has collapsed and everybody has succumbed to materialism. Integrity is a very important thing, I would give the analysis that I would have been a very rich man if I had compromised my integrity.
I will give you an example, when I was the commissioner for justice in the defunct Western State, I was allocated a land, I couldn't afford to pay for it, a friend, Chief Femi Sodeinde, lent me the money so that it will not waste there, I paid the money back later. Now, to develop the land became a problem; ,my quintessence, Chief Taiwo Akinlola, built a palace like a building next to me, I tried to fence it,but then it was difficult. Then my bank manager, UBA, at that time, suggested that he would lend me money to build it or to develop the property. I declined, even though it was going to be a loan.
Subscribe for latest Videos