By VICTOR AHIUMA-YOUNG
LEADERS of the Maritime Workers Union of Nigeria, MWUN, led by Comrade Anthony Nted, were in Lagos ports as part of their tour of ports formations in the country to meet with shop floor workers, explain union's actions, know their problems and how possibly they could be addressed.
Nted who detailed some of the achievements of his leadership since assumption of office over three years ago, noted that the union had not only improved the living conditions of workers in the sector, but also reformed the ports' workers and insisted workers' rights remained paramount.
According to him, "before now there was no collective bargaining agreement for Dockworkers but today, we have a collective bargaining agreement. Those who do not understand may ask why there are many workers who are not on permanent employment.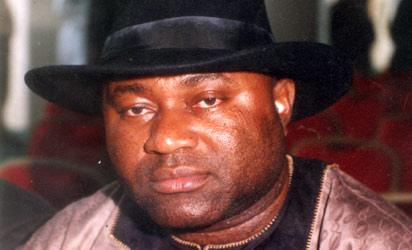 If you go to ENL Terminals alone, you will find out that there are more than 1400 workers and the job they do is based on traffic and Nigerian Ports Authority, NPA, is not giving them any financial support. For example if at the end of the month, the contractor has no money to pay NPA will not give them money to pay.
It is when you work that you are paid. In our operation, we have three types of wage system. We have the time related wage, we have payment by tonnage and we have the unit payment on containers. Those areas that you have  permanent employments are maybe, container terminals where they can only employ few workers like 100 or 200."
"What we have today is systematic causal because everybody that is doing casual today is under the contributory pension scheme. Everybody is a contributory member. We have tried our best to ensure that every Dockworker in the terminal has a future.
I remember last year, we were able to reach an agreement with the terminal operators and NPA. We have an increase of 15 percent per unit payment of container and some paid seven and half percent and would pay the balance this year. They divided it into two because Federal Fovernment refused to increase their charges.
Since the inception of the terminal operators, the Federal Government has refused to increase money for the operators. It was our fight and strike of one day stoppage of work that made the Minister of Transport and his counterpart in Finance to meet to find solution to give them small increase. They were given 25 percent for handling charges and that  was the maximum."
Port operations' charges
Nted said "Government claimed that the Nigerian port was more expensive than any other port in Africa and that they wanted to reduce it at the expense of the workers. We told government to look at the areas that made the ports to be expensive, not the salary of workers. We argued with them and were able to get seven and half percent and by June this year, we would also get five percent increase per container and those who work on permanent employment."
"Now about Tally clerks and onboard security, after our negotiation with NPA, Nigeria Maritime Administration and Safety Agency, NIMASA,  and other stakeholders, it was agreed that Tally clerks be given 15 percent increment with arrears.
The arrears terminated September last year and when that came to an end, instead of them continuing with the new rate they stopped and now they are owing nine months arrears and NPA  is going to pay another arrears .Besides that, they are going to increase their salary again with another 10 percent in this June.
We told the Managing Director that some people in NPA do not want to work and that the best thing to do is to ask them to go because there are millions of people who are looking for work. We made it clear to him that if nothing is done we will take action but he promised that he would do everything within his power to address the issue."
Dangote, APM terminals
"Dangote is one of the richest men in this country and the total amount to be paid to the workers in dispute is about N23 million. It is not a big money compare to the job they did in that terminal. Some lost their lives and some are even coughing out blood and are still in the hospital up till now.
After protracted discussions with the management, they said they cannot pay that amount because some of their staff  in sectors such as Food and Beverages or Chemical, if they work five years, they are paid N53, 000 and they said that is what they would pay to our members.
We told them that our own condition of service is different from them. We made them to understand that our minimum standard agreement states that when somebody is going to retire from job or the company is declaring redundancy, the company and union would meet to discuss the severance package that is quite different from the pension.
After much argument, we  told them that the standard set up in the industry before now which other terminal operators are paying, the least which is N200, 000, should be paid to the workers including the pension they contributed in the last five years."
"All this was agreed but when they took the agreement to the Indian who is in-charge, he said that the workers had no right to collect any entitlement that they were causal workers that they picked on the road.  We have blocked the company  twice but they pleaded with us that the issue would be resolved. But if they refused to have the issue resolved, we will resolve it in our own way.
We have another terminal operator which is APM terminals. They have penchant for unfair labour practices. They think they can just come here and enslave our workers. We are not a union that goes about begging for money. If we get check-up dues, we use it for the welfare of the workers.
We utilize every kobo that comes to us judiciously. They want us to go down on our kneels and beg them for our rights, but we can't do that. We reached agreement on buses for the workers, they could not honour it. Now what they want to do is to reduce the workers from two persons per crane to one.
Even the agreement we reached with them on the condition of service that is 40 percent increase for junior and 25 percent for senior, they paid 25 percent last year, then 15 percent this year. When we saw the payment, we discovered that even what they were paying before the increment was higher than now that there is increment, which implies instead of increase, they reduced.
When we asked, they told us that it was one former President that owns the company. We don't care who the owner of the company is. Our concern is that the right thing must be done, if not, we will close down the company. The work that these workers are doing, can the owners do it or  can they climb the containers that these workers are climbing with all the hazards involved? If they refuse to do right thing like I said, we will close down the company."