By Inalegwu Shaibu
ABUJA — Senate Committee on Aviation has ordered Lufthansa Airlines to pay to the Federal Government N2.198 billion being debt owed from non-payment of royalty or face sanctions.
The committee also summoned former Minister of Aviation, Mr. Babatunde Omotoba, to appear before it tomorrow over the violation of aviation laws by Lufthansa.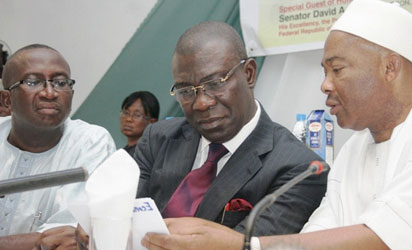 Chairman of the committee, Senator Hope Uzodinma, gave the directives yesterday upon discoveries that Lufthansa Airlines had violated its Bilateral Air Services Agreement, BASA, with the Federal Ministry of Aviation in 2008.
Uzodinma, lamenting that Lufthansa took advantage of the Nigerian market to violate the agreement, ordered the Nigeria Civil Aviation Authority, NCAA, to ground the airline if it failed to pay the debt.
He said: "I direct you now to write Lufthansa to pay all our monies to NCAA because there is nothing binding either in the MoU or commercial agreement that would stop Lufthansa from paying. Listen let me tell you, people are quick at comparing us with all these mushroom countries.
"We have this huge market here that must be protected so when they go and have something convenient for them in Ghana and Togo that is not up to two local governments in Nigeria, you now use it as a model to implement policies in Nigeria and we lose money. This makes us look stupid before the international community.
"I think, as a matter of fact, you must join hands and protect the market which is our own treasure. So in my opinion, you should liaise with the NCAA and recover this money from Lufthansa. If it means grounding all the aircraft to ensure that our laws are obeyed, we will do it. We must develop the will as a people.
"As at 2009 to November 2011, we have an outstanding $14,833,000,000 and the invoices are here issued by NCAA. I want you to support NCAA, retrieve your letter so that they can receive their money because this is an entitlement of government.
"I think that as we call for the review of your MoU and the BASA, we ask Lufthansa to pay all monies due to government. It is unfortunate Lufthansa people are not here, they are quick at sending lawyers."
Agreements between Lufthansa, Nigeria Airways
Earlier, General Manager, Air Transport of NCAA, Mr. Peter Alawani, in his presentation to the committee, acknowledged that there were commercial agreements between Lufthansa and Nigeria Airways, which gave Lufthansa the rights to operate four frequencies between Nigeria and Germany.
He said: "As a matter of fact, commercial agreements are between two airlines wanting to cooperate on a particular route in terms of exchange of the rights that their various states have already granted to them, after the negotiation of the BASA rights. Like between Nigeria and Germany, the BASA agrees on four frequencies and the point of entry is Lagos.
"However, during the Nigeria Airways days, Nigeria Airways and Lufthansa went into an agreement to the extent that Lufthansa can take over the frequency that is not being utilised by Nigeria Airways and pay Nigeria Airways for utilising such frequencies.
"After the demise of Nigeria Airways and there was no national carrier, that role of commercial agreement was taken over by the Ministry of Aviation and, thereafter, when such agreements are reached with the Ministry of Aviation and the airlines, the implementation is done jointly but now judging from Section 75 of the 2006 Act, NCAA keeps the account in the CBN where these commercial agreement money is normally paid."