By CLIFFORD NDUJIHE
Continues from Wednesday
HOWEVER, Southern leaders have picked holes in the Northern leaders' claim that the North built the country through agriculture.
According to them, as early as 1910, the two southern regions – East and West had always generated more revenues than the North, a major reason they said influenced the British amalgamation of Southern and Northern protectorates.
In an article, Structural Constraints to Socio-economic Development in Nigeria, published on November 11, 2007, Kayode Oladele said the increasing pressure to amalgamate Northern and Southern Nigeria in 1914 appeared to have been motivated by two socio-economic factors – to relieve the British treasury of financial burden, and surpluses derived from Southern Nigeria could be used to subsidize the North.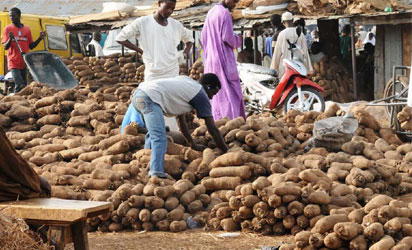 In furtherance of these, he said Mr. L. Harcourt, the then Secretary of State for the colonies, while addressing the British Parliament in June 1910 said: "In Southern Nigeria, the revenue has increased by £867,000 and the expenditure by £661,000 and there is for the current year (1910) an estimated surplus of £120,000…
Northern Nigeria has up to now been and still is a subsidized protectorate, but whereas in 1906, the Grant-in-Aid…was £315,000, in this current year, after providing for such interest, the Grant-in-Aid asked for is only £156,000 or less than half, and with the amalgamation ……
Grants  in aid
I hope that we may be able to set a short term to these Grants-in-Aid and at the same time relieve the Treasury from its liabilities and the protectorate from Treasury control (House of Commons Debates, 29 June, 1910, Vol. 18 Cols 1036-8).
In his book Nigeria: The Tribes, The Nation or the Race? F.A.O. Schwarz showed how much each of the then three regions (East, West and North) got from the federal distribution pool between 1959 and 1962.
According to the book, while the former Eastern Region generated more revenues, it received the less from the distribution pool compared to Western and Northern regions. Then, revenue allocation was based on 50 per cent derivation, per capita distribution, population and balanced development among the regions.
For instance, in 1959-60 fiscal year, the North generated 5,396 million Pounds and got 12,124 million Pounds (69.2 per cent) from the Distribution Pool; West generated 4,273 million Pounds and received 15,417 million Pounds (78.3 per cent) while the East generated 5,341 million Pounds and got 9, 413 million Pounds (63.8 per cent).
In 1960-61, the North's IGR nose-dived to 3,885 million Pounds but it got an increased allocation -13,775 million Pounds (78 per cent). Within the year, the West generated 4,294 million Pounds and received 16,250 million Pounds (79.1 per cent) while the Eastern Region's IGR was 6,189 million Pounds and it was allocated 10,629 million Pounds (63.2 per cent).
Also, in 1961-62, the IGR/Allocation in millions of Pounds were: North, 6,333/15,504 (71 per cent); West, 6,031/16,307 (63.2 per cent); and East 7,274/13,390 (64.8 per cent. The East started getting a raise following improved oil exploration.
By 1963 after the creation of Mid-Western Region and increased revenue from crude oil, Schwarz said the money distributed came from two sources: 30 per cent of all import duties (other than the few mentioned in the table, which are transferred in their entirety to the regions, and the duty on beer, spirits, and wine, which was kept by the Federal Government) goes into a Distributable Pool Account.
So did 30 per cent of the royalties and rents received from mining enterprises, including oil wells. Then the money in the Distributable Pool was transferred to the regions in the ratio of  40 to the North, 31 to the East, 18 to the West, and six to the Mid-West.
Contribution of crude-oil and gas to Nigeria's total export
The North's contribution to the Distributable Pool of the Federation paled into insignificance from 1970 when crude oil became the chief revenue earner of the country. Throughout the decade of the 1960, the contribution of proceeds from crude-oil to total Federal Government revenue was of limited importance.
However, according to the Central Bank of Nigeria, CBN, Statistical Bulletin, Golden Jubilee Edition, December 2008, Nigeria earned N166 million from crude-oil in 1970 representing 26.1 percent of the total revenue. This jumped to N12.353 billion (81.1 percent) out of annual total of N15.233 billion in 1980.
By 1990 the contribution of oil earnings to total Federal Government revenue stood at N71.887 billion (73.2 percent) of total revenue.
In 2000, proceeds from crude-oil and gas contributed N1.591 trillion out of a total of N1.906 trillion representing 83.5 percent.
And the contribution of crude-oil and gas earning to total federal government revenue in percentage continued to hovered around 80 per cent except in 2007 and 2009 when it fell to 78 percent as a result fall in production and export resulting from political tension in the oil producing areas. In 2008, the figure was N6.530 trillion (82.9 percent) out of a total federally collected revenue of N7.868 trillion.
Amounts received by the three Regions of Nigeria from the Federation (in Pounds)
S/N ITEM                            Region    1959-60  1960-61    1961-62
1 Import Duty (Tobacco)
North          516,347         515,731 479,600
West             1,142,413   1,068,845                       1,002,010
East              1,564,862   1,429,868                       1,243,070
2 Import Duty
(Gasoline)
N.                   759,878          679,385                        759,850
W.                  1,350,459   1,179,871                       1,988,350
E.                    772,917          880,344                        982,800
3 Import Duty
(Diesel Oil)
N.                   496,659          655,597                        858,600
W.                  402,759          611,270                        802,950
E.                    410,562         525,785 667,800
4 Export Duties
(Produce, Hides, Skins)
N.                   4,451,466    4,078,298                      3,354,800
W.                  8,447,011    7,488,591                      5,658,710
E.                    2,684,841    2,457,199                      1,883,600
5 Excise Duty
(Tobacco)
N.                   1,449,433    1,522,640                      1,881,890
W.                  1,619,285     1,708,743                     2,116,470
E.                    500,601            388,956                      479,600
6 Mining Royalties
& Rents
N.                   414,255            529,454                      689,720
W.                  79,247               114,919                      1,326,200
E.                    415,717           492,476                       2,951,350
7 Distributable Pool
(Mining)
N.                   282,983           982,960
W.                  169,983           589,780
E.                    219,180          761,790
8 Distributable Pool
(General Imports)
N.                   3,654,671    4,993,662                      5,431,580
W.                  2,192,802    2,999,060                      3,259,950
E.                    2,183,370    3,868,119                      4,209,470
9 Total Rounded off                                                                          
N.                   12,124,000    13,775,000                15,504,000
W.                  15,417,000    16,250,000                  16,307,000
E.                    9,413,000      10,629,000                   13,390,000
10 Sub-totals Regional Revenue (Federal + Internally Generated)                                                                                    
N.                   17,520,000    17,660,000                   21,837,000
W.                  19,690,000    20,544,000                   22,338,000
E.                    14,754,000   16,818,000                    20,664,000
Source: Adapted from Table 11.1 of  Book by F.A.O. Schwarz (Nigeria:  The Tribes, The Nation or the Race?  MIT Press, 1965; page 206).
Distribution of solid minerals in Nigeria
State                        Mineral
Abuja (FCT)          Marble and tantalite;
Abia                        Gold, salt, limestone, lead/zinc, oil and gas
Adamawa              Kaolin, bentonite, gypsum magnesite, barites,   bauxite
Akwa Ibom           Clay, limestone, lead/zinc, uranimum (traces) salt, lignite (traces), oil and gas
Anambra               Lead/zinc, clay, limestone, iron, lignite, salt glass-sand, phosphate, gypsum, oil and gas
Bauchi                    Amethyst (violet), gypsum, lead/zinc, uranium
Bayelsa                   Clay, gypsum, hignite and manganese,  lead / zinc (traces), oil and gas
Benue                     Lead/zinc, limestone, iron-ore, coal, clay, marble, bauxite, salt, barites, gemstone, gypsum, oil, gas;
Borno                     Diatomite, clay, limestone, oil and gas (partially investigated)  gypsium, Kaolin, bentonite;
Cross River           Limestone, uranium, manganese, lignite, lead/ zinc, salt, oil and gas
Delta                       Marble, glass-sand, clay, gypsum, lignite, iron-ore kaolin, oil and gas
Ebonyi                    Lead/zinc, gold, salt
Edo                         Marble, clay, limestone, iron-ore, gypsum, glass- sand, gold, dolomite, phosphate, bitumen, oil,gas
Ekiti                        Kaoline, feldspar, taticum, granite, syenites
Enugu                    Coal, limestone, lead/zinc;
Gombe                   Gemstone, gypsum
Imo                        Lead/zinc, limestone, lignite, phosphate, marcasite, gypsum, salt, oil and gas
Jigawa                    Barities
Kaduna                  Sapphire, kaolin, gold, clay, serpentinite, asbestos, amethyst, kyanite, graphite and  sillimanite, mica, aqua marine, ruby, rock crystal, topaz, flouspar, tourmaline,gemstone, tantalite
Kano                      Pyrochlore, cassiterites, copper, glass-sand, gemstone, lead/zinc, tantalite;
Katsina                   Kaolin, marble and salt
Kebbi                      Tantalite, limestone and bitumen
Kwara                    Gold marble, iron-ore, cassiterite, columbite feldspar and mica
Lagos                     Glass-sand, clay, bitumen, sand tar, oil and gas
Nasarawa              Beryl (omerald), acquamarine and bellodor, dolomite/marble, sapphire, tourmaline, quartz,                                      amethyst (garnet) topaz, zircon, tantalite, cassiterite, columbite, limonite,       galena, iron-                                          ore, baryles, feldspar, limestone, mica, cooking                                   coal, tale, clay, salt and chalcopyrite
Niger                      Gold, talc, lead/Zinc and iron-ore
Ogun                      Phosphate and clay feldspar
Ondo                      Bitumen, kaolin, gemstone, gypsum, feldspar, granite, clay, glass-sand, dimension stones, coal, bauxite, oil and gas
Osun                      Gold, talc, tourmaline, columbite, granite
Oyo                        Kaolin, marble, clay, silimanite, talc, gold, cassiterite, aquamarine, dolomite, gemstone,                                              tantalite
Plateau                   Emerald, tin, marble , granite, tantalite/columbite, lead/zinc, barites, iron-ore, kaoline, cassiterite, phrochlore, clay, coal, wolram, salt, bismuth,          fluoride, molybdenite, gemstone and bauxite
Rivers                     Glass-sand, clay, marble, lignite, oil and gas
Sokoto                   Kaoline, gold, limestone, phosphate, gypsum, silica-sand , clay, laterite, potash, flaks, granite                  and salt
Taraba                    Kaoline, lead/zinc
Yobe                       Diatomite and soda ash
Zamfara Gold
Source: Federal Ministry of Solid Minerals. Abuja (cited in Tell, July 11, 2005) and Multi-disciplinary Journal of Research Development Volume 9 No. 2 December, 2007