By Morenike Taire
Though she reached the golden age of three score and a decade last year, legendary actress Taiwo-Ajayi Lycett is far from retired, let alone tired. Her signature easy elegance still intact, she shuttles between her two homes in Lagos and England, seeing to family affairs, state affairs and of course cultural affairs. Our date- under the century old trees of her Lagos garden- begins with her decrying the new threat of terrorism on the media.
It was not until the subject of acting was brought up that her eyes were lit up with this incandescent glow. She speaks of the age old profession, as of her upcoming reality show, the realities of acting in every dimension and the reasons she endorses Nollywood. Excerpts:
What is this reality show going to be about?
It is my thesis that if you train actors in the act of stage, all the disciplines involved in that will feed television, because they will be skillful.
Are great actors made or born?
Are great doctors made or born? People have innate talents. I always liken actors/performers to a rough diamond. It's just like glass, then you give it to a polisher, they polish it, they work on it. Men kill one another for it. Women hate themselves for it. That's what a true actor is: innately gifted like the diamond, crafted by nature but until it is cleaned and polished it remains like a piece of broken glass.
You made the analogy of the doctor, but I would say they are rather different, because a doctor was not born with a talent to be a doctor. Maybe someone who is compassionate might then wish to be a doctor…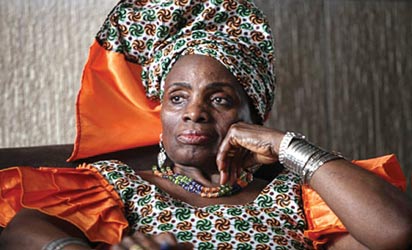 So, why do you think that is different? If you get a child who is listening to music, she is partial to art, has a special flair, sensitivity to literature, articulate, wanting to engage, wanting to communicate with someone, very young, very voluble and always wanting to entertain- there is something that child wants to say, not so much, "look at me!".
You find some fine doctors, not only the technical training to be a doctor. You have to have fellow feeling. You have to wake up in the morning and say, I want to heal somebody. That's a talent. They know there's a difference between a vocation and avocation.
Anybody can be an actor. You don't really have to be talented. There are a lot of people who are exhibitionists. They don't necessarily have talent. A true doctor has not embraced a vocation. It's an avocation, a dedication that is made at the innermost part of his mind when he was growing up. Something must have triggered it.
Would you say acting is an art, science or commerce?
It's show business. It's got to be all. Of course, it's a science. Just because you are talented doesn't mean you have the skill. The skill is the science. You have to learn all the sciences. You have to be an informed actor.
You have to learn about life so you must know some sociology. You have to know current affairs, you have to be an observer, what makes a doctor tick. What does a doctor do to be a doctor? Not just wear a coat and say I'm playing a doctor. What takes over somebody's mental state for them to be insane.
This is on the realm of science. You have to have this knowledge so you can wear their shoes, illuminate their concerns and lives. What a true actor is doing is putting a mirror to life. You have to know how your body works, know the link between your body and your mind. You have to know how to recall memory. These are bearing on metaphysics so it is science.
You have to package these to sell to people. You don't necessarily have to have a business sense but you have to commercialize because if you do not you cannot draw people's attention to it. You have got to make money in order to improve the service you are giving to perpetuate it.
Metropolitan opera house. People will travel to New York from all over the world just to go and see the opera so they are planning  five, ten years ahead for the bill they are going to run. They draw a budget. Commerce is a very strong engine that runs this business.
Without that income they are expecting from local consumers . Above all in our case we have to let them see what our culture is all about, our own perception of life, our own brand of thinking; and earn money. We are educating the world, developing our skills and the ripple effects on the economy is immeasurable.
When you have people coming here spending euros, pesos, dollars and the ancillary services that go with that: lighting designer, stage designer, director, stage manager, producers, cleaners, front of house staff, printing. Commerce is absolutely vital, and support of the arts.
The summer is coming, the UK will be brimming with tourists and a lot of them are visiting the theater. They are promoting their culture, bringing money, hotels are doing well. That is what I will like to happen to Nigeria. This acting that we take so lightly, these are some of the things we haven't really seen clearly because we think it's, in the main, just an indulgence on some people's part who don't have anything practical to do.
The business is supposed to be airy fairy and not really structured. I am hoping that in my time we will get more and more interested. We just had Ujaama from South Africa. How many of our own shows can we take around?
The other time the Fela show had to come from New York…
I would like to change that direction.
What are the differences between acting on stage and film?
A world of difference. Acting is more organic than anything else in the sense of its being organic. You are on stage, you are dealing directly with the audience . In film you learn a bit of lines, they shoot it and if you don''t get it right they say, take one, take two!
Night after night you have to stand up there, you cant afford to forget your lines. You have to get your characterization right. There are no excuses. Once you are on stage, either you are prepared or not. You can't say you are sorry, no!
It has particular discipline, ability to communicate directly with the audience whatever you are feeling. You have to use your voice in a way you don't necessarily have to do in film because they are using mics. I went to a stage play and saw they were carrying mics- that's a new one to me.
You are trained to be able to project your voice very well. The training you get to perform on stage is much more rigorous and that is why I want to teach people on voice elocution, voice production, dance, acting itself.
Exactly where to stand- back stage, stage center, etc. people do not have to know these in film. Film also has its own skills.
It's dealing with your face; the camera can almost get into your head and read your feelings. You have to be sure what you want to communicate. It's all very intimate with the camera because now it is your audience. Everything is subtler, quieter, more deliberate, because the camera cannot bear big gestures and loud voice so you have to scale up your acting skill to television and film.
Is it possible to be good at both?
Oh yes! If you know how to act you can modulate. If you know how to act on stage you can traverse all these. Radio is another one that people don't often talk about because you don't see anybody.
People would not rate it as acting since you cant see anybody.
I would have thought it is probably a very powerful medium. In radio acting you paint pictures for the audience and they can use their own mind to see the picture- nothing more powerful than that. To use your voice to create a situation, a town, a person, so much so that people think they know that person. Have you never heard of a radio play in England about farmers? They believe the farmer exists for some forty years. All of them are trained actors.
What was your experience as an actor working abroad as a woman as well as a black person?
I had a great time. At the time we were working, ostensibly, there was supposed to be discrimination (laughs)
I recall in Mind Your Language,there was a lot of that…
Mind your Language was what it was called  here. I forget what they called it in England. They had all the racism in that one. That was when they were trying to be inclusive and everything. When we were working- and I started work in the 60s- when there were not many Africans  working on the English stage or television for that matter- it didn't stop me.
I didn't find any handicap. That was when I had my major experience in the business. I worked all over the country, at the Avant Garde theater in London, Royal Court theater, Sloane square, Mercury Theater in Colchester all of them English plays, no special black characters, but they gave me parts.
So, are you saying that skill and talent will overcome all mountains?
I think merit always wins. I think meritocracy is real.
What do you think of Nollywood?
It's  started, and it's working
Is it?
On a level, yes. We don't have to reinvent the wheel. We've got the talent, we've opened the door to the idea of a possibility. A lot of them are now trained but generally it's gloss We have Nigerians all over the world and they are buying the tapes and that's a level of success.
I would like for them to buy some of our Nollywood products because really that is what international trade is all about. I don't mind buying Hollywood products but I'd like them to buy mine as well. Everyday we are reading how much we owe them. It's called Balance of Trade.
Could it be that there are just so many of us so we do not feel the need to look outwards?
Are we more than America? That is the largest country in the world yet they have dominated the artistic consciousness of the whole world. What is wrong with wanting to- if you like- colonize everybody's views?