Emmanuel Aziken & Henry Umoru
…On Constitution Review: No no-go areas this time
…Govt needs superior intelligence to combat terrorism
Lawyer and lawmaker, Senator Ike Ekweremadu was in characteristically amiable mood penultimate Wednesday when the team of Sunday Vanguard reporters arrived his Apo residence that morning. As Deputy President of the Senate and concurrently Speaker of the ECOWAS parliament, it was not surprising that a visitors from within and outside the country including lawmakers were all about the residence.
In between attending to his guests, Senator Ekweremadu who turned 50 yesterday spoke to Sunday Vanguard on his odyssey from the remote village of Amachara Mpu in Aninri Local Government Area of Enugu State, through the thick and thin of the extremism of post 1999 politics in Enugu State to his present duties as Deputy President of the Senate.
A former lecturer in Constitutional Law, Ekweremadu was at one time executive chairman of Aninri Local Government Area and subsequently Chief of Staff, in the Chimaroke Nnamani administration in Enugu and then Secretary to the Government of Enugu State.
In 2003, he was elected senator to represent Enugu West Senatorial District. In 2007 he was re-elected by the same constituency and on top of that he was elected unopposed as the Deputy President of the Senate. In that period as Chairman of the Senate Committee on Constitution Review, Ekweremadu led the senate to the first alteration of the 1999 constitution. In 2011 Ekweremadu was re-elected by the Enugu West Senatorial district to the senate and also re-elected as the Deputy President of the Senate. An additional feather to his cap was his recent election as Speaker of the ECOWAS parliament, the regional parliamentary body that sits in Abuja.  Excerpts:
At 50 what is your assessment of the little boy, Ike from Amachara Mpu?
Well if you look back at 50 years, it was like it was just yesterday. I want to thank God for the modest achievements I have recorded these past 50 years. And if you recall that the beginning of these 50 years was also around the time we had the civil war. I was born barely 4 years before the war started.
At that age there was hardly anything you could do in terms of contributing to the war. It was just that one was like a victim. Running from place to place, hiding from the battle and also you know inconveniencing your parents because they also were trying to protect you. After that, by the time the war was over, all the schools had been shattered, hospitals shattered, markets shattered, all the infrastructure were gone and that was the time people like us grew up.
So that was the environment we found ourselves, going to school under the trees, under some shades.
It was really tough at that beginning. Economically, it was tough. Socially, it was tough. There was no basic infrastructure and then of course, most people who came back from the war, soldiers, who were disengaged from the war took to armed robbery. So there was also insecurity, but by the grace of God we were able to pull through those tough periods and then move through school and by the grace of God we are able to find ourselves where we are today. It has been a busy 50 years from the onset till now.
Do you think Nigeria has done you well?
Sure, the society has done a lot in my life and that is why I try as much as possible in everything I do, to also find time to give back to the society. From my humble beginning from my village, I was able to go through the local government being elected as chairman, got up to the state became SSG to the government, and came to the centre to be number two lawmaker in the Senate of the Federal Republic of Nigeria. So what more can one expect from his country? So I am really grateful to the society and the people of Nigeria for giving me the opportunity to serve.
Did Nigeria do well to other members of your generation?
Well, they have created the platform for everybody to thrive, for you to take up the opportunity, to hold on to the opportunity and make the best use of the opportunity. And when opportunity comes, not everybody will take the full advantage of in to the same degree. Maybe some people did not take the full advantage of the opportunity the system and our society created.
If the society gave you the platform to develop yourself how do you react to claims that those of you in leadership helped by society are not showing the same gesture to the future generation?
Well the platform we are talking about, it is just the basic opportunity of life. At least there was a school to attend, there was a university to attend, and there was a court for me to go to when I graduated as a lawyer for me to practice my profession; not that I had scholarship at any point, not that the society provided any social safety net for me and indeed for any person. The thing I am talking about is that right now, finding myself in a peculiar position, I have gone through some of these things struggling to be where I am today and by the help of the platform which the society provided, I believe it is also incumbent on me and the rest of us who have found ourselves in the position of leadership, also to give back to the society in various degrees.
Everybody has his own perception of what he needs to do in terms of contributing to the society. And of course, we are like players in the field; everybody has a particular role to play. So I believe that since I found myself in the parliament, I can safely say that Nigeria parliamentarians have contributed their own quota towards giving back to the society in terms of quality of legislation that emanated from the various parliaments especially when you note that the parliament has suffered a lot of setbacks because of the military interventions within this period that I am talking about.
Besides learning under trees, what unique things marked your growing up that you have not told Nigerians?
Like I said, after the war, it was very hectic for those of us…
(Cuts in) Did you have shoes to wear?
Yes, of course, I had shoes but not all this kind of shoes you wear… (general laughter.)  It was really tough; the whole Southeast was affected by the war because that was the centre of the war. So it was expected that those of us who grew up within that period had a rough time.
You are chairman, Senate Committee on Constitution Review, is the committee working in tandem with the equivalent committee in the House of Representatives?
I have made that position that we are ready to work with the House of Representatives and I have spoken personally and directly with the Speaker and he welcomed the idea. But we are going to have a formal response from them in that regard, and we expect to work with them and like I said, it's going to be cheaper for the country and it is going to save everybody time and it is going to bring even more intellectual variety because the more, the merrier. Two heads they say are usually better than one. So I would like to work with them.
Are you ready to make sacrifices in terms of position, co-chairmanship and so on? Are you ready to serve under the deputy speaker?
I don't mind serving under the deputy speaker but, I am sure he will not like me to serve under him!
With regards to the constitution review, I would like to know your focus this time. Are there no-go-areas?
First of all, there is no go area. We are going to look at all sectors.
One of the issues in constitution review is that of state creation and considering your own presentation in Canada, about the issue, about the burden of government. What direction do you think your committee will go?
You have to take it from two levels. First of all, there is injustice and imbalance in those states that were created in the past. So people are agitating for those imbalances to be corrected, those injustices to be corrected and so we are going to address that.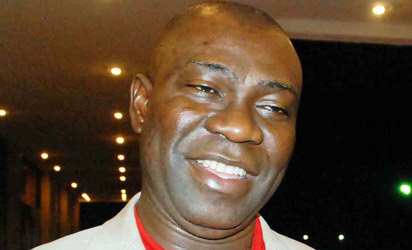 The second level of it is the systemic failure I talked about; even when we create all the states there is still need for us to review the structure of our federalism. So that is why we need to begin to think about a long term plan, how to restructure our federalism even when we are creating states so that we don't have cluster of states coming together as provinces, as region and as whatever you want to call it. They will now form the core federating units of the country so that they can undertake major regional projects and be able to stand on their own like strong federal states all over the world.
But as long as we are splitting, we are weakening the ability of those states to perform their responsibility as federating units. They will now continue to depend at the centre. So if you bring them together in clusters and so that they can now have muscle to begin to tackle some of the responsibilities of governance today, it is going to be much easier for everybody.
How do you feel that some of your resolutions in the Senate are not implemented?
Well, again we have to go back again to the constitution. The constitution in section 88 gives us over sight powers to do investigations. But specifically it now said those investigations should be for the purposes of exposing corruption and for purposes of amending the extant legislations. So that is where the problem started. So the executive at the different levels, they understand clearly that in fact all our resolutions, technically are not binding but to me they are persuasive.So a listening government should be able to take this seriously because when a whole senate and the House of Representative take up an issue and come up with a resolution it should be substantively persuasive.
But the framers of the constitution in their own wisdom did not want it to be binding. But if you compare it with the American constitution, their resolutions are binding if it receives the requisite votes, which is equal to a vote necessary to pass legislation. In fact some of their legislations are sent to the president for assent and when that happens, it becomes binding. So we are also proposing to bring about a legislation that will make some of our legislations binding if they receive a particular quantity of votes from both senates and the House of Representatives.
You are talking about the executive not implementing your resolutions, but the Senate itself has refused to consider a number of committee reports from some of its own committees?
I am sure you are aware in the sixth and seventh senate, there was no committee empowered to carry out public hearing on any issue that has not been reported to us. I am not aware of anyone that was reported to us that we didn't decide on it.
What of that of agriculture, the food crisis?
I think what happened with the food crisis was that it was overtaken by events. When it came was the time of the problem of Yar'adua's illness and all that and we couldn't take it. But if you would recall that of aviation which Senator Ude chaired, we took a concrete decision, it was carried to conclusion. The one for FCT, which Senator Sodangi chaired, we also concluded it and likewise the report on the sale of public enterprises by the Bureau for Public Enterprises, BPE.
Why is the Senate always going back to the BPE? Is it targeted at Mallam Nasir El-Rufai?
We never targeted El-Rufai. He was not the only person who headed the BPE; I am sure you are aware of that. So it is a public duty that called for it because these were public enterprises that were meant to provide jobs to a number of Nigerians and because they were weak, government decided at that point to commercialize some, to sell some, so that they will be viable and be able to sustain the vision of creating jobs for our people and some things happened that most of those visions were never realized.
Even after the Senate resolution that the government take all steps to end the spate of insecurity in the country the problem is still persisting. What is happening?
The principal purpose of government is the protection of lives and property of individuals. So we still maintain our stand that government should do everything. I am sure you will also recall that I said in that session that funding is not an issue, it is an issue of ideas. So we are determined to support the government in every way including appropriation to ensure that the security challenge is dealt with adequately.
It is not only Boko Haram, I am sure that you are aware that there is a resurgence of kidnapping in the Southeast, armed robbery is also coming back. So government needs to really put a lot of resources to ensure that these things are suppressed once and for all. I am sure you know the implication of what it is to us as a country. All the bad names it is giving us, scaring away investors and giving our children the psychology of growing up under such circumstances; it is enormous, so it should be a priority for us as a country now.
Everything that has to be done including collaborating with other countries. We need to engage those who have experience in such situations to come and support us. It is not something to be proud of, it is something to be ashamed of if only to invite people to support us and help us in this situation. So we need to get everybody on board. This is a globalised world, so we need as much support as we can and government should not be ashamed about asking for support and help to get this thing sorted out.
Do you think the administration has the capacity to handle the insecurity problem in the country?
I am not in the position to make such a judgment. Let me also say that the challenge we are having is novel, except maybe for kidnapping which has been with us and then robbery. But the terrorist part of it is taking new dimensions every day. Look at what happened in Kano two weeks ago (BUK). It was not just about bombing, but this one, they threw bomb and people were running and they were shooting at them; so it has taken a very dangerous dimension. So it is more like overwhelming the government, so the government needs also to step up. If you have to curtail them, you have to come with a superior intelligence to do deal with this.
You are 50. Are you a happy man?
I am.
What is your philosophy about life? Secondly, what prompted you to establish the Ikeoha Foundation?
Let me start with the first one. I believe that as a person, it is difficult for you to be happy and fulfilled when your neighbours, your friends, your colleagues are not happy and they are not fulfilled. If you want to get happiness for yourself, you must get happiness around you. That is the only way such happiness that you have can be sustained. So I believe in giving back to the society, I believe in helping people to survive. I believe in helping people to have the same opportunity that I had. I believe in giving back to the society as much as possible so that the society will be a better place for everybody. I believe in equal opportunities for everyone. I don't believe in exclusion.
I believe that everybody should have equal access to resources, equal access to education, equal access to amenities and equal distribution of these things across the places that should have those opportunities. And so this was what led to my setting up of my foundation. Basically, I believe that even as I am in government, there are certain things that are difficult for me to get the government to do. With my own little resources, I can be able to do those ones even at a small scale and it will make a whole lot of difference in the lives of the people.
Because as a parliamentarian, it is very difficult for me to say to government go and give scholarship to so and so people in my area. But I can use part of my resources to get these things done. As somebody who is in government, it is difficult for me to say, government you must go to educate those who are not opportune to go to school but I can spend some my resources to create adult literacy programme so that those men and woman can read and write.
So some of these things are things that actually motivated me into setting up the foundation through which we have been able to settle our young men and women, support our widows, support women to ensure they have decent living and be able to have access to education because without education there is nothing you can do in this modern world. We need to also get them up to date, with the modern technology. So these are the issues that led to the setting up of the Ikeoha Foundation.
As a politician, you must have attempted some positions that you didn't get. How did you feel?
Personally, I believe in destiny, so that is just the thing. I don't worry about any situation. I hardly aspired for positions. Most of the things I received as positions, I never aspired genuinely for them.  They came naturally. The very few things I attempted to do myself never worked. When I became a local government chairman, I wasn't planning to be a local government chairman; we went to ask for the creation of our local government, I was the secretary of the committee; I was obliged to make the presentation even with other elders of the area who were with me.
So God blessed our efforts, we got the local government, I went back to my practice, one day they came to me and appealed that I should run for the chairmanship and I became the chairman. And that was how I was conscripted into the race, as it were and by the grace of God I won. Even when I was appointed chief of staff in Enugu, you know I was the first person to be made Chief of Staff (by the state government). There was no such thing in my card at all. And when I became Secretary to the state government, it took the governor days to convince me to accept the job, he is still alive; you can go and ask him.
Even coming to the senate, I was one of the last people that entered the race, I was not planning to become a Senator. And even when I became the deputy Senate president, I am sure you are aware I was unopposed, it wasn't as if I went struggling with anybody. My colleagues in their own wisdom gave me the privilege of being the deputy president of their senate for two consecutive times. So basically, I concern myself as a child of destiny.
As Speaker of the ECOWAS parliament, how do you feel with the return of military rule in some ECOWAS countries?
Thank you so much. I find it very embarrassing, I find it very disturbing because by the time I took office as the speaker, one of the things I praised was the fact that within the sub region, we were free from military coups, we were free from military dictatorship and that democracy was alive and thriving, though nascent. I praised the Nigeria government for the last election which was adjudged to be free and fair. I also praised the people of Ghana for their attainment in terms of democracy.
But as a setback, you've seen what has happened in Mali and what is going on in Guinea Bissau. Strangely enough, when I was the deputy Speaker of that parliament, we had similar a issue in Niger and I chaired the committee that intervened in the parliament at the time. So now that I am the speaker, for us to be witnessing military coming back to governance in Africa, in West Africa basically, is of much embarrassment to me and we are going to take it very seriously when we resume in May. So these are some of the things that will engage the parliament during the next session.
But I am happy that the authority of the Heads of State and the Commission is dealing with it adequately. As we speak, the authority of heads of state have met severally on the subject and they have also set up the committee, comprising the Chiefs of Defence of various member states to work out modalities to send soldiers to intervene  in those two places so that they will be able to bring back democracy to those places.
You recently lost your dad. Would you say that he died truly satisfied?
On a last note, I would like to say he died a fulfilled man because he saw all of us grow and he also witnessed the transformation we were able to bring to his domain as the Royal Highness of Anekeoji Mpu Autonomous Community.
So during his reign as his children, we were able to bring amenities to his community. He was able to witness good roads, he was able to witness electricity, he saw in his life time, pipe borne water in his community.
I am sure that he was a fulfilled man when he died and I am sure that wherever he is, he is feeling satisfied that he was able to see his children grow up and contributing to the society before his death. Some parents were not as lucky, some fathers were not as lucky to see their children to maturity before their exit. But in his own case, he was able to witness some of the modest achievements we were able to do through his endeavours and sending us to school.
Subscribe for latest Videos