By Ifeanyi Okolie
Esther Felix was a regular call girl at Pekas, a popular night club at the highbrow Allen Avenue, Ikeja, Lagos, until recently when she ran into trouble for organizing the abduction of one of her  customers, who happened to be a citizen  of the United States of America and the son of a Lagos-based business man (names withheld).
The deal made her richer by N5m which was the ransom placed on the head of their victim.  On the D-day, Sunday May 6, 2012, the 26-year-old victim identified simply as Ayo reportedly received an urgent call from Esther for a meeting that evening. Formerly, the duo usually meet at Pekas, their first meeting point and from there, they will proceed to other night clubs within Ikeja, before ending up in a hotel where they will pass the night.
Sinister motive
But this night, there was a change of plan. Esther wanted Ayo to meet a friend schooling at Lagos State University, who she had boasted could be very good on bed as she does.  Unknown to him, she was up to something more sinister than he could ever image.  She later led him into the hands of three heavily-built men, armed with dangerous weapons, waiting to kidnap him.
After they picked Esther's friend identified as Part Nnana some where around LASU, and were driving through Lasu-Igando Road, Esther told Ayo who was driving a Murano Jeep that she was pressed and needed to urinate and they stopped the car at Iyano School axis of the road.  Unfortunately, the spot turned out to be where they positioned the heavily set men for the kidnap.
Before Ayo could fathom what was happening, the men took over the wheels of his jeep and tucked him into the rear seat, preventing him from raising an  alarm.   He was then taken to the home of one of the men where he was kept for three days until communication was established between them and his father and the sum of N5m was paid as ransom before he was released.
How suspects were rounded up
However, Crime Alert gathered that  Ayo's father felt insulted with the manner at which his son was kidnapped and he vowed that he must see the end of the case by bringing the culprits to book. He therefore sent a petition to the Lagos State Commissioner of Police, Mr.Umaru Manko and the Police boss mandated officer in-charge of the command Special anti-robbery squad, SARS, SP Abba Kyari, to track down the suspects and apprehend  them.   Sources at SARS hinted that the moment the officer got the directive, he took his men to work and they started tracking the suspects.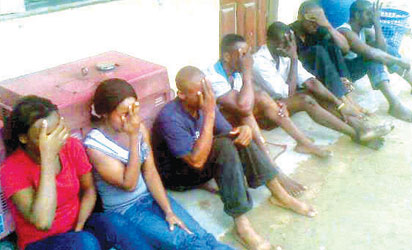 The source added that the leader of the gang whose phone was used while negotiating the ransom was the first to be arrested. "Through him, we were able to track others involved, including the two prostitutes who delivered Ayo to them.  During the cause of our investigations, we discovered that the kidnappers hid the number of their phone while negotiating for  ransom.   But we were able to unravel the phone number and we got the identity of the owner and went after him," he stated.
Her story
When Crime Alert met with Esther at the Command headquarter, Ikeja,  she opened up by saying that she was led into prostitution because of financial problems.  "It was  financial problem that pushed me into prostitution. I started going to clubs, especially night clubs, to look for men who were seeking fun. I used to charge N2000 for short time sex. But for full time, I used to charge between N3,000 and N4,000.
"I stayed in a hotel in Sango-Ota, Ogun State, where I met with men on short time and full time bases. Because I was finding it difficult to pay for the hotel room, I relocated to an uncompleted building in the town. I used to pay N1,000 for the room every day, whether I met with men or not. I also used to give the hotel manager N500 any day there was good business.
When I started going to night clubs, some men used to beat me and, at times, if they were three or four, all of them would like to sleep with me. My father is from Ondo but I grew up in Imo State. My mother is from Ugwu Aba village in Orlu town, Imo State. I was a student of Lagos State Polytechnic, where I was studying Mass Communication before I dropped out at 200 levels due to financial problems. I am even the breadwinner of my family.  I stabilized and made some money from prostitution.
I used to send money to my mother in Imo State and take care of my younger ones because our father was not helping the family in anyway. This made it difficult for me to save enough money. When I had managed to rise up to N800, 000, I started thinking of how to procure a ticket and a visa to travel abroad. It was during that time that I met one Wale and Bayo at Ikeja to help me travel out of the country. But they gave me fake passport and visa. When I got to the airport, it was God who saved me from being arrested.
I then went to Ikeja police station and reported Wale and Bayo for duping me. The case dragged for long and became boring, as nothing concrete was done to recover my money, while the people I borrowed money from were on my neck. I became frustrated and confused. I was in this state of frustration when I met Ayo who was so nice and caring. All I needed to pull out of prostitution was just  N200,000.
I started thinking that if I could kidnap this Ayo, his father, a stinking billionaire would give any amount to get his only child back. I contacted my friend Patricia, and told her about it. We discussed it and she said it was a good shortcut to big money. I told her that I had nobody with whom I could do the job and she said she knew somebody called Kingsley Okenwa aka Dragon.
How kidnappers were contacted
She contacted Dragon and he said he could do it perfectly. We then fixed an appointment. On the day we were supposed to meet, I told Dragon that Ayo  would be driving a jeep by himself from Opebi and that I would go there to meet him, as he had told me that he wanted to sleep with Patricia and I together.  I told Dragon and his men to wait for us at Iyana School Bus Stop along Lasu-Isheri Road.
We got to Iyana School Bus Stop that evening. I pretended that I wanted to ease myself. Ayo pulled over and came down. Before I could bend down, Dragon and his men appeared with daggers and entered the Murano Jeep. They forced Ayo  to the back seat and Osi took over the steering. We drove to a room in Iyana and the five of us stayed there.  Ayo was not chained.
He knew that I had planned the kidnap, so he asked why I was risking his life because of common N200, 000, which he said he would have given me without any stress if I had asked him. We demanded N10m from his father, but Dragon later collected only N5 million and five of us shared it."