By Ebele Orakpo
The need for man to go back to nature has once again been emphasised. This time, by researchers at Babcock University, Ilishan-Remo, Ogun State. In this chat with Vanguard Learning, the Director of Research and International Co-operation, Prof. Kayode Olushola Ogunwemimo speaks on the different areas of research the university is involved in, their work on natural fertiliser to replace NPK and how they raise funds for the researches. Excerpts:
Said Ogunwemimo: "My area of research is actually broad. I have a background in ecology, cytogenetics, biosystematics and I also have training in Genetic engineering and biotechnology. I am interested in phytochemistry particularly all that deals with the bioactive components of plants and how that can benefit humanity. I am also interested in ethnobotany, the way indigenous people made use of plants and how that has sustained their health, nutrition and survival over time.
"I also have interest in evolution. I believe God created organisms, that is settled within me; but I am interested in the changes that happen in organisms with interaction with their environment over a very long time. So when you look at environment which is the aspect of ecology, and genetics which is the aspect of what we inherit from our parents and how those interact to produce changes over time, that is the evolutionary aspect that I am interested in.
"I teach philosophy and history of science which establishes the principles of science in young science students. It tells them that science does a lot of wonders but science in itself is limited by its methodology and the experience of the scientist, and we do not know many things as at present so as more evidences come, we review science. We also look at the history of the world and how science has graduated, how it has changed the world view and how it has changed the technological development of countries. If Nigeria adopts science and technology, definitely, it will create better life no doubt and then transformation into higher economic value and GDP."
A consuming nation:
"What we have been doing is consuming the products of science but we have to be producers ourselves. Rather than selling crude oil, we can  refine it and get about 1,000 other products that we can use, and that can generate jobs and even better life. Nigeria cannot continue to struggle with about 67 million youths without job. They will overstretch the security apparatus so except we provide jobs, we cannot have restful youths and science and technology offer a lot in that aspect.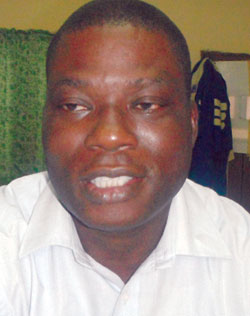 "As the director of Research and International Co-operation, I am not interested in personal research but in university research. We depend on individual scholars, we monitor them, support them with grants and also look for grants for them and then we bring them together to collaborate on multi-disciplinary research and we can up-end that at the university level to really transform that into development, that is what we have been engaged in," he said.
Natural fertiliser:
Prof. Ogunwemimo said they are already working on a natural fertiliser which will replace the artificial fertiliser and they are looking forward to getting the African Union (AU) research grant worth over N100m. This project will not only improve the economy but also improve health and environment.
"In the proposal for the AU grant, we were actually focused on the use of arbuscular mycorrhiza. They are fungi which occur in the soil and they naturally help plants to absorb nutrients from the soil. We are looking at that as a kind of supplement or alternative to artificial fertilisers. You know when you use the NPK artificial fertiliser, over time, you destroy the soil structure and actually deplete the nutrients in the soil.
"And again, it can result in runoff from the farm and that can lead to eutrophication ie excessive richness of nutrients in a lake or other body of water, frequently due to runoff from the land, which causes algal bloom and death of lives in the lake. So we are looking at that natural alternative that is available and affordable. You know what politics surround fertiliser – the availability and promptness of supply.
"We are going to be working on maize and talfairea occidentialis (ugu). We found that women are mostly engaged in the production of ugu and we saw that many of them actually use it to sustain their families and send the children to the university. As a result, we targeted ugu and looked at how arbuscular mycorrhizal fungi can aid the supply of nutrients naturally from the soil to the crops. So we can produce the fungi in large quantities and supply to them. The research will involve collaboration with about five universities in Africa but Nigeria will be the major one with Babcock University in the forefront.
Biodiversity data for Nigeria:
According to Ogunwemimo, they are also looking for grant to organise a biodiversity data for Nigeria in collaboration with Ebonyi State University and Nebraska University in the US. "One of the natural endowments we have in Nigeria is vegetation. It offers wonder plants like moringa and all the pharmaceuticals we use and all of the food we eat, all come from plants.
Sometimes, the plants are there and we may regard them as useless because we don't know the value. The whole world is looking for solution to AIDS and it may come from a plant but we don't know so we need to protect that endowment and bequeath it to generations coming. We have to make a conscious effort to ensure that our major cities particularly are re-grassed and we do reforestation, plant trees in our towns apart from the reserves."
Why plant?
Harping on the need to plant trees and conserve our forests, Prof. Ogunwemimo said that plants save us from some toxic chemicals. "They absorb some of the toxic chemicals produced in the industries which can impair our health. They also serve as carbon zinc. The whole world is talking about climate change and if we cut all the plants, what takes up the carbon dioxide that we are producing from industry and from our breathing? They need to take that up and use it for photosynthesis.
So we need plants in our cities. Rather than just cutting down trees without monitoring, we need to actually maintain these natural plants. Some of them are endemic, which means we need to conserve them. They are not found in any other place so we are seeking that grant to generate information from all our herbaria. The oldest and one of the largest is the Forest Research Institute, Ibadan and that is a lot of information that the country can use.
Part of the problem we have in Africa is how to use information. When we get information from our basic research, how do we organise it to benefit humanity? Some of the preserved specimens there are about 100 years old. We need to get an electronic database of these specimens so that at the click of a button on your laptop, everyone could access it.