By Kenneth Ehigiator, Henry Umoru & Inalegwu Shaibu
ABUJA — THE Senate, yesterday, told the Federal Government to revive the dead Nigeria Airways before the end of this administration if the present indiscriminate hike in airfares by foreign airlines must be addressed.
It also called for a review of the Bilateral Air Services Agreement, BASA, between Nigeria and Britain.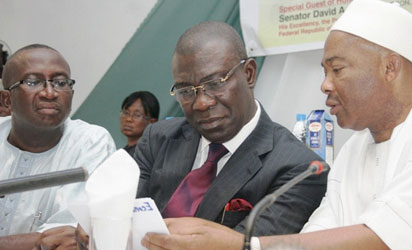 This came as management of British Airways told the senators that rather than discuss the issue of fare disparity, Nigeria should open up the skies and let more airlines come in, explaining why it could not cut down fares.
According to the Senate, the aviation authority should restore the agreement which allows Nigeria and Britain equal slots and frequency of 21, which only the British airline enjoys the full privilege, while Nigeria's Arik Air was left with only seven.
Speaking, yesterday, at the opening of a three-day public hearing on the violation of aviation laws and practice by foreign airlines in Nigeria and lapses in operation of the regulatory agencies by the Senate Committee on Aviation, Senate President, David Mark, said the return of the nation's national carrier would create employment opportunities for Nigerians as well as restore the country's image in the global aviation industry.
Mark, who was represented by the Deputy Senate President, Ike Ekweremadu, challenged Nigeria to use the present scenario in the aviation sector to make its impact felt in Africa.
He said:  "It is important that we direct the Minister of Aviation before the end of this tenure that Nigeria Airways is brought back on stream. I do hope that they will accept the challenge.
"We feel very embarrassed each time we travel abroad and see other airlines carry the national flag of their countries and the names of their respective countries and Nigeria is missing. It is not only for the purpose of national pride, it's important for the development of our tourism. It will also generate income and create employment for our people. This is the time for us to do something about it and restore Nigeria's past glory in respect of aviation and air travels. ''
Ashiru blames lapses on FAAN, NCAA, others
Minister of Foreign Affairs, Ambassador Olugbenga Ashiru, told the committee that the lapses in the aviation industry should be blamed on the Federal Aviation Authority of Nigeria, FAAN, Nigeria Civil Aviation Authority, NCAA, and other agencies, and warned against allowing what he  described as commercial dispute degenerate into diplomatic row.
He said: "It should be a commercial discussion and not dispute. What we have is a commercial dispute and what we see happening now is a failure of regulatory agencies to do their jobs. If the regulatory agencies had done their job very well, we would not have got to this stage. There is no justification for the rip off that Nigerians are going through."
Uzodinma,Oduah, Demuren condemn disparity
Earlier in his remarks, Chairman, Senate Committee on Aviation, Senator Hope Uzodinma, who noted that the public hearing was designed to get to the root of what really happened, how and why they happened, stressed that some pertinent questions had, however, come up, ranging from whether any airline truly manipulated the passenger fuel surcharge to the detriment of the Nigerian people and government.
He said: "Any revenue lost to the Federal Government must be recovered and returned to  its coffers. We are confident that at the end of this exercise, our aviation industry will be better, more efficient, more profitable and more competitive."
Also in her remarks, Minister of Aviation, Stella Oduah, who also described the disparity as exploitative and bad, stressed that she had issued stringent warnings to BA and Virgin Atlantic that the price imbalance would not be tolerated and must be dismantled.
She said: "Nigeria supports profitable operations when the profits are reasonable but rejects exploitation and unreasonable excessive profiteering by exploiting her people. We are still on this issue and your voice from the Senate is welcome."
In his contribution, Director-General, NCAA, Harold Demuren, who also condemned the fare hike by the foreign airlines, told the committee that in 2006, BA made a total gain of £451 million  worldwide, of which £112 million came from Nigeria.
Open up the skies, BA tells Nigeria
Responding on behalf of British Airways, the airline's Country Manager for Nigeria, Kolawole Olayinka, who noted that it was unfortunate and sad that the issue of airfare disparity and profitability was being discussed before the world, however, called on Nigeria to come up with more airlines to flood the market if the problem must be solved, adding that prices will tumble tomorrow if there was increase in supply.
He said: "But that aside, you did not actually tell us which laws were violated. I am a Nigerian and as a Nigerian, I will do everything possible where prices can come down, but we only need to do one thing. Prices are determined by the forces of demand and supply; let more airlines come in. Let more airlines fly into Nigeria many more times. Our skies are closed. Open up the skies and let more airlines come in."
On passengers fuel surcharge, Olayinka said: "Every airline in the world charge fuel surcharge; it is not a hidden charge, it is meant for airlines to recoup ever rising aviation fuel."
Why we can't cut fares
Meanwhile, British Airways said earlier, yesterday, it would be "notoriously" difficult for it to cut fares in Nigeria because of factors raging from market size, demand mix (proportion of premium to economy traffic), comparative operational cost to capacity, in comparison between the country and other nations in West Africa, especially Ghana.
Reacting once again to the Federal Government's 30-day ultimatum to foreign airlines to cut down fares or face ban, BA said it was wrong for the Nigerian government to have based its conclusion only on distance and geographical location in its assessment of fares charged in Nigeria and Ghana.
Explaining the reason for fare disparity between Nigeria and Ghana, the airline said: "Nigeria and Ghana differ substantially in terms of demand mix. The market in Ghana is smaller than Nigeria and has lower premium traffic as a proportion of total traffic.
"Premium passengers in Nigeria tend to book closer to the date of travel which results in higher fares, and once revenue management principles are applied, British Airways allocates a number of seats to each fare class and cheaper fares are available for bookings made in advance of the travel date but these will necessarily be limited to ensure that there are still seats available for purchase closer to the date of travel.
"This will, therefore, have an impact on prices, as it would do in any high demand/capacity restricted market.
Open skies policy
"The capacity stipulated under the ASA for Ghana, unlike for Nigeria, has not been reached and in any case, the government of Ghana has already shown a willingness to move towards an 'open skies' policy with no restrictions on frequencies in order for the economy of Ghana to benefit from the fast growing aviation market.
"An open skies policy will also attract other airlines to operate new services to Ghana, in the knowledge they will be able to increase services to match demand in the future, helping Accra to develop an aviation hub for West Africa."
BA said further that it was not correct to state that all of its fares on the Lagos/London and/or Abuja/London routes were higher than those on the Accra/London route, adding that in reaching this conclusion, it appeared that the highest premium fares from Lagos had  been directly compared to the lowest premium fares from Accra.
BA offers 40  different fares on Lagos-London route
According to the airline, no analysis has been given to economy fares, which account for by far the larger portion of its sales in Nigeria.
It stated:  "Our fare offering on the Nigeria-London routes is extensive.  In total, on the Lagos-London route, British Airways offers up to 40 different fares across all classes of travel at any one time, each with different conditions such as dates for travel, pre-booking periods and length of stay, which are designed to meet the needs of different passengers. In addition, we have many special offers throughout the year.
"Our cheapest Lagos-London Club class fare is currently $3507 ($3147 ex Abuja) which compares to the cheapest Accra -London Club fare of $2956, a difference of only $551 ($191 for Abuja), of which $227 is made up of higher Nigerian tax compared to Ghana.  So the relative fare from Abuja is actually cheaper than Accra, and only $324 more expensive from Lagos once additional Nigerian tax is taken into account.
"The cheapest economy fare from Lagos to London is $1051 and $999 from Abuja compared to the cheapest economy fare of $1,164 from Accra to London. In short, many of our Lagos and Abuja economy fares are either cheaper or only marginally higher than fares from Accra despite the problems of constrained capacity out of Nigeria.
Capacity restrictions
"The main reason premium fares from Nigeria are higher than those comparable fares from Ghana is attributable to capacity restrictions, brought about by current frequency restrictions on air services under the terms of the UK/Nigeria Bilateral Air Services Agreement, BASA.
"Under the BASA, UK designated airlines are unable to operate more than 21 services per week between the UK and Nigeria. UK airlines have always operated the full number of services allowed under the bilateral ASA. On the other hand, Nigerian carriers, which are also permitted to operate up to 21 services per week between Nigeria and the UK have not taken up their permitted frequencies.
"It should be noted in this context that in the period from 1999 to date, the frequency restriction has only been increased by four services per week for each side, which has not met the growth of passengers in the same period.
Excess demand for premium seats
"As a consequence, there is excess demand for premium seats on British Airways, resulting in very high load factors and, inevitably higher prices as BA seeks to ration seats in order to ensure that seats are available for our Nigerian late-booking premium passengers.
"As Premium capacity in particular is so constrained, if British Airways were to artificially suppress premium fares, important customer benefits, in the form of (1) late availability of seats; and (2) fully flexible tickets, would effectively be removed from the market and passengers would be unable to travel in their cabin of choice or make changes as may be required by their business needs.
"By contrast, pursuant to the terms of the UK/Ghana Air Services Agreement, there is still available capacity and frequencies in order to grow services further to meet market demand.
"British Airways is thus able to offer lower premium fares to stimulate the premium market, in full knowledge that we will nearly always be able to offer have late-available premium seats for sale. This is not the case in the constrained Nigerian market.
"All passengers travelling from Nigeria to the UK have a choice of both direct and indirect services. Passengers wishing to travel on direct services between Lagos and London have a choice of three airlines, namely British Airways, Arik Air and Virgin Atlantic.
"Passengers have further choice of indirect services with many European carriers such as Air France, KLM and Lufthansa, as well as other African and Middle Eastern airlines. British Airways competes fairly with all these carriers, and in choosing to book British Airways as opposed to the other available carriers, Nigerian passengers have concluded that British Airways represents at that time the most competitive and/or suitable option for their journey.
Passengers have a free choice
"Similarly, passengers have a free choice as to whether they pay more to travel in our premium cabins rather than in our economy cabin. Each premium cabin offers an increased level of enhanced service which British Airways prices accordingly.
"We emphasise that it is the passenger who must have the choice of which airline he or she travels on and at which level of service he or she wishes to pay for, which can only be achieved by a competitive industry.
"Rather than artificially suppressing fares, which have already been set according to a fair and competitive market in a deregulated environment like Nigeria, the Aviation Committee will do Nigerian aviation a world of good by ensuring the fast-growing market in Nigeria is better served by sufficient capacity to meet demand by greatly increasing permitted frequencies under the terms of the BASA.
"This would be the best way to ensure that fares remain competitive, that Nigerian passengers' demand for seats are met and that the Nigerian economy is not disadvantaged by lack of aviation connectivity with the rest of the world."
The airline contended that the UK government had been asking for increased capacity for its carriers operating in Nigeria, adding that the Federal Government was yet to respond to the demand.
Conformity with BASA
BA also argued that it had operated air services between Nigeria and the UK  in full conformity with the BASA between both countries, and noted that the two governments were still talking on the issue.
It said: "As mutually agreed by the UK and the Nigerian governments at bilateral talks in November 2011, the UK CAA is already undertaking an independent study of fares between the UK and Nigeria, and both governments agreed to await the outcome of that study in mid 2012.
"This is the correct procedure to follow under international law, which pertains to the BASA as it is an international treaty between the UK and Nigeria. British Airways remains committed to Nigeria and continues to serve the country and its people with daily flights to Lagos and Abuja.
"The comfort of our customers is of utmost importance to us, they are the very reason we remain in business, we are proud and delighted that we are able to offer a choice of different competitive fares, a choice of products and connections to our Nigerian customers."