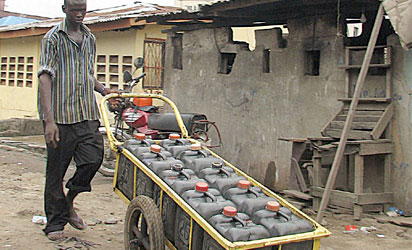 Water vendors (Mairuwa) at work. Pics: Biodun Ogunleye
By Jude Njoku & Bose Adelaja
WHAT an irony! That we live in a city that is surrounded by water yet we find it extremely difficult to get potable water for drinking and other domestic uses", exclaimed Pastor Chinonye Uzoma who resides at Amukoko, a sprawling slum in the Ifelodun Local Council Development Area, LCDA of Lagos State.
The Pentecostal pastor had asked one of his parishioners who drives a tricycle popularly known as Keke Marwa to assist him get a few cans of water because the taps in his compound and indeed, the entire neighbourhood had gone dry for months.
While many residents of the ghetto depend on water vendors known as Mairuwa. for their daily supply of water, others patronise water tanker vendors or retailers who own shallow boreholes. But the "Mallams" who supplied the water had suddenly disappeared from the streets while the unmotorable nature of roads in the area, had restricted the water vendors from coming to supply water on that fateful day.
The few tankers which manage to brave it to the area  sold at very high costs that most people could not afford it. When the Keke Marwa operator eventually arrived with the water, he told his distraught pastor that the vendors had increased the price of a can from N10 to N15.
Much as Lagos is surrounded by water, there are some residential areas in the city where access to potable water could be described as a luxury. Indeed Nigeria is one of the few countries yet to meet the millennium development goal, MDG, on water and Lagos is believed to have contributed a large percentage to the country's inability to attain this goal.
A visit to some areas like Festac Town, Ajegunle, Amukoko, Itire, Lawanson, Aguda, Meiran-Ijaye, Abule-Egba to mention but a few, reveal that residents have little or no access to water. Not even government -owned hospitals are spared the water scarcity. The result is that many water vendors particularly from the northern part of the country, have capitalised on the scarcity to go into trading on water. These ubiquitous water vendors popularly called Mairuwa in Hausa Language, have taken over virtually all the nooks and crannies of the city to sell the essential commodity.
While some well placed water vendors erect tanks in front of their homes which serve as water reservoirs, others make carts which they use to carry several cans of water to the homes of their buyers. But generally, water vending is seen as a lucrative business hence many people are going into the business.
The sale of water is an age-long business in this part of the world. Before now, the vendors (mairuwas) carried two tins of water on their shoulders. The two tins were usually held together by a rope on a flat bar which gives it a kind of balance on the shoulders.
Price: The cost of a 25 litres keg of water  varies from place to place and is dependent on the seller and the source of the water.  Some vendors buy in water tanks and drums and resell to end users who buy in smaller containers such as Jerry cans, buckets and gallons.
Those who patronise these vendors told VanguardFeatures, VF that the dryness of most taps in the city, compelled them to patronise  Mairuwas, although they know that the water bought from them may not be  potable.. A woman who lives at Arolawun Street,  Ilupeju, Mrs. Atinuke Robbinson told VF that the water pipes in her street have become rusty because water has not flowed through them for a long time now. Now that water has started running, she lamented that it is usually dirty and has a nauseating odour.
"As you can see, we now have regular supply of tap water in my area but the pipes are rusty and overdue for change because they were laid in the olden days. The water is directly from Water Corporation but it is dirty and usually smells. I stopped fetching it some years ago and I patronise water vendours instead," she said.
Dry wells: Most parts of Lagos depend on water from shallow wells for domestic and other household uses. Some residents of Awodiora Town and Achakpo in Ajeromi Ifelodun LGA told VF that they do not have access to pipe- borne water. Even the wells and bore holes are now dry because the rains have not been forth-coming.
Human consumption
According to them, the water from these wells and boreholes are unsuitable for human consumption as they are usually yellowish and smells. They noted that the only option available is to patronise water vendors for drinking. "We can only use the water from wells to bath after purifying it with chemicals like alum", they disclosed.
Although the Achakpo community in  Ajeromi Ifelodun can boast of a water scheme provided by Messrs  Guinness Nigeria Plc, residents of the area, alleged that the taps are usually dry and this scenario has necessitated their patronage of water hawkers. Another resident explained that the Guinness water project is too far from his residence, hence the only alternative is to buy water outside.
Another resident of Achakpo who introduced himself as Mr. Frank Akubueze, said he buys water in drums. According to him, he finds it difficult to patronise Mairuwas. ''Many people usually patronise Me Ruwas because they have no choice. I spend more than N1000 to fill a drum but I don't patronise Mairuwas because their Jerry cans are usually dirty. The water they sell has colour and there is the tendency that you can contact water borne diseases such Typhoid fever or Cholera from using water bought from them. I patronise those who sell directly, that is the water tankers; I have no option than to buy at that outrageous amount since we don't have access to water from the government ,"  Akubueze said.
Source unknown but k kreadily available: At Itire and Lawanson in the Surulere area of the city, Madam Fola Ogunibe and Mr. Onaolapo Godwin told VF they patronise Me-Ruwas daily.
"We come back from work late in the night and our saving grace are the Me Ruwas because we don't have time to start looking for water. Mairuwas are readily available; all we need to do is to provide the cash and the water will be at our door steps. We don't know the source and we don't need to ask anybody."
The business is lucrative – water vendour:
Although none of the Me-Ruwas was ready to speak, a water vendor and a resident of Olodi-Apapa, Mrs. Mary Ekaobong said she gets her supply from the Lagos State water Corporation. According to her, she buys  2000 litres of water at the rate of N2,500 and resells at N60 per 20 litres and N1,500 per drum respectively. "A friend of mine introduced me to the business and I found out it is very lucrative. My supplier brings it from Festac and I dispense to the end users," she said.
Water Corporation keeps mute: Effort to speak to the Managing Director of the Lagos State Water Corporation, Mr. Shayo Holloway, an Engineer failed. Although he did not pick his calls, he sent a text message requesting our correspondent to see Mr. Ladipo, the Corporation's image maker. After several calls and text messages, Mr. Ladipo replied to say he was still trying to book an appointment for a formal interview which he never did until press time. Rather, the Corporation sent a press statement in which it urged Lagosians to desist from using water from shallow boreholes.
Mr. Holloway noted that the majority of boreholes and wells in the State are shallow which means that they are not up to 150 metres deep or not subjected to technical and engineering specifications. According to him, "water from this aquifer is too prone to pollution with attendant health hazards, such as typhoid, gastroenteritis, diarrhoea and other related water-borne diseases."
He further noted that proliferation of boreholes has adverse environmental impact over medium or long term period with salt water intrusion from the ocean and land subsidence. Holloway described boreholes and wells as sources of pollution of the ground water, thereby causing its rapid depletion.
To ensure consistent water supply where consumers have tapped to its mains, the Corporation urged the residents to report whenever there is shortage of water supply to check the "stop-cock valve" which is usually within the premises on the service line as this may have been tampered with.
"Instead of reverting to service of water tankers, we urge you to contact the Water Corporation near your areas for quick intervention," Holloway said. He cited the recent rehabilitation exercise in Otto, Lagos Mainland as the cause of scarcity of water in Ebute Metta and Apapa Road axis adding that such exercise normally causes brief water scarcity.
Governor Babatunde Fashola had recently stated that the main reason his administration embarked on the construction of various water works and rehabilitation of the existing ones is to ensure that pipe-borne water is available to every home and industries in Lagos. He cited the construction of additional 15 mini waterworks spread across the local government areas of the state and construction of a dedicated 12.15 MW power plant for constant power supply to Adiyan, Iju and Akute water facilities as jointly responsible for about 90 percent of water supply to the metropolis.
Minister seeks prudent use of water: Minister of Water Resources, Mrs. Sarah Ochekpe said while the government is doing all it can to address the shortfall in water supply, the people must do their best to be prudent in the use of water. She said: "I want to use this opportunity to call on Nigerians to know that as essential as water is, it is important they know how to manage it properly," adding that the tap should always be turned off when not in use.
The Minister said it will cost about $2.5bn to provide potable water for 75 per cent of Nigerians. She explained that though the United Nations Children Fund said that the global access to water had been met, the nation is yet to achieve its target of providing water to all citizens.
Speaking at a forum in Abuja recently, Mrs. Ochekpe stated that Nigeria might adopt the Israeli model of water management to preserve its water resource. According to her, Israel does not use water carelessly, but uses it sparingly and also harvests rain water which is used during the dry season.
The government, according to the Minister, has spent $5m for consultancy services on the Lake Chad which had shrunk from about 2, 700 square kilometres to 2,000 Square kilometres in recent times
Declare access to water a human right:
Meanwhile, a non-governmental organisation, NGO, Bread of Life Development Foundation, has urged the government to declare access to safe water a human right for every Nigeria.
Noting that Nigeria is one of the 122 countries that supported the July 28, 2010, United Nations resolution that recognised the human right to water, the organisation in a statement by its Executive Director, Babatope Babalobi called on the Nigerian government to domesticate the human right to water in National water supply and sanitation policies and laws without further delay.
Given that most of the Millennium Development Goals and targets would not be achieved unless there is adequate and affordable access to water and sanitation policy, we expect the Nigerian government to accord the highest priority to the improved water and sanitation services delivery and the first step towards this is by recognising the human right to water, initiating programmes to implement and enforce this right. It is regretful that statistics released by the UNDP Human Development report projected that on current trends, Nigeria will not attain  the MDG water target before 2040 and it is unlikely to attain the Sanitation target until 2076.
This situation is unacceptable, but can be redressed if the President Goodluck Jonathan Administration accords topmost priority to the water and sanitation sector, implement appropriate reforms, adequately funding  water and sanitation projects and programmes and carry out far reaching measures to curb and curtail corrupt practices in the sector.
The Bread of Life also recommended several other steps to ensure Nigerians, especially  the urban and rural poor are able to access safe water supply and sanitation services.
Govt should declare national emergency in the water sector
The NGO also called on governments at all levels to prioritise water supply and push more funds to the sector. It enjoined the Federal Government to allocate fund for rehabilitation and expansion of state water schemes. At the Federal level, the National Water Supply and Sanitation Policy should be reviewed and the National Water Resources draft bill reviewed and passed into law.
They should make the  implementation of Water reform programmes by states a condition for Federal Government support to their water sector programmes. Bread of Life also wants the government to declare a national emergency in the sector while states should make a commitment to make access to 30 litres of safe water per day, within 250 metres a right of every Nigerian.
"In rural areas, household water treatment should be encouraged and popularised to ensure point of use water treatment. Low costs technologies for household water treatment that can be promoted include filtration and boiling. The government should launch a National Campaign for household water treatment to prevent future preventable deaths through water borne diseases such as guinea worm, cholera, etc," the group said.