By Tony Ubani
FEARS of a possible clash of functions between Super Eagles coach Stephen Keshi and newly recruited Technical Director of the NFF, Tom Saintfiet has been poured cold water by Alhaji Aminu Maigari who said that the two technical men need each other to excel.
"We hired the Technical Director because its a mandatory thing from World Soccer, FIFA. But many people have expressed fears that the two may clash in the cause of their duty. I don't think so. Instead, they need each other to excel", Maigari cleared yesterday in Lagos.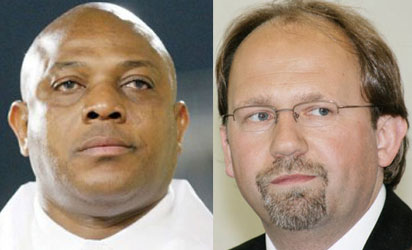 Belgian Tom Saintfiet is yet to resume but has expressed delight to work with indigenous coaches, promising to discover new talents as well as make the senior national team rediscover themselves and bounce back to reckoning in Africa and world soccer.
Maigari said that the Belgian would definitely contribute positively to Nigerian football with the help of indigenous coaches. "The man needs indigenous coaches. They are the ones who will show him around. He will be working with them and his recommendations would be passed to all the different national coaches. I do not for-see any area of conflict between Keshi and any other coach for that matter. The truth is that we are repositioning our football to move to where we rightfully belong".
Speaking on the home-based Eagles, the NFF President poured encomiums on the technical crew and the players for their hardwork and commitment.
"We're indeed proud of the job of Keshi and his crew and the boys that they are working with. Ours is to provide the good atmosphere and the tools for them. So far, they have done absolutely well", Maigari said passing a vote of confidence on the home-based Eagles.
On the issue of using over-aged players in the U-17 national team, Maigari said that age cheats should be totally wiped out by coaches and administrators.
2"To tell you how serious we view the issue of over-aged players, I have warned that no League player should be invited to the U-17 team.  I know that Pele went to the World Cup as an U-17 but we don't want any league player in the junior team", he emphasised.