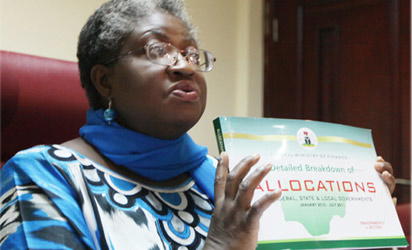 Finance Minister, Mrs. Ngozi Okonjo-Iweala
By Amaka Abayomi
With President Goodluck Jonathan yet to assent to the 2012 budget, concerned education stakeholders have called for the upward revision of the budget to meet the 26 per cent recommended by UNESCO, as the amount voted for education fails to adequately address the funding of the vital sector.
According to a breakdown of the 2012 budget, the sum of N400.15 billion, representing 8.43 per cent of the budget has been allocated to education. Out of this, N345.091bn (82%) was allotted to recurrent expenditure while a meager N55.056bn (18%) is for capital expenditure.
N317.896bn was proposed for personnel cost and N27.192bn was for overheads. Also, the main ministry had a budget proposal of N5.491bn; MDGs N2.173bn; parastatals N5.196bn; universities, N14.411bn; colleges of education, N4.555bn and unity colleges N7.663bn.
The ministry got a total capital allocation of N5.49bn in 2011, out of which N3.688bn was released; total commitment was N3.497bn and actual draw down was N2.699bn.
Disturbed by the huge gap between amount for capital and recurrent expenditure, the Senate Committee on Education has queried the large percentage of the ministry's budget voted for recurrent expenditure to the detriment of capital expenditure for infrastructure in the sector.
Chairman of the committee, Senator Uche Chukwumerije, said the distribution of funds between recurrent and capital poses challenges of slow pace in infrastructural development in the agencies and institutions.
A further breakdown showed that while personnel allocation increased by N38.584bn, overheads got N1.836bn and capital N3.231bn respectively, which Chukwumerije says 'are not remarkable enough to offer great changes from last year's achievements.'
Nigeria's educational system is bedeviled by a myriad of problems, which keeps worsening by the day, all as a result of poor funding.
These include: poor funding; shortage of quality staff; dearth of infrastructure; inadequate classrooms and offices; inadequate laboratories for teaching and research; shortage of books and journals; indiscipline; inconsistent and ill-conceived policies; corruption at high and low places; cultism; irregular payments of salaries; examination malpractices; embezzlement of funds; low staff-student ratios; poor record keeping; fraud and self-deception with regard to accreditation; failure to send staff regularly on short courses to improve and enhance their competences; and, the fact that government often reneges on the mutual agreements between it and the unions of educational institutions.
There is no denying the fact that education is very poorly funded in Nigeria, which is yet to comply with the UNESCO recommendation that 26 % of annual budget be spent on education. Nigeria spends less than 9 % of her annual budget on education. Botswana spends 19.0 %; Swaziland, 24.6; Lesotho, 17.0; South Africa, 25.8; Cote d'Ivoire, 30.0; Burkina Faso, 16.8; Ghana, 31; Kenya, 23.0; Uganda, 27.0; Tunisia, 17.0; and, Morocco, 17.7%.
In the Universal Basic Education (UBE) guidelines, every primary or junior secondary school in Nigeria is expected to have one general science laboratory for elementary science and domestic science; one ventilated improved toilet for a maximum of 40 pupils or students per toilet; and, one teacher to handle only 40 pupils or students in a class. But these criteria are yet to be met due to scarcity of funds.
In some primary schools, pupils sit on the bare floor in a classroom. Most secondary schools lack classrooms, libraries, laboratories and equipment.
In the universities, the scarcity of funds manifests itself everywhere on campus as there are no current books or journals, no laboratory equipment, limited number of lecture rooms, acute shortage of water, no basic chemicals, no specialised chemicals, 'no nothing'.
The situation in our educational institutions will improve considerably if the government spends at least 26-30 % of her annual budget on education.
Teachers in public schools are poorly paid, some are paid N8,000 monthly. Lecturers in our tertiary institutions are also poorly remunerated. The basic annual salary of a professor is N753,549, whereas a professor in Singapore receives ten times the salary of his Nigerian counterpart.
The salaries of educators must be raised considerably as Nigeria has the wherewithal to do so. Pointing out that education is key to the development of any society, the Action Congress of Nigeria, ACN, has called for an emergency action aimed at uplifting the declining standard of education in Nigeria.
According to ACN's National Publicity Secretary, Alhaji Lai Mohammed, "Experts have identified years of neglect of the educational sector, decline in expenditure on education, inadequate attention to policy frameworks, neglect of the welfare of teachers which has triggered incessant strikes, degradation of educational facilities and the massive corruption in the system as some of the factors responsible for the sorry state in which the sector has found itself today."
The Policy Advisor, Civil Society Action Coalition on Education for All, CSACEFA, Mr. Wale Samuel, said some fundamental rights, such as to education, are expected to be guaranteed and made available through the instrument of the budget.
"It is obvious that government's decision to spend 8.43 % of the budget on education is insufficient to guarantee this right in Nigeria. There is, therefore, the need to close this variance with the 26 %  to fast track education-related MDGs."