Professor Akin Oyebode hails from Ikole Ekiti. He was born in Ado-Ekiti on December 9, 1947. He has  spent all his life as an academic and has been a Professor of International Law for 20 years.
He was the Vice Chancellor of Ekiti State University (formerly University of Ado Ekiti, UNAD) and presently a Professor of International Law and Jurisprudence at the University of Lagos (UNILAG).  He is our ICON in this edition as he speaks on his love life and how he nearly married a white lady.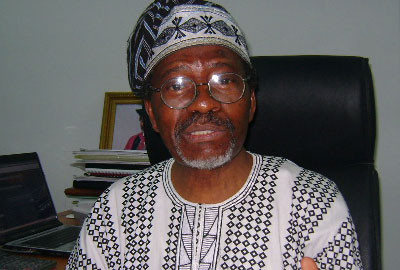 Everybody has a story  to tell. I studied abroad and as a young man, I nearly married a Russian girl. I dated five girls growing up as a man. None of my friends found it easy to date Nigerian girls. Nigerians girls were different from the European girls. Nigerian girls were reticent and they were not forthcoming.
They played hard to get unlike white girls that were ready to give themselves to you. If a white girl likes you, she doesn't think of any consequences. She tells the world that you are her lover. But Nigerian girls were fond of playing tricks.
My wife studied in the University of Lagos but I didn't know her then until her National Youth Service Corps, NYSC year.
We met on a blind date and it was just a relationship made in heaven. God enabled us to come together.  I met a woman who shared my pan-Africanism as well as my radical socialist sentiments and we have been married for 33 years.
On our wedding day, I refused to go in a flashy car. I wanted to come to the wedding in my beetle and people said it wasn't social. So, my aunty offered me her 504 Peugeot.  My wife came to the wedding in a Range Rover but we left in the 504 Peugeot. She suggested getting her father's Mercedes car but I opted out. I refused to get married in the church and she agreed. We married at Ikoyi registry. I wanted us to have a customary wedding but her father wouldn't consent to anyone who would want to walk out of the marriage.
But once you are compatible with somebody, those things don't matter. We have had a wonderful relationship since our marriage although she tells me that I'm a closet tyrant, that, one day, she will expose me to the world. But she has managed me since the last 33 years.
I could be a very difficult person as an academic. You don't talk to me when I am busy or studying some articles in the newspapers or watching a very fascinating programme. So, my wife understands me. She knows when to approach me and when to back off. She is a wonderful lady. She reads me like a book. She is the only person who can play me like a guitar. She knows that my bark is worse than my bite.
I had a very privileged upbringing as a child. If you lived in the GRAs under colonialism, you don't need anyone to tell you the type of upbringing that I had. With the friends I had, there was no serious challenge. I had all the things that young people of my type were supposed to have. I had good atmosphere. I enjoyed riding bicycles, playing with toys, watching cartoons, solving puzzles, painting with crayons and everything that I wanted.
At that time, we lived 'Sheltered life'. It was a different lifestyle for children who lived in the GRA. We were all of middle class potentials. We had television and telephone when it was introduced in Nigeria.
I went to school with people from Southern Police College, Shogunle, Maboju village and from GRA. But we were just friends. I really could not talk of proper social life. Life was safer and we interacted more with ourselves, going to birthday parties, which makes it different from those who lived in other areas.
I don't know what the GRA looks like now. I think it is a different thing now. In our time, there were no walls unlike now that GRA is surrounded with walls. What we had then were hedges with people's names written on the gates of the house. I believe nobody will be bold enough to do that now.
We just had gardens, courts, gardeners, hedges well trimmed and properly taken care of and that was the GRA of the 50s.
I remember the first time, an all-night party was held in Ikoyi at late Justice Agoro's residence and people were gassed. The party was a signal that Africans have taken over. At that time, the GRAs were inhabited mainly by the Europeans.
I wouldn't say the GRAs look unkempt now but they look different. They are not properly maintained. We used to have Public Works Department, PWD that changed our bulbs regularly. All the colonial structures were built for white people. The few African families that were living in the GRA were grudgingly tolerated.  There were special shops including Kingsway in the GRA. The Europeans had their Lagos Country Club which admitted only the Europeans.  The Lagos Country Club then was located in what is now called Murtala Mohammed Airport.   My family was among the few African families who lived a sheltered and protected life during the colonial era.
Those who lived in these special areas had quality of life which was superior then.
I have the most fascinating experience as a child. And growing up was fun. I don't think I would have done anything other than being an academic. I was inspired to be an academic by one of my professors in Kiev State University, Kiev, Ukraine who become a member of the International Law Commission. He taught me to be dedicated and diligent to work. So, I thought it will be wise to emulate such a dedicated lecturer. When I came to University of Lagos, I didn't give it a second thought to choose an academic for a profession.
I see my success in the success of my students. I have taught over 20 Judges in Lagos State. Some of them are in the Court of Appeal, while others have either been Governors or Deputy Governors.
There was a time I counted seven Attorneys General in this country that have passed through my class. For me, this is enough satisfaction.
Some people proposed that I should become a Senior Advocate of Nigeria but I opted out. I don't know what I need a SAN for. I studied hard as a professor. Professorship is the highest level of attainment in a University. Every other thing is in-between, be it a head of a department, dean or vice chancellor. After serving as a vice chancellor, I came back to teach.
I am totally fulfilled in the job that I do. I don't try to please anyone because I feel a sense of absolute freedom and fulfillment when I'm doing what I love doing. I've never done anything outside the academic world except when I was a radio broadcaster after my Form Six. I've been in the academic world either as a teacher or as a manager. Being an academic is a worthwhile life and there couldn't have been a better life than the life of an academic.
My first three years were frustrating in the Faculty of Law, University of Lagos. I was not given a subject to teach. My colleagues thought all I knew was guerrilla warfare but after a while, I was allowed to teach. It was a funny scenario but it's no longer the case with graduate Soviet Institutions of Economy.
I was the first Soviet trained lawyer to be appointed into an academic position in any Nigerian University. And as a pioneer, there was a price to pay. For instance, I was denied admission to the Nigerian Law School for sixteen years because no graduate of Soviet Institutions would be admitted to the Nigerian Law School. So, there was a plan to organise a preparatory programme for Soviet graduates. And unfortunately, the students were to be taught by my colleagues in the Faculty of Law, University of Lagos. And I thought that was the ultimate insult because that extreme would have killed me. So, I refused. I felt that if that was what it would take for me to get the Wigan gown, they could as well shove it. But, my friend, Jelili Omotola, fought a human battle to ensure that those of us who had taught Law for at least five years could be allowed into the Law School.
At that time, I had a ten years experience as a lecturer. That is why I have only 20 years post-call experience. I was called to the bar in 1991.
Another challenge was getting a doctorate. I never thought that I needed a doctorate but my friend, Jelili Omotola advised me to pursue my doctorate degree. He said, P.hd is another qualification. Without an ultimate qualification, there is certainty that people will doubt one's competence despite one's brilliancy.
And at that time, I had a job waiting for me at the Waltcot as a Research Assistant to Judge Elias. The same year, I had a visiting professorship in Austria as well as a visiting fellowship in England but he (Omotola) convinced that there is nothing to be compared with a P.hd So, I thought it wise to go to Toronto in 1981 to pursue a doctorate in Law. Without an ultimate qualification, there is certainty that people will doubt one's competence despite one's brilliancy. Although, I became a senior lecturer without a doctorate, maybe, if I didn't do a doctorate, I would never have been made a Vice Chancellor.