By Emmanuel Aziken, Political Editor
The recollection this reporter had of Prince Tonye Princewill was firmed in a paradox. A man who angrily sought the office of Governor of Rivers State but surrendered so peaceably. A Niger Delta activist who put political allegiance above sentiments in projecting  Atiku Abubakar's presidential ambition above that of his Niger Delta brother, Dr. Goodluck Jonathan.
It was as such not surprising that the meeting with Princewill left the reporter in a state of uncertainty on the political objectives of this prince of Kalibari kingdom. Princewill's last political outing was in 2007 when he was the gubernatorial candidate of the Action Congress of Nigeria, ACN.
"I have an intention (but)I haven't decided exactly what that intention is but I will not sit down and watch politics," Princewill told the gathering of journalists called together to share thoughts with him in an upscale hotel in the Victoria Island area of the nation's commercial capital, Lagos.
"Politics is too important to be left for politicians," he submits even as he mulled over a role in the political terrain. Princewill's reasons for hesitation were obvious. He is a prince and a successful businessman.
"I am not supposed to be playing politics but I cannot be watching what is going on around me and fold my hands and say that that is for them," Princewill submitted. Besides his royal antecedents that would ordinarily keep him regally above the partisan political platform, Princewill's diverse business interests including investments in the upstream and downstream sectors of the oil industry, it is reckoned, should keep him busy enough.
But why did he abandon the Rivers governorship quest just after Chibuke Amaechi triumphed over Celestine Omehia? As the gubernatorial candidate of the ACN, he was expected to exploit the bad blood between the Peoples Democratic Party, PDP's Amaechi and Omehia to push his case. But he quickly surrendered once Amaechi emerged, withdrew his case at the election tribunal and supported Amaechi's government in its fledgling moments in 2007.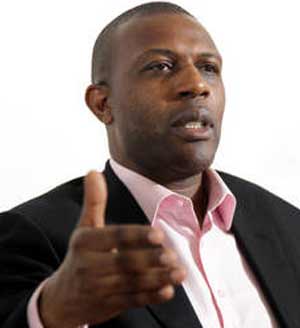 Why did you give up? he was asked.
"Initially, Amaechi was the candidate and when Amaechi was the candidate we were all ready for the battle with Amaechi, but later PDP changed Amaechi and put Omehia," Princewill said as he recalled the story of how Amaechi was displaced from the PDP ticket at the last moment and subsisted with cousin Celestine, thereby reopening old wounds in the most prominent political family to have emerged from Ikwere land in recent times.
His surrender to Amaechi, he claimed, was an act of political exigency. "We took the decision at the time that the enemy of your enemy is your friend," noting that he was in battle with Omehia and his godfather, Dr. Peter Odili when Amaechi won."
His decision to surrender his gubernatorial pursuit he claims had the consent of the party's big men including Atiku who at that time had not abandoned the ACN to Asiwaju Bola Ahmed Tinubu. "I can tell you here now that Asiwaju and Atiku were consulted before we took the position. We had gone into the battle with PDP and at that time if we had been smart enough we would have been able to take Amaechi to AC because Amaechi has all the attitudes and attributes."
"We decided to support Amaechi because Omehia lobbied me to withdraw my case from the tribunal but I ignored him," Princewill said claiming that Omehia's proxies approached him with an offer of N1.5 billion to drop the case at the tribunal when Omehia was still the governor of Rivers State.
In a comical twist, he  added that the same proxies approached him after Amaechi's inauguration to intensify the case at the tribunal to the purpose of sacking Amaechi who replaced Omehia as the elected PDP governor!
"When the Supreme Court judgment came these same people who lobbied me to withdraw my case now told me to go on with the case promising to fund it. 'We will fund it and tell you how we rigged the election give you all the evidence'" he quoted them as saying.
So, how did he respond to the alleged proxies of Omehia?
"Immediately they said that one, I withdrew my case."
Inevitably the discussion moved on to the prince's plans for 2015. "I could want to contest for governor in 2015, I could want to contest for President but it doesn't work that way. You must get it right because people like Odili and Ibori probably now are asking themselves should I ever have bothered being governor?"
"This desire to acquire office without conscience is wrong. I am not ready to be governor, I am not ready to be president. I think that I was propelled by anger in 2007. I don't want to be propelled by anger in 2015 or whatever it is. I want to be propelled by objectives. I need to define a purpose," he said.
"What I am interested in is changing the status quo and if I could run for president that is what I would do. I rather run for the president of the whole country and change will occur than to bother about the state but we will make the determination as time goes on," Princewill said.
"In 2008 when Amaechi attended my 40th birthday he said something and he was right, he said he was not perfect, he makes mistakes and if somebody can tell it to his face that this is mistake, he will be happy about it.  I am looking for people who can tell it to my face."
Is he not mistaken in his objective given the tension in the polity over the emergence of President Jonathan and the corresponding quest for power shift by the north? That inevitably led to the current debate on the need for a Sovereign National Conference. Where does the prince stand on this?
"I see the need for dialogue I don't know whether it is going to be a sovereign one but I see the need for dialogue I see the need for men, women and stakeholders in the country sitting down round the table to agree the way forward. I don't play regional politics, for somebody to leave his Ijaw brother and follow Atiku , you can see that tribal politics is not part of me."