By DAPO AKINREFON
LAGOS — VICE Presidential candidate of the Congress for Progressive Change, CPC, in last year's election, Pastor Tunde Bakare, has warned of dire consequences, if the report of the House of Representatives' probe of fuel subsidy regime was swept under the carpet.
The Serving Overseer of the Latter Rain Assembly said this when he spoke on the theme: "Intervention in Governance: Wisdom for Public Service," at the church's auditorium in Lagos.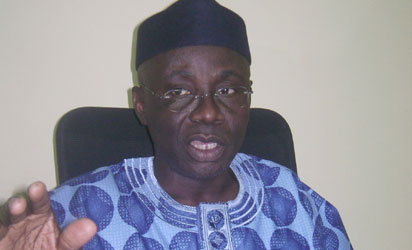 Bakare maintained that those involved in the payment and receipt of subsidy must be made to account for them, warning that danger lied ahead if the probe report was waved aside.
He said: "Any attempt to sweep the matter under the carpet will mean postponing the evil days. There are only two stories of two prostitutes in the Bible and they both relate to the economy of the country and the welfare of the people.
"When I saw the Minister of Finance screaming and shouting on television that she came to the country to serve and that she was not around when the subsidy payment was made, I saw the mother yearning for the living child. I saw the disposition of the Petroleum Minister also, who formed various committees; they were aimed at covering the dead. That won't work. Any attempt to sweep the probe means that we are playing with serious economic disaster."
There will be no money to run anything."
"If Nigerians had accepted the N141 pump price of fuel, there would have been enough money to spend. But now, the N97 per litre of oil has left them with shortage, disaster is waiting somewhere. Let us fix the problem before the problem fixes us. The whole thing is that the subsidy probe must not be swept under the carpet or else, there is no future. If N2 trillion suddenly disappeared from the nation's treasury, it automatically means you are telling the next generation of politicians that they can get away with similar things."
He said it was not only the Finance Minister that could answer questions on the oil subsidy regime, as everyone involved in the payment and receipt of money had questions to answer.
He said: "I don't think only the Finance Minister has questions to answer, the Central Bank Governor, CBN and those who authorised payments have questions to answer; those who received money have questions to answer. It is becoming clearer and clearer by the day that the reason for the astronomical increase in fuel was because of the election year, that is all.
"A good leader will come out and say: fellow country men, we messed up but these are the ways to do things in future. Then, you are not sweeping it under the carpet.
Instead, you are admitting it. In saner countries, a lot of people would have tendered their resignation letters; but here, we try to sweep things under the carpet."