By Ogbonna Amadi, Entertainment Editor
Charly Boy and his wife Lady are like an item. In a few weeks they will be celebrating thirty-five  years in marriage. A long torturous  journey, they share their experience with Showtime Celebrity. Their revelations are as exciting as the couple.
Enjoy;
He got me with a fake invitation – Lady Di
How did you meet your  husband?
We met at a hair salon where I used to work in the United States. I think I must have told this story over and over again.
And what was the attraction?
The unique thing in him was the fact that he is a Nigerian and I haven't really dated a Nigerian man.
That caught my interest. And it wasn't supposed to be a kind of dating for the first time because he  invited me to a function.
I decided to honour the invitation which of course was fake, and at the end of the day it was dating.
And you came back to Nigeria with him…?
Well, I had no friends or relatives in Nigeria and I was just coming to the country for the first time because of my love for adventures.
I was invited by my in-laws. From the moment I came into Nigeria, it was a different atmosphere and it was hard to get used to the culture. It was different because when I got off the plane, I was confronted with black faces without a mixture of people. It was interesting going to the village and meeting the villagers. When I went to the Oguta lake for the first time- washing and brushing your teeth-it was an adventure.
How did your parents react when you told them you were coming to Africa to marry him?
Initially, it was surprising to them. Actually, I was meant to stay for four weeks but I stayed for eight months. They were so scared because I didnt call home. They had to make some inquiries at the Embassy to find out if I was alive. One day when I called, they were relaxed.
Why didn't  you call home?
You know what telephone service was like in the past. I called maybe once or twice in four weeks.
Or they didn't have any means of reaching you?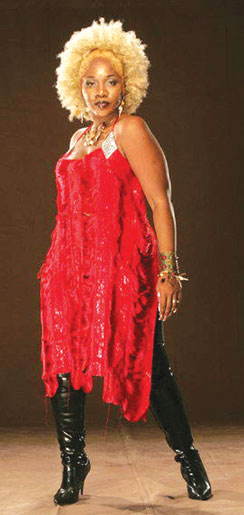 Yes, I knew they didn't have any means of reaching me. When we did speak, we decided that if I was ready to stay in Nigeria, I needed to organise my things.
What about his parents?
Like I said earlier, it was first an invitation from his parents. And thereafter, it became a serious thing. Initially,  they had a lot of objections because I wasn't a Nigerian and was coming for the first time.
But at the end of the day when they saw he'd decided on what to do and no one was going to change his mind, then they had to allow us. And that was after I had stayed in Nigeria for a while and he wasn't making that initial move to consummate our relationship into marriage. He was comfortable with the arrangement, while I decided whether I was going to stay in Nigeria or go back to America.
So what did you decide then?
It was obvious isn't it? At the end of the day, for me to stay back, it has to be marriage. Eventually, we decided to tie the knot.
How did he propose to you?
Laughs. I think it was more of me giving him ultimatum because I had to do something and couldn't  just sit there and watch him. I thought the delay was a result our various  commitments because we've been living together.
After eight months?
It eventually became longer than that because I would go home and come back. So, we had time to decide what we really wanted to do. I think we decided it was something we both wanted.
You knew he had children?
Of course, I heard about it. He told me everything before we got married. It wasn't a secret and it wasn't something I knew or found out after marriage because it would be dishonesty.
So, love conquered everything
Yeah.
What were the initial challenges in the years you were with him?
I think the challenges really came later because whenever you're going into a relationship with someone who was married with children, you don't really think about those things that are yet to come. It was later in your marriage life that you'll really replay the picture. I didn't really see those initial challenges.
So what happened when they finally came?
You have to decide because when I started this relationship, I was a mother figure to everyone.
So, you can imagine me just having my first child while he has other children outside. It's a lot.
How old were you at that time?
I was quite young but that wasn't really a problem then. Right now, I'm a mother to my children and many other children. I guess it's natural for me, so it wasn't a challenge either  because I was able to withstand all of it.
You spent quite some time in the village and ran a pepper soup joint there?
Oh yes.
What happened?
Nothing. It was an experiment. I was living in the village and having a small joint is not uncommon. I wasn't too big for that because it was business as far as I was concerned.
I was buying and selling things and I still do that because I love it. It was just another level of it for me. It was fun and whenever I look back at those good old days, it was truly an experience for me so one has to appreciate those things-it's an accomplishment. Running a restaurant whether in the village, even if it was a pepper soup joint was an adventure for me.
What attracted the villagers- you or the pepper soup?
Laughs. You're funny. I'm sure it was the pepper soup.
Who was preparing it- you or him?
I think I had some help.
At a point, you were almost like him…
People say if you live together with someone for many years, you'll start looking alike. People tell me all the time that I look like him and I laugh. I wonder why.
In all those years that he was controversial, how did it affect you as a person?
I took the controversy with stride because I'm human. Definitely, if it's something negative, it would affect me.
How did you react whenever  you heard that he beat up somebody?
I would react as a wife and wouldn't start shouting about why he would go out and beat or punch somebody. I may take him to a corner, and we discuss why such things happened. We deal with issues as they come.
Is there any difference between Charly Boy and Charles Oputa?
Well, we've lived together for many years. And for me, both names are the same. We are entertainers and artistes at heart and when we're nurturing that image that we want you to see, we do it as Charles Oputa. But at the end of the day, he is one to me. But it's amazing how people see him from the outside -yes they see exactly what we wanted them to see. And then, when they come closer, what they see is different. Many times, they're disappointed but again, that's show business.
How have you been able to cope with him for thirty five years?
It doesn't really feel like thirty five years to be honest. It's just that when you look at your children, you'll see that they're almost as big as we are, and you'll realize that years have gone by. But at the end of the day,  the journey have been memorable.
Compared to now, how did you cope with the financial challenges?
Charles and I started off with nothing.  Gradually, the relationship grew up as well as our businesses.  We began to stabilize ourselves financially because business comes and goes. But at the end of the day, it hasn't been easy. There are huge challenges. In Nigeria we have challenges with our system as well as household challenges. So, we tried as much as possible to cope with all of them and won't quit the race because we were facing difficulty in one area.
What kind of a lover is he?
We have been together for many years. It's not about him being a good lover or not. It's about the person himself, compatibility, his generosity and passion he has for what he does for a living. The love he has for his parents, his children and the way he treats me.
How does he treat you?
Like a queen.
Thirty five years gone by. Do you have regrets?
None.
She wasn't my kind of woman — Charly Boy
Thirty five years of marriage. What is the magic?
I've been able to do it with consistency, focus and like she said, marriage is about two people wanting something to work. It isn't one sided. It has to be borne out of friendship, understanding, mutual respect, love for each other. But I guess whenever people hear about our thirty five years of marriage, they see the brand Charly Boy involved and start to wonder how possible is it.
That's because they know only one side and the side they know is what we want we want to project. What we project isn't really what is. And like I say  Charly Boy is a way of life and not a person. He's an idea, a philosophy. So when people mistake all the stunt and razzmatazz, that's the essence and where they totally miss it. I am not Charly Boy and can never be Charly Boy. Charly means freedom. So, it's a brand that expresses freedom, creative, financial, socialist freedom, freedom from terror or oppression.
After all, the best thieves and rogues are people who have put us in this messy situation. They all look responsible and they're married. And then, you see somebody on tattered jeans and pierced nose and he's not a thief and not criminally inclined, not fraudulent, he's making an honest living and you say there's something wrong with him. What about the guy in Agbada. So that image is to challenge people in their myopicness to the freedom they should have.
She said you gave her a fake invitation to an event…
Oh yes. I've never been a toaster all my life. I've never toasted women. My father would tell you that the problem of the Oputa family is that women run after us, we don't run after women. And she didn't tell you the whole story.
We met in 1978 and since then, we've been together till date. And she wasn't really my type of girl. I never thought I would marry an American for that matter. You see in this marriage business, I've picked up experience. This my fourth or fifth marriage-I've lost count.
But this is the one that made the most sense. So because I was coming back and looking forward to also get hooked up to a Nigerian girl, she came on a visit. She was the one who wanted to come. My parents didn't want anything to do with any non-Nigerian when my other marriages failed. So, they thought it was a joke, like a girl friend kind of thing, which was what it was when she came. We were just dating and I don't think we were lovers as such.
She said it was an adventure for her
Yes it was an adventure. She's never been to Africa.  we were just having a good time thinking that when she was tired of staying, I'd go look for a wife again.
And her stay which was supposed to be a few weeks turned into months. Her parents got worried and asked her to come back . She left and spent a few months. Whole she was away.I was trying to look around for another woman but there was no one. That was when I started to appreciate her. She was the person who was most around and understood me. So I invited over again and we started living together till one day she  woke up and said I either marry her or she leaves. So I knew I had to do something.
Any regret ever since?
No regret at all. In fact, that was the best decision I ever took in my life. The two decisions I am happy about is that fact that I was smart enough to know that she was God's gift to me and I started pursuing my passion  early in life which is adding value to my environment and becoming the star I always wanted to be.
Did you ever imagine you'd get to this point at the time you were creating the brand?
When I came back to Nigeria, there was a job waiting for me in Mobil. My father already prepared that and that was why we had a fall out when I didn't want the job. I wanted to be an entertainer and all hell broke loose. Unfortunately for me, this was in 1980 when he was made the judge of the Supreme Court. We were in Owerri and rather than following him around, I just moved to the village to start living my life because I didn't want to be known as Justice Oputa's son. So in the beginning, because of the outrageous and flamboyant image we chose to create, it was a problem because a lot of people didn't understand what it represents. They looked at it from a very negative perspective. So all kinds of retrospection were out there. It was a free for all. So everybody thought I was irresponsible and it was something very bad. And yes, I had my doubts so many times. What kept me going was the fact that it's what I wanted for myself.
I started as a young person, there was no money at that time. Times were tough and I remember that time at the village, I had to send my wife back to America because I couldn't afford to maintain her. I couldn't put food on the table. We didn't have light and water. We were bathing at the stream. But the funny thing which is why I'm holding on to this one was because at that time, my wife was the happiest. She was always singing and whistling in the house. I couldn't understand that because when a man doesn't have money and can't see tomorrow, there's nothing you want to tell that man to calm him down because he's either feeling inadequate or having complex. And I did have a lot of complex at the time because it was as if the world had passed me by, as if I'd become a failure. So those were very horrific times for me. And it lasted for seven years. Thank God, I'll ever remain faithful to my friend Tina Onwudiwe because she was the one who brought me out of that village to Lagos.
How?
In one of the trips when I used to come to Lagos to know what I would do to my music career and do my first album. I met her and we struck it off. At that time, my wife was abroad and we started a good friendship. Everybody knows the story of both of us, as controversial as you think. But Tina restored my hidden confidence, ego because by then, after seven years in the village, my life was finished. I wasn't Charly Boy and didn't know what kept me going at that time. But Tina really worked on me and I owe everything I have to her. She came to the village one day and told me that a record label has signed me on and that we should move to Lagos. She paid my house rent for two years. That was why I was able to live in Lagos. I've told this story so many times and I don't hide it because that was how my life started.
Any regret?
Of course, there couldn't be any regret. God has blessed me. I have parents who are not sick, my mother is about 93 and my father is 95 and they're healthy-they've given me the opportunity to return the love they showed me as a troublesome and rebellious kid. My parents now live with me and I take care of them. I have like nine children or is it ten-I've lost count. I have thirteen grand children. I have a wife that I could call my friend who has become a mother to my parents, my grand children, the mother to all my children. My family has become my juju.
The other part that people don't know is that because of the love that flows in my family, that is what has given me whatever I want to be at anytime..
Subscribe for latest Videos