By Ishola Balogun & Ebun Sessou
It is an irony that Nigeria, the sixth largest exporter of oil, the largest oil producing country in Africa, is also host to over 100 million people living in poverty, according to statistics released by the National Bureau of Statistics (NBS) recently.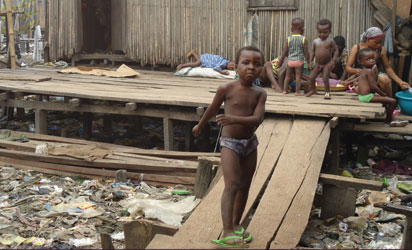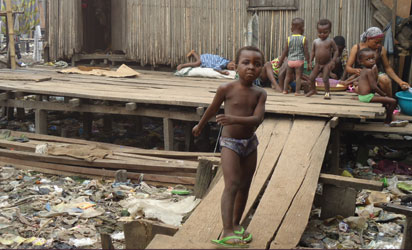 Saturday Vanguard went to town to observe some of those who are hit by this 'absolute poverty'. It is the story of homelessness,  hunger, diseases, sexual exploitation, child labour, among others.
While some individuals without adequate income hardly satisfy their basic needs, others with a large number of children lump themselves in one room apartments. These people lack sufficient food due to insufficient resources. This accounts for why children go to work or hawk on the streets.
Contrary to the belief in most quarters  that parents force their children to work, most children we spoke to said they decided to go hawking out of their own volition in order to augment the resources of the family to feed and pay their school fees.
The matter is worse for the female child who often becomes the object of sexual exploitation. Sade 17, told how she became a mother at the age of 16. She was the eldest daughter of six.  She had to give up her academic pursuit in order to start trading shortly after their father died.  "I had to help my mother who had to feed six of us and pay our school fees.
"In the process, the man who gave us a token to start the business is now the father of my child. I don't want to say more than that," she said.
The same would have been said for Sulaiman Afose, 20, if he were a female. Narrating his story, he stated that he started life by enrolling as a shoe cobbler apprentice at the age of 10 when his mates were going into secondary school. One year after ,when his poor mother could no longer continue to support his education and so, Sulaiman thought it wise to use what he had to get what he wants.
According to him, "life as a poor boy is rather described as living in a slave land, where you are being deprived of essential necessities of life."
He said, "I started my struggle when I was in primary six as a shoe cobbler. I discovered that my mother wasn't financially buoyant to support our education. She was helpless and so, it became necessary for me to pick up the pieces of my life again. At that time, it was difficult for me as a young boy. There was nowhere to run to and no one to help. None of my younger ones was also going to school. Although, it was not peculiar to me. I know the same story happens to others in this community and so, I was not bothered.
" It is a  situation where 16-year olds  struggle for life. He must go to the sea to dig some sands to make a living. Girls of 10 years old are already put in the family way.
"In Makoko, people live from hands to mouths on a daily basis. For instance, my mother must go to the market to buy some fruits to sell for us to have something to eat and this is the picture of how some families live too here."
But Afose was so determined that he left no stone unturned until he financed his own education to a secondary school level.  "I attended Herbert Macaulay Junior and Ayetoro Senior Grammar for my Secondary schools."
Speaking about the way people lived in Makoko area of Lagos state, Afose said: "people in this community are living below N300 per day.  I don't know how much a dollar is. We have lots of people who are poor and they live in houses made with planks, they don't know what will be the next thing for them. You will see a situation where 10 people are living in a room. It is difficult for their children to have access to quality education. There is no good health care and all the get is nothing to write home about. Many of these people are not educated and so, they don't know what it is and what to do to make a living."
But Afose was conscious of the big gap between the rich and the poor. He said: "You see a situation where a rich man's security dog is enjoying a better life while some human beings are living a life of penury."
The only way forward is
for government to provide essential amenities of life for people to enjoy. Empowerment of youths, women and children is very important. Government should be able to give its people quality and free education in order to have a better Nigeria. In Nigeria, education is an important factor, anyone without education will be considered a no-body."
He opined that it is an understatement to say people are living below one dollar-per-day, adding that "some of the poor in the community don't have life in them again as they are expecting to die the next moment and they are not regarded as members of the society."
This unfortunate scenario is the same in other areas of the state. A visit to Jakande Estate, Lekki, Isolo, Ijora also confirms Afose's story that it is the same everywhere.
"Today, poverty walks on two legs. It is no longer hidden. And one does not need to go to the innermost parts of the country to see how it debases humanity. It is seen everywhere and right now, more Nigerians are now victims of this deadly monster. You can feel it from the way Nigerians suffer on a daily basis while the few rich ones are getting richer. It is seen on the faces of jobless graduates who storm the streets, waiting on fortunes to smile on them. It is visibly written on the faces of those youths whose lives are personified as political thugs, terrorists, suicide bombers, hired killers and even university campus prostitutes. It is almost certain that, if the system had offered them a better option, they would not cuddle that path of violence and doom."
For Godwin Orji, 47, it was unemployment and inability to afford a house in the urban areas that drove him to Makoko.  According to him, he has been there for twenty years unable to save money and move to urban area.
"On a daily basis, he and his entire family of four spend the sum of N500. According to him, "I have two children and a wife. I give my family N300 while I make use the remaining N200 to cater for other expenses."
"I am a fashion designer, I engage myself in sowing different types of curtains which I sell in the neighbourhood. I also sell of stock-fish. I sell this curtain at the rate of N500, N300 depending on the patronage. All I need is to put food on the table for my family," he said.
Asked how he gets his profits from the business, he said, "I live from hands to mouth, so there is no point talking about savings. There are times when I go borrowing just to make ends meet. The business I engage in is nothing to write home about. I started the business with the sum of N2000, although, the business has grown but my entire family depends on it so, I don't think I should be talking of savings from it. There are times I had to borrow money from my neighbours so as not to go out of business. Our livelihood depends on this business. So, it is important that the business progresses. As a man of the house, I cannot allow my children to go without food. There are times, we had to put garri in water and take for the whole day which is not up to N100 per day.
Asked how he finances his children's education, he said, "none of my children is going to school in Lagos state although some of them who are in school are outside the state and are enjoying free education in Nkporo area of Abia state.
Speaking on standard of education in the area, he said: "Only those who are rich can send their children to a qualitative school while the pauperised ones are left at the mercy of gloried public school."
On accessibility to healthcare, he said, "The rich people have everything within their reach. But, we are just living like paupers. I live with different kinds of things including rats, bed bugs, mosquitoes. We also experience flood because of roof leakages. But there is nothing we can do, we are praying to God for his help and take us away from this hard life. For me, this is a simple scenario of living in bondage."
Giving her own account, Madam Musa Agabi said her little boy spends over N50 per day. After drinking pap and akara in the morning, he takes N30 to school to get something for brunch while I prepare his food for both lunch and dinner.
" I sell pap and akara and still feed my family from the business. The truth is that, I go borrowing, the money is not enough. Some people will tell you to sell food for them on credit, all these are the challenges of life. There is so much joblessness in the country and the youths are suffering.
The women and children in the country are suffering. Quality education is so expensive so much that it is difficult to send children to school. There is no free and quality education. Most of the schools around us are now so commercialised that it is difficult to get an affordable and quality private school within your locality. Our children are dying because of lack of good healthcare. We don't have good living environment," she lamented.
With several millions of people living in shanties, slums, swampy areas and under the bridges, the monster called poverty is manifesting itself on a country abundantly blessed with mineral and material resources. But to others, poverty comes as a result of lack of knowledge of how to get money. Some believe that a poor man is someone who cannot solve his or her immediate problems. The truth is that many people are poor because they don't have the necessary information of how to get money.
For Apostle Paul Omolere Aworetan, "poverty is a mentality concern, it is does not dwell on finances but a state of mind. Some people have money but cannot take care of themselves. Some people are ignorant and so, it is difficult for them to get information that can change their lives for better.
For Aworetan, government should act fast and come to the aid of people at the grassroot. Show them love and give them the basic necessities of life.
"It is true that some families are living under one dollar-per-day, there are some families that are still applying the 0-1-0 formula on a daily basis. This means that they are far from the one dollar per day measurement. Some families have adjusted to taking joint dinner of efo riro which anyone who misses it goes to bed without dinner," he said.
Governments' efforts to stem the tide
The first of the government efforts to scale down poverty in the country was Operation Feed the Nation (OFN) which was introduced by General Olusegun Obasanjo in 1979. Then the Green Revolution which was introduced by former President Shehu Shagari in 1980. Babangida's administration also introduced the Directorate of Food, Roads and Rural infrastructure (DIFRRI).
This outfit was meant to open up rural areas while providing them with basic amenities for the purpose of increasing commercial activities in the areas and at the same time alleviating poverty. General Sani Abacha, between 1993 1998, established the Family Economic Advancement Programme (FEAP). The agency was meant to fight poverty in the country via disbursement of loans to families through cooperative societies.
General Obasanjo, in his second coming as the nation's head, introduced the National Poverty Eradication Programme (NAPEP) to coordinate all anti-poverty programmes in the country from the local government to the federal level.
The Vision 20-2020 of the Yar Adua administration which the present government inherited was also targeted on poverty eradication programme and economic policy direction.  With all these efforts by successive government, the rise in poverty level as shown by statistics rolled out by NBS suggests that governements'efforts have not yeilded required results and in fact left more people impoverished.
Meanwhile, Financial analyst, Opeyemi Agbaje, said, "There are several definitions of poverty offered in the NBS report-"absolute" (minimal requirements for food, shelter, health etc); is relative compared with living standards of the majority; dollar-per-day World Bank measure; or subjective (whether people regard themselves as poor). By all these measures, NBS data indicates that around 100 million Nigerians are poor.
This is because economic growth in Nigeria does not reduce poverty or increase employment due to the non-value-adding structure of Nigeria's three largest economic sectors-agriculture, crude oil and gas production, and trading. We sell crude without domestic refining; we engage largely in pre-modern subsistence farming; and trade in imported goods.
He stressed that we must force a structural change in this economy to ensure there are domestic linkages and value-added in these and other sectors, adding that corruption and wasteful government resources also deny the economy of resources for infrastructure and social spending, thus worsening poverty and unemployment.
Agbaje noted that in spite of Nigeria's huge oil revenue (over $250billion between 1999 and 2010), human development indices are low.  "Our human development indices are lower than many less-endowed African countries," adding, "we must deal with corruption, create a competitive, federal political structure and restructure our economy if this poverty malaise is to be redressed."