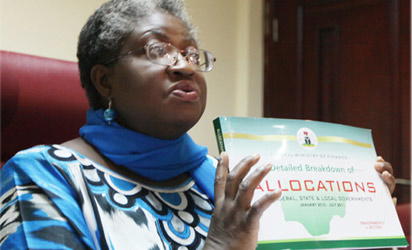 Finance Minister, Mrs. Ngozi Okonjo-Iweala
By Omoh Gabriel, Business Editor
•  93.9 % of Nigerians think they are poor •  Nigerians that were non-poor higher in 1980s •  Poverty defies govt policies •Companies are being impoverished •  Gap between rich and poor widening…
John Fagi, as he calls himself, is a Nigerian that lives under the bridge in Lagos. Along with him are others who many think are mentally sick. Like their counterparts on the streets, the economic situation around them has forced them to live sub-human lives. These Nigerians have no home, no job and no family to care for them. Some able-bodied men at most bus stops in Lagos stop fellow Nigerians to beg for money. Women are not spared.
In Amukoko, Badia, Okokomaiko, Mushin and other thickly populated areas of the state, about eight people live in one room apartment. They have everything in common. Father, mother, brothers, sisters all live in one room. At night, they sleep on each other with their parents separated from the rest with curtain. Some five-year olds trudge along the streets in the name of street trading to support the family.
Along the streets, you find children without shoes going to school, some play football naked. It is the same around the country. More pathetic are those who build their shanties on top of water. In all the six geo-political zones of the country, the story is the same, poverty on rampage.
These unfortunate Nigerians have been pushed into their present condition by the ravaging poverty that has hit the Nigerian nation. Recent official figures show that 112 million Nigerians are under some of this condition.  They live below poverty line on less than $1 or N160 a day.
Nigerians have come to the hard reality that the various government policies since 1980, have contributed to the rising level of poverty in the country despite claims that the economy has been growing. The poverty data released by the National Bureau of Statistics on Monday last week suggested that 112 million Nigerians are poor going by the economic situation in the country in 2011. While 100 million are in absolute poverty, 12.6 million are moderately poor.
Reacting to the report, Mr. Akeem Oyewale, Chief Executive Officer, Stanbic IBTC Stockbrokers Limited said "The report by the National Bureau of Statistics is based on research conducted by competent people at the NBS. The NBS is headed by Dr Yemi Kale, a highly regarded Economist with a rich experience in research and economic planning. Therefore, the data provided comes with a high level of credibility.
"That said, the import of the statistics is to bring to the fore the fact that a significant portion of Nigeria's populace is poor. The question then is, what do we do with this data?
"How do we achieve the Millennium Development Goals of 2015 given this statistical reality?
The data is relevant for economic planning. It shows that there is a lot of work for the government to do to lift a huge portion of the populace out of poverty.
"It also shows that there is a significant scope for the private sector to participate in activities that will have a direct impact on the people at the bottom of the pyramid. The data should be looked at in a positive sense, and not in a derogatory manner.
"It is factual. Given the "extended family" structure of most families in Nigeria, especially those in the rural areas, by virtue of our culture, the well-to-do in the families know that the society expects them to assist those not so blessed, especially from the financial perspective.
"However, given the burgeoning number of people classified as 'poor,' as revealed by the statistics from NBS, it then becomes relevant for government agencies responsible for planning for economic development to roll up their sleeves and treat economic empowerment with a higher sense of urgency and tact.
The consequences of such a large number of folks below the poverty level could transcend to a potential threat of instability when the populace feels pushed to the wall.
"An opportunity also exists for the private sector to tap into the potentials of the bottom of the pyramid economics in a collaborative win-win way. Multilateral institutions and NGOs may also be able to have increased participation in measures towards poverty alleviation in Nigeria if their charters so allow."
Mrs. Bisi Bright, Chief Executive Officer, Livewell Initiative, LWI, said: "I agree that 60 per cent of Nigerians are poor. Here, I am defining poverty from the point of view of what is globally regarded as 'living below the poverty line'.
From my own experience as a social entrepreneur in the health sector, I can 'see' and 'feel' a palpable sense of poverty among the people. Apart from the fact that most people cannot afford three meals a day, they cannot meet their basic healthcare needs and that of their family members and dependants. They cannot afford to buy basic medicines and many are jobless.
"You need to see the desperation in the eyes of the people as they queue up for our free healthcare programmes. You need to see the disbelief in their eyes when they are given free medicines, they would scream, 'free?' and they go away excitedly, telling others to come.
"At LiveWell Initiative, LWI, our Illness Poverty Alleviation Programme IPAP, was designed as an innovation to combat poverty, through heatlhcare empowrment, which leads to economic empowerment.
"If the people are healthy, the economy will be healthy and poverty will be eradicated. Poor people are everywhere around us; we have the urban poor, and the rural poor. Some of us have poor relatives, poor neighbours, some rich people have poor friends or poor kith and kin; even some staffers in organisations are poor.
The truth is that there is a lot of poverty around us; but many people 'shut' their minds to the poverty around them, even abandoning poor relatives to their fate. Some people would tell you, 'I work hard for my money'!
"The truth is, as individuals we should be our brother's keeper and, government should create jobs for the youths, create an enabling environment for entrepreneurship, expand the scope of vocational training centres and create new ones to absorb the ever-growing youth population who cannot be absorbed into tertiary institutions of learning; and, last but not the least, eschew corruption and create a level playing ground through transparency and a renewed value system.
"That way, the wealth distribution in the country will be more equitable and the level of poverty in the country will be significantly reduced."
In his own view, Mr. Ituah Ighodalo, Partner, Siao Partners Limited and member, of the newly constituted Petroleum Revenue Special Task Force, said: "Poverty is quite rampant not just in Nigeria, but all over Africa.
A lot of people cannot look after themselves, what makes it worse is the seeming hopelessness and difficulty in having gainful employment, the number of people looking for employment and the number looking for assistance bears testimony to this, and this will remain so for as long as Government remains the biggest spender and the playing field remains un-level.
Too much money in too few hands, we need to take another look at the issue and have forthright leadership that is determined to end poverty."
Mr. David Adonri, Chief Executive Officer, Lambeth Trust & Investment Company Limited, said: "Judging by Nigeria's per capita income, poverty rate should not be as severe as the reports indicate. Unfortunately, income is concentrated in few hands and public efforts at income redistribution have proved ineffective.
"Nigeria exemplifies the paradox of a rich nation populated by poor people. Through massive corruption, the nation's wealth is daily cornered and siphoned out of the country.
"Secondly, due to wrong economic policies, the income generating capacity of the country is still far below the earning potential of the economy.
"Poverty is linked with unemployment. Other than the fact that the Nigerian economy is not creating new jobs, the few existing jobs are being lost by factory closures arising from high cost of production. Some archaic cultural practices in the country also contribute to the high rate of poverty. The Almajiri system in certain parts of Northern Nigeria continues to produce armies of unskilled labour that can hardly be productively engaged in modern means of wealth creation.
"In this modern age of technology-driven production, where human labour as component of production is fast diminishing, other nations have devised means of controlling their population growth rate. Regrettably, Nigeria has failed to restrain her people from breeding like parasites.
Several years ago, Reverend Father Malthus, a socio-economic commentator postulated that 'excessive increase in population keeps wages at subsistence level'. The inter-relationship between population explosion and economic misery is already manifesting in Nigeria, where the population growth has overwhelmed the economy.
"Although my income is more than one dollar per day, after distributing a greater part of the income as a result of extended family commitments, what is left can hardly meet my basic maintenance needs. This may not be different for most of my colleagues in the Stock market whose earnings nose-dived after the 2008 global meltdown."
Also in his comment, Mr. Oluseye Adetunmbi, Chief Responsibility Officer, Value Investing Limited, said: "In terms of being able to afford the basic means of living vis-a-vis ability to consistently secure the standard school for one's wards, access to quality and timely medical care system and acquire maintainable personal accommodation; anyone who is challenged in any of these areas is considered poor in my opinion and by my definition.
"It is like professional examination at some levels, fail in one is fail in all. Whoever is okay in all the departments of basic indicators for measuring standard of living globally is considered not poor. Those who have crossed this border- line are certainly very few in our nation. We who are yet to lay claim to be on good standing in all these departments are in the majority in Nigeria. It is an obvious statement of fact."
Dr Olusegun Aganga, Minister of Trade and Investment and immediate past Minister of Finance decried the high incidence of poverty in the country. Aganga blamed the poverty level on high unemployment rate in the country. He explained that it was in realisation of this that he had, with the support of the president, started work on inclusive growth when he was the Finance minister. He further explained that inclusive growth is that economic growth that comes with job creation.
He also stated that government has introduced a policy that every new contract approved by the Federal Executive Council (FEC) must show its job-creation value before being passed by the FEC. But this has not impacted on the level of poverty in the country thus far.
Head of Economics Department of Ahmadu Bello University Zaria, Dr. Mike Duru in an interview with newsmen last year said that poverty rate is rising in Nigeria. Dr. Duru said the quality of lives of Nigerians is falling. He described as misleading equating rise in Nigeria's Gross Domestic Product (GDP) to fall in poverty.
Former U.S. President, Bill Clinton on Monday warned that the widespread poverty in Nigeria is responsible for the violence that is tearing the nation apart. Speaking at the annual ThisDay Awards in Lagos, Mr Clinton decried the widening gap between the rich and the poor in Nigeria. He said: "You (Nigeria) can't just have this level of inequality persist. That's what's fuelling all this stuff (violence). You also have to give people something to look forward to when they get up in the morning," he added.
The proportion of Nigerians that were non-poor was much higher in the country in 1980, 72.8 per cent, compared to 1992 (57.3 per cent). It dropped significantly in 1996 to 34.4 per cent, falling further in 2010 to 31 per cent".
The Nigeria Poverty Profile 2010 Report Kale said, indicate that poverty and income inequality in Nigeria have increased since 2003/2004.
In addition, NBS estimates that this trend may have increased further in 2011 if the potential positive impacts of several anti-poverty and employment generation intervention programmes are not taken into account, but this can only be ascertained at the conclusion of the 2011 survey.
The rising trend of poverty in the country is a direct reflection of public policy in Nigeria. In 2004, the Federal Government developed the NEEDS programme which it submitted for approval as policy support instrument to the International Monetary Fund, IMF. The Policy Support was approved and adopted as government working policy.
In the NEEDS document, the government stated: "The plan for prosperity must address a startling paradox: more than two-thirds of the Nigerian people are poor, despite living in a country with vast potential wealth. Although revenues from crude oil have been increasing over the past decades, our people have been falling deeper into poverty.
In 1980, an estimated 27 per cent of Nigerians lived in poverty. By 1990, 70 per cent of the population had income of less than $1 a day— plan for prosperity must address a startling paradox: more than two-thirds of the Nigerian people are poor, despite living in a country with vast potential wealth and the figure has risen since then. Poverty levels vary across the country, with the highest proportion of poor people in the northwest and the lowest in the southeast," the document stated.
Painfully, years after, number of Nigerians that fall into the poverty trap is rising rather than dropping
Charles Igwenagu, Auto mechanic sees it this way:  "There are a lot of things government is not doing very well, an average Nigerian is supposed to earn around N1 million a day, that is if they want to put things in order. So we do not need to suffer because we have the oil, all the refineries are not working, some of our 'big men' build refineries out there, that is why they are destroying Nigeria and we are suffering today.
"I want to advise the government to carry the masses along. In Europe, the Presidents think about the people they are ruling but today in Nigeria, they are not thinking about the people they are ruling, and that is why we are suffering.
So I am advising them to carry the masses along so that we can witness a better Nigeria tomorrow. The business is down, while you work they will not pay you, we are being disorganised, we are being frustrated, look at us doing nothing, we are suffering and earning a little, so that is the problem we are having today.
Bob Doghely believes that the Government should try to help the masses at least to make life easier for them; the problem of the common man is very small compared to the need of the wealthy people – politicians and business moguls. What the common man needs is just daily bread and to provide the daily bread is not supposed to be hard for the him to do, but if they start to make life difficult for the common man, it means that life is going to be very difficult.
So the government should try to solve the problem of the common man which is transportation, housing, electricity and water. If government can provide these four basic things, things will turn around in Nigeria because the common man does not have problem.
Raphael Ijewere, a Motorcyclist, said before the removal of  fuel subsidy, he made between N1,500 to N2,000 daily, but with the subsidy removal, the price of riding has increased therefore he makes between N2,500 to N3,000 daily. He makes between N8, 000 to N9, 500 weekly.
Zakare Abdullazeez, a motorcyclist claimed that he makes up to between N2,700 and  N3, 000 averagely, but that Motor cyclists are facing the challenges posed by local government officials and Agberos who collect about 45 per cent of their daily earnings. Mike Njoku, a welder, said welders are faced with the challenge of power supply.
He claims he spends about N5,000 every two days on diesel generator though depending on the volume of job available. When asked why not use Prime Motor Spirit (PMS), he said that PMS burns fast, because if he were to use PMS, he will be spending about N7, 000 daily.
Lateef Arowolo, a vulcanizer, who uses both electrical and manual vulcanizing engines, said he was using the electrically-propelled vulcanizing engine when the problem of erratic power supply began, he had to buy the manual type from which he makes about N1, 200 and N2, 300 while using the electrical engine makes N800 daily.
The case of Mama Tawa, pepper and tomato grinder was as that of who has to buy the manual grinding machine, when she could not cope with epileptic power supply, she had to buy the manual grinding machine from which she makes about N2, 000 daily unlike when she was using the electrical grinding machine, averagely he said she makes about N7, 000 to N9, 000 weekly depending on the flow of customers.
Sunday Oguomere, who works as an Information Technology expert in a media house, in is response to the question whether he is poor or rich, told Vanguard that he can not say that he is rich neither can he see he is poor. Oguomere said he give thanks to God that he could afford three square meals and therefore he is comfortable.
On how much he spends daily for his feeding and that of his family, he explained that it cost him about N3, 000 which includes fueling his generator and other such activities.
Mrs Veronica Opia, who runs a boutique and operates a catering service, told Financial Vanguard that she is rich because she has handwork that fetches, gives her steady income. Opia whose business name is Comfort Venture, explained that from both trade she earns about N50, 000 monthly and spends about N5, 000 daily for the up keep of her family.
Mrs Opia pointed out that she is married with two kids. She also said that she pays N2, 000 monthly for her room and parlour apartment in the out-skit of Lagos.
Nafiu Mako, a wood seller who left his rice and beans trade for wood seller as a result of the increase in the cost of rice and beans, said he is a poor man. Mako noted that he makes an average of N10, 000 monthly from selling two truck load of wood.
He told Financial Vanguard that there are some months when he sells three or four truck loads and in such cases, his income goes beyond N10, 000. He said he has a wife and three kids that live in the northern part of the country where he is from and that he send an average of N500 to N600 daily to them for their up keep.
As for himself, he explain that he spend an average of N700 daily for his up keep and pays N1,000 month for his one room accommodation in Lagos.
"It is not only big businesses that are being impoverished by the impact of government removal of part of the fuel subsidy which caused a week-long strike," said Nnadi Ogochukwu, CEO LIGO, a fashion outfit based in Apapa, Lagos.  She observed that even when the subsidy was not removed and fuel was being sold N65 per litre, use of generator accounts for 80 per cent of her sewing.
"For me to meet customers' delivery date, I don't rely on electricity supply by the Power Holding Company of Nigeria.  Now that it's N97 per litre, I use 4 to 8 litres per day, and if you multiply that in a week and month, you would find out that small business owners like me are suffering and are being impoverished.  Upon that, I still pay PHCN bills despite the irregular power supply. "The price of our raw materials like lining, thread, etc have also gone but if you try to pass the cost to customers, they resists and threaten to leave you."
The question is why are so many of our people poor? Poverty is dynamic and has many dimensions. People may move in and out of poverty as a result of natural disasters or health problems, lack access to credit, or the lack of natural resources.
Poor people are more likely to live in rural areas, be less educated, and have larger families than the rest of the population.
Poverty has many causes, all of which reinforce one another. One source of poverty is the lack of basic services, such as clean water, education, and health care. Another is lack of assets, such as land, tools, credit, and supportive networks of friends and family. A third is lack of income, including food, shelter, clothing, and empowerment (political power, confidence, dignity).
Some of these factors directly affect poverty. Others contribute indirectly, by producing inequality—by stifling the political power of certain sectors of the population, for example, or denying them their dignity or human rights. All of these factors are affected by the environment in which people live.
Poverty is not the same as inequality, but solving the problems of inequality can help lift people out of poverty. Corruption is rife in Nigeria and for decades politicians have focused on milking cash from crude oil exports, which average more than 2 million barrels per day, rather than developing infrastructure and creating jobs for locals. Despite holding the world's seventh largest gas reserves, which could be used to generate power, Nigeria only produces enough electricity to power a medium-sized European city.
More than half of the country's 160 million inhabitants live without electricity, while the rest have to rely on expensive generators run on diesel supplies controlled by a small and powerful cartel of importers. Tens of thousands of Nigerians protested for over a week in January against the government's decision to end subsidies on petrol imports, a decision welcomed by economists.