By Dele Sobowale
"At no time did I say that the payments were based on 35 million litres per day. It is not possible" – Mrs Diezani Alison-Madueke, Minister of Petroleum, January 24, 2012, at the House of Representatives hearing in Abuja.
The Minister was also, this time, on record for stating that daily consumption was 26.9 million in 2006 and by 2008, it had risen to 38.5 million litres. She also claimed that by 2010, our daily consumption "was found to be 46.9 litres".
She further "explained" that consumption was usually taken as what was delivered with the exception of end of year stock".
For a start, these are new and strange figures whose authenticity, like most figures coming from government, still have to be determined.
Furthermore, the Minister was quoting figures for years when she was not Minister. She might soon discover that she would have to make more clarifications to explain the "clarifications" she just made. Given her figures, aggregate consumption of petrol rose by about 50% in the two years between 2006 and 2008; or at an annual rate of 22.5% every year. What on earth could be responsible for this dramatic growth in usage?
Did the number of cars on Nigerian roads jump up by so much or were consumers suddenly drinking petrol?
Again in two years ending 2010, consumption increased by 20% or ten per cent each year. Granted, she did not prepare the figures – they were the product of staff work.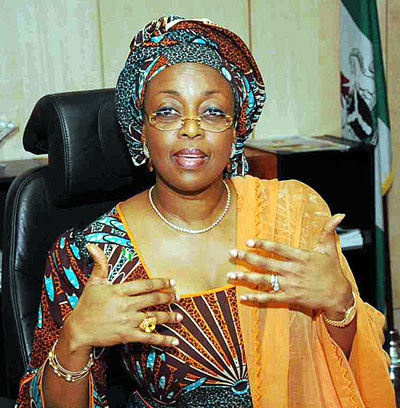 But, it all reads like an after-thought brought up to close the gap between the 35 million previously assumed and the 57 million which the PPPRA informed us was being charged against the people of Nigeria. Despite her brave and unsuccessful effort, she would notice that there is still a huge discrepancy – 11 million litres per day, which her explanation had not touched.
Going back to her explanation, we notice that when she said that "consumption was taken as what was delivered" she did not say where. Certainly, deliveries meant for Nigeria but diverted to neighbouring countries have been "delivered" – but to the wrong place. The relevant figures for the computation of "subsidy", if any, enjoyed by Nigerian consumers is, strictly speaking, the volume delivered to filling stations in Nigeria and consumed by Nigerians.
Those figures, for now are unavailable and will not be available until the on-going investigations are concluded.
Fuel meant for Nigeria but diverted should not enter the calculations. But, we don't need any more investigation to know that, at least 11 million litres per day has been corruptly charged against the Nigerian consumer.
Meanwhile, the Central Bank of Nigeria, CBN, had thrown more mud into the already muddy pool. According to the CBN, the amount paid, so far, is N1.736 trillion; not N1.4 trillion claimed in the SURE document – which was a waste of time and funds in every way possible.
But, that is not all, the bank is still expecting "to honour outstanding payments". So, even N1.736 might not be the end. Once again the credibility of government officials had been called into question. Both at the Town Hall meeting organised by the Newspapers Proprietors Association of Nigeria, NPAN, and at every fora government had drilled N1.4 trillion into our heads. Now, we are finding out that the figure might be up to N0.5 trillion more than we have been told was siphoned illegally.
Now, if the CBN is right, and they should be, after all they pay the bills, the next question is "how much petrol did we import in 2011 to incur over N1.8 trillion in "subsidy?" Certainly, it cannot be less than 55 million litres per day. And again the question: have Nigerian consumers started drinking petrol? The revelations we have heard so far have damaged the credibility of this government, perhaps, beyond repairs.
Every statement since the first, about N1.4 trillion, had either been debunked or has had to be "clarified". That is what happens when governments don't lead with the truth as we are experiencing now.
The Minister also referred to the establishment of an Ad Hoc Committee to look into the fundamental issues involved. At best the committee will actually make a lot of recommendations – which the government is not bound to accept and implement.
At worst, the Ad Hoc Committee is meant to buy time and get the issue off the front pages of newspapers. Thereafter, it becomes just another talk-shop. Until Nigerians find the committee's intervention profitable, it will not serve as insurance for government to proceed with business as usual.
Subscribe for latest Videos