By Albert Akpor, Evelyn Usman and Idowu Olaide
The removal of former Inspector-General of Police, Mr Hafiz Ringim , Wednesday, from office, was applauded from different quarters, owing to the dwindling state of  internal insecurity in the country.
While some respondents described the ousting of Ringim as one of the boldest actions President  Goodluck Jonathan has taken so far, others charged him to extend same to other service chiefs, stating that they are incapable of being  in-charge of the country's security agencies.
In this interview carried out by Crime Alert, some of the respondents said it was too early to conclude that the newly appointed Inspector-General of Police, MD Abubakar was the right answer for the change, saying time and events would unfold that.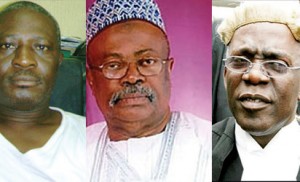 A retired Assistant Comptroller of Customs, Mr Shola Fashuloye said, " Ringim came in with problem and left with problem because of his inability to checkmate the alarming activities of Boko Haram sect.
He tried in the area of kidnapping though,especially in Anambra and some parts of the eastern states, in 2010. He has been able to clamp down on some of the kidnappers in some of these areas but it was nothing compared to the sorrow the country was plunged into during his tenure.
So what is expected from the new IG , Mohammed Abubaka is to work harder in order not to be shown the way out like his predecessor.
For instance, when he was the Commissioner of Police, Lagos state, he was very operational. If there is anything he was known for, it was his ability to put his men on check. So, we are therefore expecting that he would bring those positive attributes that made him succeed as a Commissioner in Lagos to bear on his new responsibility as the number one Police man in Nigeria.
He should remember now that a command is just an integral part of police formations. Now that he is at the national level, much is expected from him.
For instance, when he was in Lagos , he used to go on self investigation where he wold put on mufti and even arrested some of his men including officers in the process.
I also know he will set up a task force to checkmate this dreaded sect called Boko Haram.
As a Northerner, I will expect him to work more with traditional and community leaders because they should know who these individuals disguising as Boko Haram members are and where their hiding place is. Most of them would be afraid to talk for fear of possible attack from the sect.
If he decides to use policemen for intelligence work, it might not work out because of the moral of policemen. It is obvious most of them are reluctant to work because they are afraid they could die.
I suggest that the Service Chiefs should also go, after-all soldiers were deplored to the troubled zone without being able to curb the menace. The Service Chiefs should leave and be replaced by new ones.
Femi Falana, former President of west African Bar Association, WABA:
"The removal of Mr. Afeez Ringim is a right decision though belated. That is not the end of the matter. He must be made to account for the escape of the Boko Haram suspects, especially the man that visited him in the office and the recent escapee, Kabir Sokoto.
"The appointment of Abubakar as acting IGP is a good appointment, because he is a good police officer. We hope that he will send out strong message to checkmate crimes, not only the menace of Boko Haram, he must be ready to stop all other crimes ravaging the nation.
He must be ready to improve the welfare of police officers by utilising their fund for them as well as attending to the plight of the rank and file who have been begging and grudging over the years. He should also stop the beggarly attitude of the Nigerian police men who on daily basis, mount road blocks to extort money from innocent Nigerians. This will be a right thing for him to achieve success."
Abubakar Tsav ; Rtd fmr. CP, Lagos State;
"In times of security challenges like the present one Nigeria is facing, you do not sack service chiefs. Instead, you re-strategize.  When you have such situation like we have presently in the country, I do not think it is the right thing to sack service chiefs.
You don't just jump into conclusion and sack service chiefs because if you do,  it creates confusion.  Now that the IGP has been sacked, his DIG'S will definitely follow him because his failure meant that his deputies were incompetent except it is established that they advised him on what to do but he turned it down.
But as for the appointment of MD Abubakar, I think it is ok.  For now, I do not want to talk about it but I do know that MD is one person that has a personality pride and anybody that had personality pride cannot be corrupted.
I know him and his antecedents in all the formations he had worked.  His police men fear him and any leader that is feared and respected by his subordinates, is a good man.  So if you ask me, his appointment is good one."
Mr. Yinka Odumakin, spokesman, SNG;
"We have gotten the announcement.   However, a government that is serious and take good care of the security of her people and the nation would not have kept Ringim up till this moment because he has performed below expectations.   His removal is a belated issue, his removal is good riddance to bad rubbish.
Having said that, we are more worried about his replacement in the person of AIG Abubakar who was indicted by the Niki Tobi panel over the Jos crisis. For that type of person to occupy the office of the Inspector -General of Police calls for concern. So, Nigerians should be ready to prepare for their security."
Mr Olusegun Longe, retired  Police officer and Insurance professional and strategic management consultant;
" Ringim's sack was long overdue because a situation where the head does not have a firm hold on his people is bad.
The policemen under him were not ready to police very well. For instance, there was a time he banned roadblocks by policemen nation wide. But two days after, these checkpoints returned unchallenged. Or will one say he went behind to secretly detail his men to return to the checkpoints?
In the case of Boko Haram, it is the responsibility of the Police to checkmate  it. But the Army were invited when it became glaring that the Police could not contain it.   As a former police officer, I want to state categorically that the level of insecurity in the country now was not how we left it. Even the force itself, in terms of quality, is nothing to write home about.
My advise to the the new IG, Abubakar, is to first, restructure the Nigeria Police Force . Restructuring is a holistic thing . First from the head, bribery and extortion of members of the public, particularly commercial bus drivers  by policemen, should be stopped.
Abubakar should, as a matter of urgency, ensure that the idea of financial feed back by junior ranks to their bosses should be stopped. If he achieve this, then the issue of extortion will be stopped.
He should also ensure there is a robust insurance for policemen as well as improve their welfare package. This is because, if policemen are well paid, they will face their jobs squarely.
There is no gainsaying the fact that Abubakar has a lot of challenges ahead. He should therefore do all within his ability to ensure he meet Nigerians expectations so as not to be disgraced out of office as his predecessor."
Mr Akpana, former Custom boss
" When the new IG came on board, we had much expectations  from him. We saw him as the Messiah that could bring changes in the Nigeria Police Force. We saw him as one who, not only have the charisma of an IG but, also the wealth of experience to paddle the boat of the Force to an enviable height. But, unfortunately, he has failed Nigerians in the area of security which is the primary responsibility of the Police.
We have seen many IGs come and go but what happened during Ringim's tenure was much more than all former IGs put together, particularly with the loss of lives and destruction of property by Boko Haram. There had never also been these unwarranted attacks of Police stations and killings of policemen this much.
He did not only loose control of the command but on his men as well. Or how do you explain a situation where an IG issues a directive to his subordinate, only for such directive to be flouted. Take for instance, the issue of the Boko Haram escapee who was under the custody of a Commissioner of Police.
To MD Abubakar, his antecedents in the commands he had served would speak for him. So, Nigerians will not expect less from him. My advise to government is to give him the free hand to work. He should be left alone to do his job to the best of his ability. I am sounding this note of warning because we heard that the release of the Boko Haram suspect was on the orders of some acclaimed powers that be.
The new IG should look for people of like minds both within and outside the Force to work with. And he should also work for the well being of  officers and men of the force by ensuring they get the best equipment and improve their welfare".
Mr Nsor Akpan , a  Neurologist;
"Even though I do not sympathize with Ringim for being sacked, I also want to ask why IGP's are usually disgraced out of office while their counterparts in the Military are not ? Take for instance, the case of Tarfa Balogun, Ehindero and more.
How many times have we heard that a service chief was sacked. Rather, they call it cabinet reshuffle.  My expectation on the new IGP, Abubakar is to first, sit down, look at his predecessors, note where they failed and avoid falling into same trap. He should also go to his drawing board and find a lasting solution to this Boko Haram saga.
Madariola, Security expert
"If not for the tension in the country, I would have suggested that Ringim be allowed to complete his tenure.  But going by the present security situation, what the President has done is long overdue.  And as for the appointment of MD Abubakr, I would say he is a round peg in a round hole.
But I would pray that he be allowed to do his job and be careful in the choice of his team.  He should not allow sentiments to becloud his sense of judgment."
Mrs Fasuloye
Even though I see the sack of former IG as a step in the right direction towards boosting internal security, I still feel government has its own fair share of the blame. This is because of lack of sophisticated gadgets to match those of the terrorists who call themselves Boko Haram.
The last attacks in Kano can attest to this. A situation whereby members of the sect came all out in physical combat with policemen  and at the end killed them, is a practical display of failure on the part of government to adequately equip the police.
Everyone also shares part of the blame because security is a collective responsibility and not the exclusive reserve of the Police. These Boko Haram sect, for instance, are not spirit. They live among people. So, why wouldn't these people report them to the Police?
The Police also share in the blame because we have seen cases where the hunter eventually becomes the hunted. Members of the public have lost faith in the ability of the police to treat information with utmost confidentiality.  My advise for the new IG is to do more of intelligence gathering."