By Uduma Kalu
S/ East, S/South quiet as protest rocks Nigeria
In Kano, Christians guard Muslims
Cameroon feels fuel hike, Boko Haram
Social media boost protest
The anti subsidy removal protests are not only hitting Nigeria, neighbouring countries such as Cameroon is also getting the heat. But all seems to be quiet on the the eastern and southern Nigerian fronts as protests rock the rest of Nigeria. But by Thursday night, messages on tweeter were still scanty but one of them on Facebook said there would be protest at Okpara Square, Enugu by 8 am.
The leader is Lorenzo Menakaya. He doubles as the Occupy Nigeria coordinator. It will be a peaceful march with the members bearing metal shields. On Monday, there will be NLC protest. Aside Enugu, other South East and South South states will tie up with NLC.
However in Benin, Edo State, Environmental Rights Action/Friends of the Earth Nigeria (ERA/FoEN), and its chair, Nnimmo Bassey, in solidarity with civil society groups under the aegis of Coalition to Save Nigeria, staged a public protest. The coalition of civil society groups in Edo State included the Nigerian Bar Association, Nigerian Union of Journalists, Nigerian Medical Association (NMA),Bike Riders Association of Nigeria, market women and students among others.
The Association of Nigeria Authors, ANA (Lagos), in a statement entitled 'The Season of Anomie', a reference to Wole Soyinka's novel, said, "As educated writers, we are resolved to join all possible peaceful activities aimed at expressing the people's displeasure at the current state of affairs. A responsible and responsive government cannot and should not be seen to be deaf to the desires of the people it claims to serve!"
Meanwhile, Cameroonians living in the border areas with Nigeria are counting losses following President Goodluck Jonathan's recent declaration of state of emergency in some states of Northern Nigeria, and closing of the border between the two neighbouring countries. The move has affected prices of basic commodities in the areas especially as a result of higher petro prices and lack of supplies from the Nigerian markets.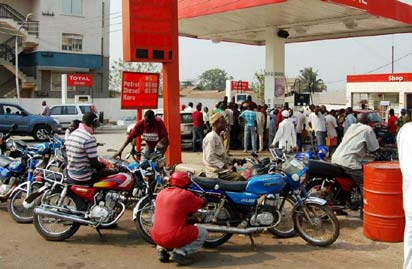 And the social media have been helpful too. Some of them such as You tube, Facebook, listervs, blogs, twitter, website, online news media, emails, dating sites, blackberries, phones, etc, are employed to boost the protest. The internet has thus made it easy to access the leaders of the country to probe the removal of the subsidy.
For example, online newsmedia, Sahara Reporters shows pictures of its unsuccessful live interview with the Finance minister, Dr Ngozi Okojo Iweala. There are videos on Facebook showing the London protests by Nigerians and this is troubling Jonathan. Inside government sources said Jonathan's Facebook page which was not updated since the protest broke is filled with outrageous remarks which are more of a slur on the president.
But to help stem the spread of hate against the government, a massive number of new sign ups will go on Facebook and Twitter with counter-messages that are friendly to the regime, a media source said. They will canvass the government's policies and praise merits of subsidy removal.
The quantity and quality of electronic gadgetry in the hands of protesters should make security people think twice before shooting or beating a protester. One phone camera or the other will capture you, and when the protests are over, reckoning time will come a protester, Mr. Aja N. Aja wrote on his facebook.
The protesters are also learning from what is happening in other parts of the world. From the Tahir Square, Egypt, Kano Christians and Muslims learned to guard each other as they pray. This is a new development in the history of Nigeria considering the recent bomb blast by some insurgent groups called Boko Haram.
The Muslim community has also vowed to escort the Christians to their places of worship so as to protect them against any form of attack. In London, Nigerians' websites reported an allegation of bribery by Nigerian officials to stop the planned protest.
And the heat is also being felt in far away places like Cameroon. A report from African Review gives a detailed account of how the emergency rule in Borno and the fuel hike is grounding the economy of the northern Cameroonian towns.
Cameroon feels fuel hike, Boko Haram
Already, prices of basic commodities that Cameroonian traders used to buy cheaply from the Nigerian side, in Borno State, have more than tripled. Mr. Labaran Maku, the information minister had said, "The major beneficiaries of subsidy are the rich, middle class and some neighbouring countries where the products are smuggled oftentimes."
The price hikes in Cameroon are said to be as a result of the closure of Banki frontier market that used to supply Cameroon denying them a source of affordable goods.
"Customs revenue from imported goods from Nigeria has dried up as there is no trans-border trade after Nigeria decided to close its border", said a senior Cameroonian customs officer who sought anonymity because he is not authorised to speak on behalf of the government.
Faced with growing threat of terrorism from the Islamists terror group Boko Haram, Nigeria recently closed it borders with some of the neighbouring countries, in a bid to halt cross border terror activities.
As borders were closed, Nigeria also announced a decision on to scrap oil subsidies. That has affected bordering Cameroon towns that have relied on Nigeria for petroleum supply.
Over the years, smuggling of fuel from Nigeria for sale in areas within Cameroon has been on the rise especially due to better prices.
It seems someone is not happy with our peace, otherwise how else do you explain the abrupt removal of subsidies all over Africa, from Cameroon, through Guinea, to Nigeria and Ghana.
If Goodluck Johnathan had any self interests at hand, of course he would have removed the subsidy gradually to cushion the effects on his people, but this abrupt removal, more than doubling the fuel prices in Nigeria is political suicide and definitely the wishes of someone above him who wants to see Nigeria go through the kind of chaos we saw in the Middle East, US and Europe. Someone does not like our peace.'