By Clifford Ndujihe, Kingsley Omonobi & Daniel Idonor
LAGOS — EMBATTLED Inspector General of Police (IGP) Mr. Hafiz Ringim has been fired by President Goodluck Jonathan.
The former police boss, who is due for retirement in March is to proceed on terminal leave with effect from yesterday, January 25, 2012, according to a statement by President Jonathan's Media Spokesman, Dr. Reuben Abati.
In his stead, the President approved  the appointment of Mr. Mohammed Dikko. Abubakar as Acting Inspector General of Police "as a first step towards the comprehensive reorganization and repositioning of the Nigeria Police Force."
Before his elevation as IGP, Abubakar was Assistant Inspector General of Police (AIG) in charge of Zone 12 Headquarters in Bauchi. Born on May 5, 1958, Mr. Abubakar  enlisted in the Nigeria Police Force on July 30, 1979.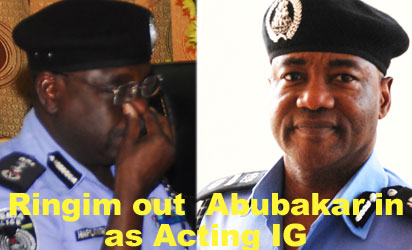 To pave the way for Abubakar, six Deputy Inspectors General of Police (DIG) were retired with immediate effect. The retired DIGs are  Mrs. Ivy Uche Okoronkwo, DIG POL 2i/c Force Headquarters, Abuja; Mr. Azubuko J. Udah, DIG Administration ("A" Dept); Mr. Sardauna Abubukar, DIG Training ("E" Dept.); Mr. Audu Abubakar, DIG Operations ("B" Dept); Mr. Saleh Abubakar, DIG Works ("C" Dept.) and Mr. Mohammed A. Yesufu, DIG Planning and Info-Tech ("F" Dept.).
The President also established a Special Committee headed by the Chairman of the Police Service Commission, Mr. Parry Osayande to oversee the urgent reorganization of the Nigeria Police Force.
President sets up panel
Other members of the nine-man panel are: Mr. Casimir T. Akagbosu, AIG (rtd.); Mr. Bashir A. Albasu, AIG (rtd.); Major Gen. S.N. Chikwe ( rtd), Prof. S.D. Mukoro, Dr. Fabian Ajogwu (SAN), Aisha Larai Tukur, Solicitor General of the Federation and  Permanent Secretary, SSO, Office of the SGF, who will serve as the secretary to the committee.
Specifically, the panel was charged to:
*To identify the challenges and factors militating against effective performance in the Nigeria Police Force and make recommendations for addressing the challenges.
*To examine the scope and standard of training and other personnel development activities in the Police to determine their adequacy or otherwise.
*To determine the general and specific causes of the collapse of public confidence in the police and recommend ways of restoring public trust in the institution.
*To examine records of performance of Officers and Men of the Nigeria Police Force with a view to identifying those that can no longer fit into the system due to declining productivity,  age, indiscipline, corruption and/or disloyalty;
*To make any other recommendations for the improvement of the Nigeria Police Force.
The committee's recommendations shall be implemented along with those by previous committees set up by Government on the reform of the Nigeria Police Force.
Ringim's rigorous  tenure
Since his appointment as the 15th IGP on  September 8, 2010,  Ringim  faced stiff challenges, with little or no success. His biggest problem was the dreaded Boko haram Islamic Sect, whose murderous activities have claimed over 1000 persons since 2009. Ceaselessly, Boko Haram attacked police stations including Police Headquarters, Abuja, Army barracks, churches and markets, etc at will even after giving notices.
Ringim's lacklustre tenure in tackling Boko Haram's  terrorist activities was worsened by the escape of Boko Haram kingpin, Alhaji Kabiru Umar, alias Sokoto, from Police custody last week. President Jonathan had handed him a 24-hour ultimatum to produce Umar or be sacked. He could not produce the escapee.
And matters were worsened with the series of bomb blasts and gun duel in Kano since last Friday, which has claimed over 211 persons including security agents.
President Jonathan who was billed to attend a World Economic Summit in Davos, Switzerland on Tuesday had to cancel the trip at the last minute to conclude serial security briefings to allegedly shop for Ringim's successor.
Some Boko Haram attacks and mayhem under Ringim
Some of the prominent icidences of attack under the tenure of former IG, Hafiz Ringim included:
* December 2010: At least 80 people were killed in the Dec. 24, 2010 bombings as well as in clashes two days later between Muslim and Christian youths in Jos.
* January 2011: Human Rights Watch said more than 200 people were killed in violence over preceding month, with many hacked to death or burnt alive in attacks on villages, and reprisal killings in Plateau State.
* August -September 2011: At least 70 people were killed in clashes in central Plateau State since beginning of August. Cycle of violence started when Christian youths attacked Muslims as they gathered to celebrate end of Ramadan in Jos.
* Nov. 2011: At least 90 people killed in Northeast city of Damaturu when Boko Haram bombed churches, mosques and police stations.
* December 2011: 44 persons were killed on Christmas day in Madalla when Boko Haram bombed a Catholic church.
* January 5, 2012: Sect killed 8 at Deeper Life Church, Gombe:
January 5 and 6 2012: Boko Haram unleashed a wave of bloody attacks killing 28 people and wounding  many others in Gombe and Mubi, Adamawa State.
* January 20: Bomb attacks and gun battles in, Kano, killed 186 people.