By DOTUN IBIWOYE & SEKINAT ONAKOYA
Former Minister of Finance and Secretary to the Government of the Federation, Chief Olu Falae is an experienced banker and an economist. His critics are vexed by his legendary support and advocacy while in government in the General Ibrahim Babangida administration's policy of Structural Adjustment, SAP, and his admirers are always impressed with is integrity and intellectual administrative capabilities.
Falae who can be unyielding and unassailable on crucial points of principle, especially economic. As such, he may be difficult to control or manipulate by the power brokers whose business interests could be at risk.
In this interview, he gives several reasons why the removal of subsidy was wrong. He also speaks on his plans as the director of planning of the National Development Programme in 1975. He also expressed his view on the term on the Islamic banking which said negates the secularity of Nigeria, among other issues. Excerpts:
What is your reaction to the removal of petroleum subsidy?
The question of subsidy has been created by the Federal Government. Subsidy is the amount of money which the government pays for petroleum products before they can sell petrol to us at the fuel pump. The price they should charge is higher than what we are paying. .
The difference between what we are paying and what we should be paying is the subsidy. That difference, to me, does not exist.
If we repaired our refinery, and we have produced the crude oil at forcados and we take it to Port Harcourt and refine it, from the cost of refining to the cost of producing the crude oil, I am sure that the price will not be higher than the price now. It might even be less. But because our refineries are not working, we might ship it to America or Indonesia. We ship it with cost added to the crude oil, import duties is paid, insurance in transit is paid and by the time the oil comes back, the price is now N200 per litre.
Whereas if the crude oil is refined here, it might be less than half of what we are paying now.
That is why I said subsidy is the creation of incompetence and corruption. If government has been competent and have not been corrupt, it would have repaired all our refineries.
I want to add that when I was a director of planning, national development between 1975 and 1980, we had a programme in that plan to refine every barrel of crude oil before exporting.
None of us had gone to refine not only for our domestic consumption but have to refine everything we produce, take what we need at home and export the remaining products – gasoline, diesel, and so on.
So if we had implemented that programme, we would have been exporting diesel, gasoline, crude oil and so on. We would have been refining all the oil we consume in Nigeria. Then there will be no question of subsidy. But now we have this subsidy problem contrary to our recommendation.
So if the government had implemented your programme, there would have been no subsidies?
I will like to tell the present government not to remove the subsidy. All we need to do is for the Federal Government to reduce its budget, the National Assembly is taking a large proportion of the national budget. A senator is making almost N200 million a year, you can slash that. The president of Nigeria has 11 aircraft in his presidential fleet.
When I was Secretary to the Government and I was managing that pool between1986 and1989, we had five aircraft. Today, we have 11. We can sell off five or six of those aircraft. We can also fire the pilots to reduce running cost. I am sure that several billions would be saved a year.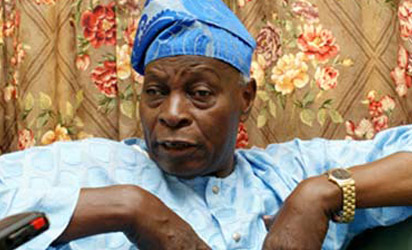 There are ministries that are doing nothing in this country, shut them and save the current expenditure to reduce the budget. So from there, you pay the subsidy for one year, but you must immediately start repairing our refineries. Those who built those refineries are Chiyoda Engineering and Construction Company of Japan.
Bring Chiyoda to repair the refineries and commission them. So in 12 months' time, those refineries would have been working. By then we would have been refining our crude oil.
So it is a two-stage thing, cut the budget down and then you have a task force that will make sure our refineries are repaired and commissioned in the next 12 months. That is the practical durable solution.
During the days of Obasanjo, the administration gave those refineries to their politicians to go and repair at the cost $220million. The money goes and nothing is done. It takes three years to build a big refinery and he has was there from1999 to 2007 (12 years). You cannot repair a refinery in 12 years but build a brand new one in three years. Does that make sense?
What is your perception towards the introduction of Islamic banking?
The Bible forbids the charges of what is called usury, you must not charge your brother usury, but you can charge a stranger usury. Also, the Qur'an forbids usury. Since the two holy books forbid usury, you should not have set up a bank that does not charge usury and call it an Islamic bank. Why not call it non-interest bank which is a neutral bank that does not antagonize or create any fear?
If the holy book says that don't charge usury, and you are going to set up a bank that does not charge usury, it is better you call it non-interest bank. When a person wants to borrow money under Islamic banking and he is not going to pay interest, what does he pay? When he trades with the money, when he makes the profit, he shares it with the bank.
The issue now is what happens when a loss is made? who bears the loss?
This means that I can go to the bank, take a loan, having taken the money, I'll trade with it and I am supposed to bring back profit then share it with the bank. I can now tell the bank that I have lost everything, if I wish – no profit. I can tell them that the principal amount is also gone and I now come to explain to the bank that the profit and the capital are gone.
Since all of us in Nigeria are very smart people, we can bring in different people and we will tell them to borrow from the Islamic bank and abscond with the money, because profit is only being shared when it is brought forward. No profit, okay go home, if that is what the bank does.
I will keep doing it, I will call my brothers to join me in taking the money and pocketing it and saying there is no profit till the bank runs down. And I then ask who bears the loss? People said the bank, and if the bank is absorbing all losses, I think that in no time at all, the bank will be destroyed.
Then if the bank is in loss, the Federal Government has to bail up the bank by putting our money, taxpayers' money, into the bank savings. And I will now ask the question: why use my money to bail up an Islamic bank that I cannot borrow money from? That is the problem, we need to think of a solution to it. Islamic banking which is for Muslims, I am not compelled to come and participate, the Muslims ought to lend money to one another under that arrangement, fine, provided they don't use our common money to bail out the bank when it bears loss.
So the process can collapse the bank?
In Nigeria, we have smart people, if there is a bank that gives out money when you make a loss they absorb it, I will call all my friends to go there and run down the bank in no time at all. So this is a weak point in the argument for Islamic banking. No Christian is forced to go there. It is their own business and to meet it cannot be anybody's problem provided they don't use our common money to bail out this bank when it goes down.
By what criteria would the CBN judge such? Is it because the criteria must be different? In the normal banking situation, we can control what we call the strength.
The CBN said maximum lending rate should not exceed 15%. But Islamic banking cannot charge interest, how can the CBN allow bank that does not charge interest? Do they have another central bank for it? So that will create operational problem. Some people said Islamic banking is to encourage money laundering.
The CBN is free to give licence to anybody who wants to own a bank. The CBN governor forgot that he is the Central Bank of Nigeria's governor, not of any particular state of the country. When I was the minister of finance, someone like him would not have been there. If I am presently the minister of finance and he was my governor, I would have called him to order or would have made sure that he was removed.
If the governor forgot himself that he is governor of CBN, he should be notified. His statements show a lot of affection to Islamic banking, which is not expected of a public officer. Back then, I ordered such political statements which has adverse effects to stop. I don't know what the minister of finance is doing, for him to allow the CBN governor to go on such campaign. But if you have a minister who cannot call you to order, that is his own business. I think the name can be called a non-interest bank.
A secular country like Nigeria might misinterpret the bank with one having links to a particular religion.
At a time when people are bombing churches, no Qur'an told them to do so. They are throwing bomb in the name of Boko Haram, it sounds provoking. The timing is not right, the name is not right. After the Islamic bank collapses, is CBN going to use tax-payers' money, which comprises Muslims and Christians, to revive that bank? These are issues that need to be addressed in the operations of the bank and statements of Sanusi.
The operational guidelines for bailing out Islamic bank are not clear and could cause issues such that non-Muslims are not given subsidies.