A US-based sports philanthropist, Mr. Iyere Ernest Ahamioje has called for total support and encouragement for talented kid footballers in Nigeria to get replacements for aging Super Eagles players.
Ahamioje said in a chat that "the only way to adequately replace our aging Super Eagles players is to support and encourage young and talented kids who will then form a reservoir to be nurtured and developed into future world stars.
Considering the woeful performances of our national teams at all levels, the time to take drastic measures, energize and remedy the development of football from early age at the grass root is now. Anything short of this will amount to disaster in the future growth of our football.
"Nigeria is highly blessed with young talented footballers but our football administrators are suffering from managerial and mental laziness thereby allowing such pool of gifted kids to waste especially at the grass root.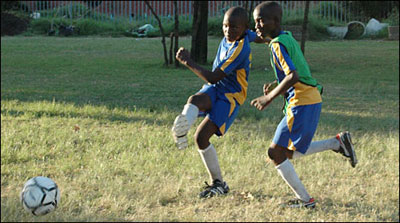 "It saddens my heart to note that most football Academies in Nigeria charge exorbitant fees just to collect registration forms. I make bold to say that most talented and gifted kids are from very poor back grounds and cannot afford to collect registration forms to be eligible for screening into football Academies.
Therefore, if such talented kids are excluded from screening into football academies, Nigeria would have missed the opportunity of producing another Yekini, Okocha or Kanu etc. I call on all stakeholders and lovers of young talents to join me in appealing to the management of all Football Academies in Nigeria to abolish registration fees or in the alternative give special concession to highly talented and gifted kids from poor homes," he appealed.
On the burning issue of age cheats in under-age competitions, Mr. Ahamioje said "the current objective which we have set up to building a solid future Super Eagles that would be the envy of the whole world can only be achieved if we all stand up and eradicate age cheats at all levels of our football.
"We as a people and a nation should be proud to say to the rest of the world that players in our U-17, U-20 and U-23 are truly below 17, 20 and 23 years respectively. This is the only way forward for the positive development and sustainable growth of football in the 21st century."