By Ishola Balogun
Today is another merry making day for members of the Ultimate Circle of Nigeria as they gather to celebrate another round of achievements recorded in the last one year.
Beyound the razmatazz of celebrating high networth individuals, programmes aimed at giving the less priviledged and the aged in homes in Lagos a moment of joy have also been lined up.
The event which will be held at Dee Hall, Ikeja, Lagos today will be attended by politicians, entrepreneurs, former governors, business tycoons and high net-worth individuals.
According to the President of the association, Dr Olawale Oduwole, a consultant Obstetrician and Gynaecologist of Federal Airport Authority of Nigeria, making the less privileged happy is the priority of the association. "We also consider the less privileged as our priority. We may not be able to tackle the problems of these people in the society but what we do usually is to put the needs of those people and where they can be located on paid advertisement so that other well meaning Nigerians can reach them. We draw the attention of the public to all those people that need help in addition to what we do as our own token.
He stated that recently, the association had a cause to take up a case of a man who had a severe case of Scoliosis and kyphosis (hunchback) "He was dieing as a result of the hunch pressing on his heart and lungs and he could not breath. We sponsored him to India and now he is a university graduate. We have collectively impacted in his life. If cases like that are brought to our notice, we take it very seriously.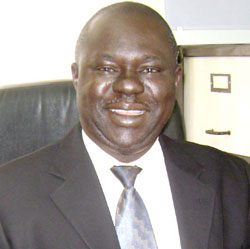 We look at it, put resources together to deal with the issue. Sometimes, it might not be our resources alone, it might be through our network and connection issues like that will be treated. So, it is not about spending money all the time, it could be merely require introducing you to someone who have solution to the problem. We have members serving in Lagos and Ekiti states cabinet, we have members who are captains of industries.
Dr Oduwole who is also the CEO of Odus Special Clinic, Mushin, Lagos, stated that in line with the tradition of the association, a huge amount of money has been set aside this year to make life more meaningful to the less priviledged. "We do it without making noise every time. Usually we embark on philanthropic work during the yuletide period, to make the less priviledged happy.
"Sometimes ago, we had our breakfast with the Old People at the Regina Mundi home. What the President ate was what the next aged person in the home ate. We took food items, clothings and other itmes to them; we sang and danced with them. That is what they need now. A moment of happines could go a long way in their lives."
Oduwole said: "the act of giving is innate. I'm always happy when doing it. I never celebrated my birthday without visiting as many underpriviledged homes as possible. During my 50th birthday, people kept calling me to return home for my meal. Giving to the less privileged is something I cherish a lot, just as it is also the priority of the association. So, I feel fulfilled anytime I am doing it whether personally or collectively."
"If you ask any doctor why are you a doctor? You might not likely to get an answer but the main thing is that we are always happy when we see a patient who came into our offices and few days later he is hale and heathy, smiling and saying 'thank you doctor', it is more than any amount of money. While growing up, I had learned that to extend a helping hand to others is the best gift you can give anybody. Sometimes ago, I had brushes with the management of LUTH. I faced the displinary committee three times and it was because I ordered the treatment of a patient without paying the bills. The matter became worse after the treatment and the patient absconded. It happened three times and that has never stopped me. I was brought up that way. There are so many people like that who can give their hearts out."
He added that the association which is providing philanthropic strategies for the needy; gathering data on where the needy are located and placing them in the media for onward accessibility to good spirited Nigerians also provides social interaction, networking and recreation for its members. "Our networking is not just about succeeding in our various businesses but also in our private lives," he said.