BY ISHOLA BALOGUN
The striking story of Precious Donatus Ogbonna, the miracle birth woman who is yet holding to her claim of delivering eight babies without undergoing the normal gestation period in child bearing is becoming very endless. The newest of the tale is that she said she is ready to deliver another baby making the number 9 in 18 months.
This is coming about three months after she got the eightth baby at Rose Native Maternity Home in Port-Harcourt in a manner that failed to prove the veracity of her story. If she makes do her claim, she would have had nine babies in 18 months, nine months after she lost her first baby Amarachi who died five days after she was born. Precious Ogbonna is currently standing trial on child trafficking and related offences at the Owerri Magistrate Court.
Mummy P, Pastor and General overseer of Christ Salvation Ministry, Owerri, made this revelation while speaking with SaturdayVanguard few days ago. She disclosed that she felt some movements in her stomach and went to a native maternity home where it was said she will soon have a baby.
According to her, it was detected that the baby in her womb had the umbilical cord around him which could make normal delivery difficult, adding that she had been placed on drugs and injections to ease the problem while also expecting to deliver the tenth in the series soon.
"First, I want to correct the error in your last publication that I had delivered baby no 8, it was not the eight baby but the nineth. You did not count the first one that died few days after she was born. So, it was the nineth and not the eight. But now, I am about to deliver the tenth. Like I told you in the previous interview when you asked me whether I will still deliver another one, if you will remember, I said I did not know, that I just gave birth. But I know that God promised me ten babies.
"Shortly after that time, I have been having contraction. I went to another maternity home, and it was discovered that I have another baby coming but the baby is carrying his umbilical cord and this could lead to a Caesarian section which I don't want."
She added that "They gave me drugs and injections pending another check-up date which was Thursday December 22."
When we sought to know why she refused to go to a conventional hospital to prove the veracity of her story especially after the previous ones have failed to convinced majority of people following her story, she said the choice of where to deliver her baby is exclusively hers .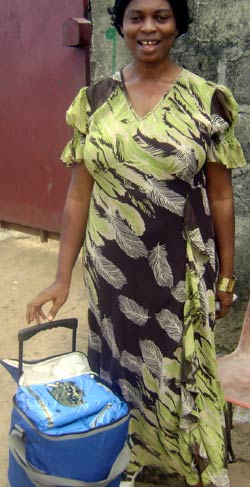 "It is not a conventional hospital but a maternity located in the outskirts of Owerri. There is freedom of choice to deliver where I want and where I feel the baby and I will be safe. I'll give you an instance of my younger sister who was pregnant and had the umbilical cord around the baby making it difficult to deliver the baby the normal way. She had a Caesarean section but that was in United States. I don't want that." she said.
Not long ago after her ridiculous claims, a DNA was sponsored by Vanguard on her and all the seven babies, and it was revealed that Precious Ogbonna was not the biological mother of the babies. In fact, it further revealed that none of the babies had the same maternity.Further investigations revealed several native maternity homes where pregancies were framed and fake deliveries carried out which were reported by Saturday Vanguard.
It was established that Precious got her babies from two of these homes, namely, Nurse Blessings' Home located on Ohonda Close, in Rukpakulsi, Port-Harourt where she got five of the babies and Rose clinic, Oyigbo, Port-Hacourt, Rivers State, where she got two.
At the last purported delivery at Rose clinic on 21-22nd September, no third party was allowed to witness the delivery inspite of the controversy trailing the precious deliveries. Not even the female members of her church who followed her to the clinic to witness the delivery were allowed into the labour room in the three bed-room flat clinic.
This time, she hinted that she has chosen another native maternity home in the outskirts of Owerri for the delivery of the baby. "I decided to go to another home because the former home would not accept me having had deliveries there. In fact, the publicity this issue has given me is another problem because they don't want to be involved in the controversy. I did not even tell the new home my real identity for fear of being rejected," she said.
She continued that this time, she would invite everybody to witness the delivery to prove her story, adding that "I'm going to discuss with the home to allow female journalists into the labour room to witness the delivery," she said.
Three babies still missing?
Following Precious Ogbonna arrest last May and taken into police custody over child trafficking and related offences, the seven miracle babies were kept at RedCross Orphanage in Owerri. Since then, Saturday Vanguard has been monitoring events in the home. Few weeks after, one of the babies was alleged to have died while three others were taken away from the home to an unknown place, leaving three. Police have refused to comment on the issue.
When Saturday Vanguard visited the home, only three of the babies were seen and the situation remained the same when we visited again recently to see if there was any new development. The home which has four rows of about 15 baby cots had 10 babies between the age of 0-2 years.
Staff of the home declined comment on the whereabout of other babies. But an inside source claims the Police took them away. Further investigations revealed that they were being kept in another welfare home in Owerri.
The worry about these babies is that their 'mother' has not been given access to them. Are they alive? How are they faring? The entire story is becoming unending as issues about the welfare of the babies are revibrating.
Just few days ago, the acclaimed mother of the babies, Precious Ogbonna said the babies: Conqueror, 19months; Chizitere, 18months; and Fineseed, 15 months; (females) have not been returned, leaving only Ekpereamaka, 16months; Flourish, 12months; and Ebenezer, 8months (males) in the home. She stressed that security reasons were cited by a police source just as she wonderd why they would have to be kept apart.
When contacted on phone, the ACP State CID, Owerri, Mr. Emmanuel Ojukwu also declined comment. When asked whether the babies are still in their custody, he said: "the case is in court and I can't comment on it." But where are the three babies? Why are they being kept apart and why are others still being kept at Redcross orphanange if truly those were the reasons?
The home which has other babies in its care depends largely on donations and gifts by members of the public who ocassionaly visit the home. Besides, a source maintained that gifts and donations no matter how little are being recorded immediately they acknowledged it. When SaturdayVanguard visited the home with undisclosed identity, few individuals were seen bringing gifts to the home with Matron of the home seen attending to them and three of the babies were seen there playing.
Counsel to Precious Ogbonna, Barrister N.B.E Nwigwe who is also the Chairman of Ethics and Disciplinary Committee of the Nigerian Bar Association, Owerri branch said: "I don't want to go beyond my brief. I have not gone to the home to see the babies and she has not told me that three of them are missing. I can't comment on that."
He noted that he cannot seek for the release of the babies until "they formally arraign her and we quash the case; it will appear premature to ask for the release of the babies now," he stressed.
However, a source who preferred anonymity disclosed to Saturday Vanguard that the babies lack proper care adding that the home did not have enough resources but only rely on gifts by individuals. "They are not receiving adequate care. How much funds are they getting? They are doing their best," said a source.
"We further observed that the environment is another source of concern as there are lots of mosquitoes within the home inspite of window nets in the home. "Recently, two of the three kids there had cold and it is a regular thing which is not good for babies," the source said.
Asked whether a formal complaint was lodged on this issue, our source said "the Matron was not available as at the time of the visit but maintained that the police would have to present the babies to the court when the time is right."