By Emman Ovuakporie
Prince Abubakar Audu, the candidate of the Action Congress of Nigeria, ACN is rejecting the results of the election as announced by the Independent National Electoral Commission, INEC. It is not a new story, some say. The Igala prince has participated in five elections since the Confluence State was created.
He was a candidate in 1991, 1999, 2003, 2007, 2008 and most recently, 2011. He won the first two elections he participated and was declared as losing the last four. Remarkably, he rejected the results in all four he lost. A prince does not lose in his kingdom he seems to believe. But pitiably, the electoral regulators do not seem to have royalty as their authority.
LOKOJA-RUMOUR MONGERING
Lokoja is not a very big town so it is quite easy for rumour to spread round the rocky town. First,was the wild rumour on Wednesday preceding the election that outgoing Governor Ibrahim Idris had been removed by the Supreme Court on account of the tenure elongation case. That proved to be false.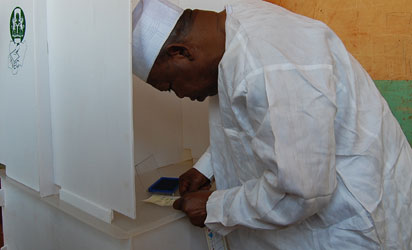 On election night as residents settled for the night, the town was again engulfed in another rumour that the ACN candidate, Audu had won the election. That rumour was shadowed with allegations that landlords in Lokoja belonging to the PDP were threatening their tenants suspected to have helped the ACN achieve the "victory" with eviction.
However as night gave way to light and the true results emerged the story changed as landlord and tenant continued cat and mouse as before.
TIGHT SECURITY IN KOGI
The security agencies performed beyond all expectations in the course of the election. In most parts of the state the law enforcement agencies ensured that no moving object strayed into any security circuit during the voting period on Saturday.
However, as everything with the Police, the flipside was the selective passage of some motorists at the two of the major entry points into the state in the south just before Okene and in the north from Abuja.
Motorists who were sufficiently bold to induce the security men were allowed to pass through the blockades mounted to stop inter state passage during the voting period.
Those not bold enough had to endure the pains and waited till 3 p.m. when the blockade was lifted.
Subscribe for latest Videos