By Sessou
Dr Essien Okong Ekon is an orthopedic surgeon who has lived all his life serving humanity. He spent thirty years of his life as a civil servant where he worked as a director in the military hospital in Yaba.
He later retired to face his own business, Doren Medical Centre, a mediacl centre that has been established since five years.  A man in his early 60s says, as a civilian, working in the military hospital was very interesting and also very challenging.
I spent the whole of my career with the military. I joined as a young doctor in 1982. And we
had the choice to either wear uniform at the officer's hall and remain as civilians. My family was not well disposed to me joining the army, having gone through medical school, so I decided to stay as a civilian. I left the military in 2007.
"As an orthopedic surgeon, I was in charge of the injured persons including the time of the Ekomog, many wounded patients and soldiers that suffered injury were brought to the hospital and we took their of them.
I was a young surgeon who was devoted and so there was no time for to abhor any grievance. Although, there must be discrepancies but once you are good at your job, you will be respected for that. But, there were times where your junior person who is a Major can talk to you in a manner you may not like.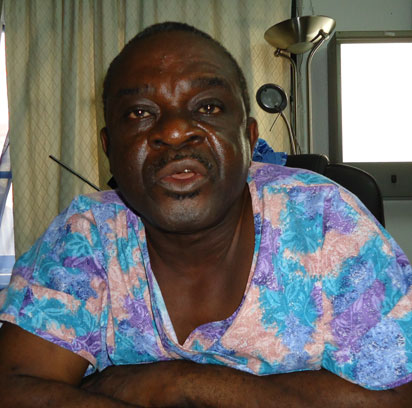 When you think of what your contemporaries were as at that time, my mates were Brigadier Generals and because you are a civilian, you can be talked to anyhow but perseverance made me know that, that is their way, therefore you would feel very upset.
The good thing is that our mates were those who were Colonels and Generals and therefore if you report to them they are in the best position to call junior colleagues to order that it is a hospital and not a barracks or military affair, so they were also called to order and there was control. So, it was very easy for me to spend thirty years with them, if not I probably would have have left after five years.
During those thirty years, it was a military era and one was happy to be privilege to see most of the people that became head of state, one would have had the opportunity of treating them as patients when they were younger officers. For instance, I've had course to treat Abacha and his family members even Obasanjo. I remember the day I was on duty, there was a gun shot injury and his wife was injured. I was also had opportunity to have treated one of his children who later became a medical doctor and joined those in the military hospital. These are privileges of being able to treat people that are in the corridors of power.
And even if you didn't benefit materially, at least it gave some confidence that you are working where you have influence and you affects the lives of people who are in the corridors of power.
Although, I couldn't use any of these opportunities to maneuver my way or get contract but many of my mates became personal physicians to governors by virtue of being exposed. I was a practicing surgeon and surgeons have a way about themselves. Although people would think you are arrogant but you are sure of yourself and the labour of your hands to achieve your goals.
I resigned based on the fact that government wanted to keep specialists in-house to stem brain drain so they allowed us to set up a private hospital so when my mates go to the mess, I will go to my private hospital and nurse it up from the beginning. Unlike, contemporary civilian hospitals, we only depend solely on the salary we were paid. So, I thought that the only way to feed my family well was to have a decent private practice. So, it got to a stage where the practice had grown so I seemed to have out-stayed my youthful age in the military and at the same time using that to upgrade myself to the level of a director which was level 17 and no other thing to work for except you got a political appointment to become a permanent secretary and I was not really ready for that. So, when I saw that I have gotten to the peak of my career in the army, so I opted to step out and there is no regret.
I started this practice and moved to the periphery in Aja area of Lagos State. I have no regrets for stepping down. In fact, I wished I'd wished to step out earlier than that. When you set up a private practice in medicine, many people come to the place because of you. So when you are not there, the place will not grow. But, since I've left and came over here, my patients are happy to see me, so the practice had grown. So, if I'd stopped some ten years ago to join this practise, I would have been happier for it.
So, coming into my own business, the challenges were sustaining and financing a private set up. I did not have the financial record to go to the bank so it was like doing a direct labour. But leaving the army was good for me because I'd already became a director. Many of my colleagues who were not that lucky are still waiting to become directors before leaving but since I have became a director, there was nothing to fight for again to start working in the military of defense, so coming out here is just getting staff that have the same mind-set with you and are ready to work with you.
Those were the challenges otherwise, I'd acquired the skills to work so it was only to apply the skills and have a new set of clients. These time, it will be a private patients basically civilians free from service. Luckily, the time I left military was the advent of NHIS the manage care which made certain things compulsory. So I have seen almost all the thirty health management organizations that are available.
As a doctor, you must experience both good and bad time. But the greatest joy is when you have a patient that comes in a very bad shape and after your effort, the patient gets well and smiles. Some of them do not say thank you but when the person gets well, the satisfaction is more than what money can give. But when you do your best and things do not get well, you will feel so sad and very depressed.
Some people do not believe that doctors do have that type of feelings especially as an orthopedic surgeon, we have gun shot wounds from armed robbers or road traffic accidents so sometimes, they come in very bad shape and their relation looks so anxious and if you are able to intervene, the satisfaction you will get is immeasurable. Just like the opposite, there are some cases that will come here,you will do your, pray throughout the night and the patient still dies you will feel so bad.
At that point, the first thing is to sympathize with the relations then when I have tidy up with the relations, I would then go back home and leak my own wounds. I feel very bad, sometimes I will not feel like eating. My wife who is pharmacist keeps reassuring me that I should not feel so bad that I did my best. And if truly, I did my best, I have consolation in that.
In Doren, the people in the area know that we give our best. All the motorcyclists "Okada riders" that doren is the best place to go to. Our patients advertise for us that I don't loose my sleep about competition because healthy competition is allowed.