By GODWIN ORITSE
IN what may be explained as a commencement of its end- of- year clampdown on smugglers, the Federal Operations Unit(FOU), Zone 'A' of the Nigeria Customs Service has intercepted six vehicles loaded with assorted contraband at different areas  across the South Western axis.
The seizures were made at different times within the last two w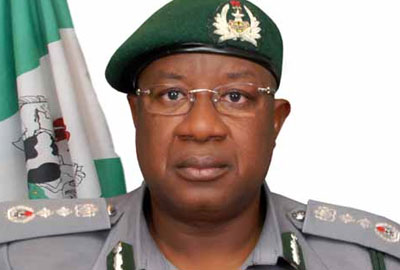 eeks along the ever-busy Oyo -Ogun axis and at Ijanikin, along Lagos Badagry expressway.
Confirming the seizures to journalists in Lagos, the controller in charge of Federal Operations Unit, Mr Victor Dimka disclosed that the first set of seizures were made on November 4 around Igangan in Oyo state  when a Volkswagen LT 35 bus with registration number MQ 768 KJA was intercepted by eagle-eye customs patrol men.
According to him, upon inspection, the bus was discovered to be loaded 170 bundles of expensive textile materials, estimated to have a duty paid value of N91.8million. "The occupants of the said vehicle, on sighting Customs officials jumped out and ran into the bush', he narrated.
Disclosing the command's exploits further, Dimka said that a few days later, along Eruwa-Abeokuta- Saki axis, a Ford Transit bus with registration number XU 893RBC was intercepted with 109 bags of Indian hemp with estimated value of about N98.1million.
And on Monday, he told journalist at the command's headquarters in Ikeja that a team of patrol officers led by Assistant Comptroller Ali, S.G intercepted four vehicles that were loaded with poultry products.
"The drivers who were driving on the one-way lane on the highway quickly jumped and abandoned the vehicles immediately they sighted Customs patrol vehicles", he disclosed, shortly after the poultry products were buried on Monday.
According to him, when the vehicles were brought into the FOU office, they were found to contain 509 cartons of frozen turkey and chicken, with estimated duty paid value of N3.054Mmillion.
The controller confirmed that the Comptroller General of Customs( CGC), Alhaji Diko Abdulahi has given stern directives that the nation's entry points, especially, the land borders must be closely monitored to ensure that no contraband is allowed into the country.
"The CGC has directed that we shouldn't allow anyone to take advantage of the end-of-year festivities to bring in any contraband or smuggle any dutiable items into the country, and we are equal to the task. Any smuggler who dares the capability Federal Operations Unit will always regret it", he warned.
Dimka confirmed that all the seized items are already lost to the Government, saying, "Our advice to smugglers is that they should desist from such act or be ready to be arrested and lose their investments or even get killed in the process."
He confirmed  that in line with the Customs CG 's directive, the FOU Zone 'A' has reinforced its patrol and deployed more men to man the various routes and ensure that nothing illegal is allowed into the country.