By Opeoluwani Akintayo
While Nigerians were busy celebrating the Christmas, upcoming act, Raoul John Njeng-Njeng, a.k.a,  Skales, was thanking God for saving him from an accident which almost claimed his life.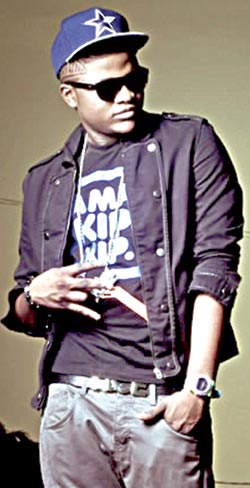 The accident happened moments after the rapper and his friends left the Elegushi beach, Lekki where he'd partied at a Christmas carnival.
Skales with three others riding in a friend's SUV on the Lekki express-way got into trouble while attempting to avoid a pothole,  ran into a ditch.
The vehicle was said to have somersaulted several times, injuring Skales and two others, while the forth occupant of the utility vehicle a certain T-shirt maker, fondly called Syntillate (Gafar), was reported to have died as a result of injuries sustained from the crash.
Gafar has since been buried according to the Muslim rites
In his post on social network page, Twitter,  Skales twitted 'Tank God 4 life….God is 2 merciful…he has neva failed!!! He saved ma life so ama giv him all d praise…so happy 2 see anoda day!!!'
The rapper signed under Banky W's EME Records is reported to be in good health.
Corroborating the incidence, EME label source  said, 'Yes he was involved in an accident but he's doing fine, I haven't seen him to get full details yet'
It would be recalled that Skales who recently got signed to EME, dropped two singles, Keresimesi and Mukulu last month. He has since followed up on the single with the release of the  Mukulu video produced by Clarence Peters.