…says it has lost confidence in FG protection
.. Jonathan pleads for calm, says arrests have been made, promises restructuring
BY DANIEL IDONOR
ABUJA –  NIGERIA Christians under the auspices of the Christian Association of Nigeria, CAN, Wednesday described the Christmas Day terrorists attacks on Christians and churches in Madalla, Jos, Damaturu and Maiduguri as a declaration of Islamic Jihad on Christians.
The leadership of CAN led by its President, Ayo Oritshejafor, in a prepared speech at a meeting last night with President Goodluck Jonathan, at the Presidential Villa, Abuja, blamed the attacks on Islamic, religious and traditional rulers for not publicly condemning the activities of the sect adding that its members may have no other option than to fight back when attacked.
President Jonathan, in his response, however, called for calm, assuring that government was on top of the situation as some arrests have been made and they will soon be prosecuted.
While revealing that countries facing similar attacks have offered help to Nigerians, he revealed plans to restructure and re-adjust his team that will meet with the challenges facing the nation today.
The CAN president who declared that they have lost confidence in government's ability to protect Christians in the country, however, assured President Jonathan of CAN's continuous prayers and support for his government to succeed.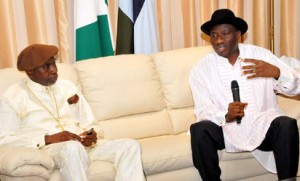 The CAN prepared text reads: "After consultation with Christian community which constitutes the majority of the Nigerian population. I have been mandated to convey as follows:
"The Christian community in Nigeria is deeply sorrowed over the detoriating state of insecurity in the  country and apparent inability of the government to protect and guarantee lives, churches and properties of our members. Our hearts especially goes out to the bereaved families of the 2011 Christmas Day bombings at Madalla, Jos, Damaturu and Maiduguri where over 50 christian faithful have reported to have been killed through the most recent attacks.
"The concern of the Christian Community is further heightened by the admittance by government itself that it has knowledge of the perpetrators of these crimes, unfortunately there are no convincing high profile arrest to assuage public anxiety over this matter.
"Having reviewed the pattern, trend and frequency with which these terror crimes occur, it fits into the profile of Islamic Jihad over the years on the christian community, which properly are contextualised. It is considered as a declaration of war on Christians
and Nigeria as an entity.
"The Christian community has found the responses of the Supreme Council for Islamic affairs and other Islamic bodies on this matter to be unacceptable and abdication of their responsibilities over their extremist members. It is on record that most religious, traditional and political leaders in the North have not come out openly to condemn the extremist activities of Boko Haram, we hold them responsible for what is happening, because they have not taken concrete steps to check the excesses of their members.
"The Christian Community is fast loosing confidence in government's ability to protect our rights to religious liberties and life. The consensus is that the Christian community nationwide would be left with no other option than to respond appropriately if there are any further attacks on our members, churches and properties. We wish to reassure Mr. President of our continued support and prayers for the success of his government. Thank you, God bless you and bless Nigerians".
President Jonathan who thanked the CAN leadership for the visit and their commitment to prayers for the country and the government over this period, assured that his administration was on top of the situation.
"Let me express my personal condolence and that of my family and indeed that of the government and people of this country to CAN for the Christmas incidents at the Madallah Church and those of Yobe and Jos and of course to the families that lost their loved ones in the ugly incidents.
"I have listened attentively to the statement of CAN but let me again reassure CAN and indeed Nigerians that any terror attack on any individual or structure in this country is an attack on all of us because terrorists don't have boundary. That is why some of them can even go to the extreme of suicide bombing. You see somebody throw an explosive into the market, he does not even care whether his father or mother is there".
He described terrorism as ugly "that is why some people described it as attack of the evil ones on a decent society. Yes, one will expect government to do more and government will surely do more. One thing I normally mention is that yes, we have been coping with criminals in this country. The most ferocious are the armed robberies. We have never experienced armed robbery before the civil war. It was after the civil war Nigeria started experiencing armed robbery. Since then, government has been battling armed robbery. But then, this terror attack is new to us but I can assure you that we are doing our best to make sure that we get over it. Other countries that have experienced it are also helping us. Both African and non-African countries that have suffered attacks are assisting. I encourage Nigerians to work with government because when we work together collectively, we will get over it.
"The terrorists are human beings, they are not spirits, they live with us, they dine with us. We know them, people know them. As long as Nigerians are committed to expose them, we will get over this ugly situation. At the security level, we are doing our best, we will restructure, we will re-adjust and make sure we get a team that will meet with the challenge we are facing today.
"When in December 2009, a Nigerians was caught in a flight to US, we were all surprised and embarrassed. We thought such people were not living with us, that probably he was contaminated outside. Now we have come to meet the reality that we have terrorists and even suicide bombers among us. We must fish them out, we only ask for the cooperation of all Nigerians.
"And I will plead with religious leaders, both Muslims and Christian leaders, to work together because terrorism is like a cancer to the body, it starts from somewhere and spread to all the organs of the body. It is like a flood and a big storm, it starts from somewhere and before you know, it goes to places you never expected. So if anybody is dancing round and thinking that it is not its turn today, it will be worse off. So the best thing is for all religious leaders , opinion and traditional leader not to politicise the situation".