AFTER several months of a heavy and disturbing silence over the deadly activities of the Islamic sect Boko Haram , some Northern leaders had their tongues unbound early this week.
Succinctly, they criticised the murderous activities of Boko Haram, which in the last two years, have claimed about 1500 lives and properties worth billions of Naira. The destructions took place in several cities across Northern parts of the country.
The leaders found their voice at a two-day peace conference organised by the Arewa Consultative Forum (ACF) in Kaduna to navigate a path out of the worsening insecurity and prevailing violence in the country especially in the North. Before now, northern leaders had shied away from criticising Boko Haram.
Northern leaders, who spoke up included Vice-President Namadi Sambo; Senate President David Mark; former Military Head of State, General Yakubu Gowon (rtd); Sultan of Sokoto, Alhaji Sa'ad Abubakar III; Governor of Niger State and Chairman of the Northern cernors' Forum (NGF), Dr. Aliyu Babangida; Kaduna State Governor Patrick Yakowa, Bishop Mathew Hassan Kukah; and former Kaduna Governor, Ahmed Makarfi among others.
At the conference were governors of Benue, Jigawa, Sokoto, Kaduna, Kebbi, Yobe, Gombe, Borno, Zamfara, Nasarawa, Niger and the deputy governors of Katsina and Kano states, while the Secretary to the State Government represented the Plateau State governor.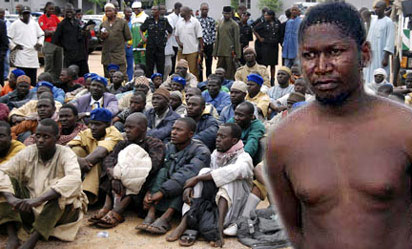 There were also former Vice-President Atiku Abubakar; former Chief of Army Staff, Abdulrahaman Danbazzau; Ismaila Isa Funtua; Umaru Mutallab; Umaru Shinkafi; Umaru Dikko; General Inuwa Wushishi; Prof Adamu Baike; Alhaji Bamanga Tukur; Mallam Nuhu Ribadu; Alhaji Yayale Ahmed; Speaker of House of Representatives, Hon. Aminu Tambuwal, and many traditional rulers among others.
Speaking at the opening ceremony of the parley entitled: "Peace and Unity for Development," Senate President Mark, in clear terms, hit the nail on the head. He did not mince words in flaying the Islamic sect's world view and urged solutions.
Although many northern leaders attended the event, the boycott by Middle Belt leaders and traditional rulers as well as clamour by Middle Belt groups in Jos and Lagos that they want an autonomous region indicate that the search for a united North is out of sight.
And given Wednesday's devastating explosion that killed about 15 people in Kaduna metropolis, a few kilometers from the venue of the parley less than 24 hours after the ACF confab, Northern leaders may have to add bite to their talks, to wriggle the North out of the violence web.
We must take a stand on
Boko Haram – Mark
Calling for urgent solutions, Mark raised puzzles on the failure of Northern leaders to openly take a stand on the Boko Haram menace and the continued backwardness of the region in education.
His words: "Will this conference avoid what may be regarded as sensitive issues and not discuss them? Will we be able to condemn current degree of insecurity in the North occasioned and heightened by Boko Haram? Are we afraid to openly condemn Boko Haram either for political reasons or out of fear of possible attack by the sect? How can we keep quiet when a group begins to propagate the ideology that Western education is Haram? Western education today remains the pivot of development.
"Have we forgotten that evil thrives when good men are silent? A Northerner killing a Northerner, a Northerner maiming a Northerner, a Northerner disrupting business activities in the North, a Northerner destroying properties in the North and so on and so forth cannot be helping the North by any stretch of imagination. Can this help Northern cause?"
He continued: "When is the North truly North? Is it when the interest of a few but vocal group is met? Is it when the interest of a select religious group is met? Is it when a section of the North is satisfied? Or is it when the interest of the common good of the North is addressed?
"Why has the North continued to lag behind in education? All available statistics show that in both literacy and numeracy, the North lags behind the South, and even within the North, there is much disparity between the zones and between states.
Is it that the states are not investing much in education? Is it that we are not providing basic infrastructure? Is it that we are not encouraging and mobilising the pupils to go to school? I am dwelling so much on education because I seriously believe that there is a linkage between education and development on the one hand and between peace and development on the other.
As a people who desire to live together, we are bound to have problems but we can overcome these if we are sincere. Sincerity of purpose, consistency, transparency and honesty are all necessary ingredients to ensure peace and coexistence in the North; sincerity on the part of our religious leaders. We must demonstrate this in words and in deeds, and we must show that we are serious about this. As leaders, we sometimes have to take decisions that are painful but necessary. We must be courageous even if we are threatened. Can we truly say that we have done this?"
Hold Northern leaders responsible for violence – Gowon
On his part, Gowon lamented that leaders had allowed things to degenerate to unacceptable levels in the North and that it was time to halt the descent.
"We have, over the years through our action or inaction, directly or indirectly allowed the gradual descent to the present disagreeable and unacceptable behaviors in our communities and the entire North. We now must show seriousness, courage and responsibility in addressing these challenges squarely without fear, favour or mudslinging," he said.
The Chairman, Board of Patrons of the ACF, said the thrust of the conference was necessary in view of the recent challenges of insecurity and communal, religious and ethnic conflicts bordering on criminality and other forms of social unrest.
"All these are threatening to redefine the character of the once peaceful, united and promising nation and of particular concern to us is the development in the northern states. Therefore, this conference is concerned about the challenges and the need to salvage the legacies of our founding fathers which are showing signs of imminent collapse.What is happening today is not the Nigeria and the North we inherited and for us, it cannot be the North we desire to bequeath to our children. The present North was not bequeathed to us neither are our children responsible for it."
How to stem the tide
– Sultan of Sokoto
Sultan of Sokoto, Alhaji Sa'ad Abubakar III, noted that the traditional institution was in a better position to ensure peace and stability in the North because of their closeness to the people and advocated the recognition of the role of traditional rulers in settling disputes in their domain as it was the practice before Nigeria came into being and during the colonial times.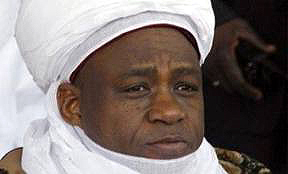 He also canvassed good governance. "We must take our children off the streets to the classrooms. Our leaders, especially the political leaders, must lead with justice, fairness and transparency while dealing with the masses. Then and only then will peace and stability be restored not only in the North but in the entire country."
While Governor of Niger State and Chairman of the Northern Governors' Forum (NGF), Dr. Aliyu Babangida, partly attributed the problems in the North to political disconnect between the elite and the people, Vice-President Namadi Sambo called for frank and honest discourse to find solutions to the raging issues.
Implications of Middle Belt boycott
Although nobel ideas were canvassed at the parley, it is doubtful if the measures would be implemented given the mien of the Middle belt, which geographically constitute about 50 per cent of the North in terms of the North.
The Federation of Middle Belt People on Wednesday distanced itself from the peace parley, saying the North was not ready for peace.
The Coordinator of the FMBP in Plateau State, Mr. Manasseh Watyil, reportedly said that Middle Belt leaders were not taken along in the peace process.
Notable Middle Belt monarchs, who were not at the Kaduna conference include the Tor Tiv, Alfred Akawu Torkula; Ochi Idoma, Elias Ikoyi Obekpa; Aku Uka Wukarri, Agyo Masaka Ibi and Gwom Jos, Gyang Buba. Other missing leaders include former Defence Minister, Gen. Theophilus Danjuma; Air Cdr Dan Suleiman; and Prof Jerry Gana.
Said Watyil: "As far as we are concerned, they are not prepared for peace, simply because the people who should propagate the peace, especially the traditional and political institutions, are absent. If the ACF wants peace in the North, the position of Middle Belt in the North should be redefined."
We Middle Belt need autonomy – UMBYC
Indeed, during a visit to the Lagos Corporate Headquarters of Vanguard on Tuesday, leaders of United Middle Belt Youth Congress (UMBYC) drawn from all Middle Belt states and representing the 144 ethnic nationalities of the area, said they were not part of the North.
Led by Bar Abuka Onalo (president-general), Lohshep Justice Madugu (secretary general), Michael Abah, (national Media secretary), Comrade Ikari Peter Sanusi (national provost), Comrade Okwori Bernard Abah (accounting officer) and Abass M. Mafeng Choiji (special duty), the youths said Middle Belt leaders were not at the parley because they were not invited.
Asked if they were not North, they said: "We are Middle Belt, not North" and canvassed that the Middle Belt should be made a region and a federating unit in Nigeria. "Take a look at the Middle Belt as a geographical entity. Middle Belt was never conquered by the Jihadists. Middle Belt managed its resources before the British came and lumped us together into Northern Nigeria," they said.
The youths also opposed Boko Haram and insisted on pursuing western education. "We challenge Boko Haram lay down their arms and come up with a better alternative to Western education. We are for Western education. If you have an alternative, come up with it and if it is better, we will embrace it."
Northern leaders' response belated – Mbagwu
Reacting to the Northern leaders new stance, a chieftain of the Peoples Democratic Party (PDP), a management consultant and chairman of Simeon and Rose Associates, Lagos, Chief Cliff Mbagwu, said though the response might be belated, he hoped that it would mark a new beginning towards addressing the Boko Haram menace.
Lamenting that the Boko Haram phenomenon was beginning to look political, he described the harvest of deaths accompanying the sect as unfortunate. "It is unfortunate in the sense that I don't think it is in our character. It is not in the character of an average Nigerian to engage in mass killing for whatever purpose."
He urged the government to address mass poverty, inequity, poor governance and corruption to check the activities of the group, who find willing hands in jobless youths.
Origin and time line of Boko Haram's activities
Figuratively translated as "Western education is a sin", Boko Haram, was formed in Maidugiri in 2002 by Ustaz Mohammed Yusuf, who established a religious complex that included a mosque and a school. Many poor families from across Nigeria and from neighboring countries enrolled their children in the school, which also served as a recruiting center for jihadist to fight the Nigerian state.
In 2004, it was extended to Kanamma, Yobe State, where it set up a base called "Afghanistan", used to attack nearby police outposts and killing police officers. Over time, the group established branches in other northern states such as Bauchi and Niger states
However, the threat posed by Boko Haram became very obvious in July 2009 following the death of Yusuf in Police custody and accompanying barrage of mayhem unleashed by the group on the polity.
Indeed, the Nigerian police started investigating Boko Haram in July 2009, following reports that the group was arming itself. Several leaders were arrested in Bauchi, sparking deadly clashes with Nigerian security forces which led to the deaths of an estimated 700 people
Major attacks attributed to Boko Haram
January 2010, four persons killed in an attack at Dala Alemderi Ward in Maiduguri metropolis, Borno State.
* September 7, 2010, group freed over 700 inmates from a prison in Bauchi State]
* Friday January 28, 2011, group killed Borno State candidate of the All Nigeria People's Party (ANPP), Mr. Modu Fannami Gubio, his brother, four police officers and a 12_year old boy.
* March 3: Three people are killed and 21 injured by an explosive device thrown from a car at an election rally near Nigeria's capital, Abuja.
*April 1, 2011 sect attacked a police station in Bauchi
* April 7: An explosion hits a polling booth at Unguwar Doki, Maiduguri, Borno State injuring more than 10 people
* April 8: Bomb explosion at the Independent Electoral Commission office in Suleja, kills 11.
* April 9, 2011, a polling center in Maiduguri was bombed.
* April 15, the Maiduguri office of the Independent National Electoral Commission was bombed, and several people were shot in a separate incident on the same day.
* April 20, Boko Haram killed a Muslim cleric and ambushed several police officers in Maiduguri.
* April 22, Boko Haram freed 14 prisoners during a jailbreak in Yola, Adamawa State
*April 21: Two suspected bomb_makers die in a blast in Kaduna.
*April 25: Three bomb blasts rip through a hotel and a motor park in Maiduguri killing at least two persons.
* May 29, 2011, Boko Haram blamed for a series of bombings in northern Nigeria that killed 15 persons
* June 17, 2011, the group's suicide bomber bombed the police force headquarters in Abuja killing many people
* June 26, 2011, the sect bombed a beer garden in Maiduguri, killing about 25 people.
* June 27, 2011, another bombing in Maiduguri attributed to the group killed at least two girls and wounded three customs officials.
* July 03, 2011, another bombing in a beer garden in Maiduguri killed about 20 people
* July 10, 2011, a bombing at the All Christian Fellowship Church in Suleja, Niger State. [38]
* August 12, 2011, a prominent Muslim Cleric Liman Bana was shot dead by Boko Haram
* August 26, 2011, the UN headquarters in Abuja was blown up by a suicide car bomber, leaving at least 21 dead and dozens more injured.
* October 16, 2011, Boko Haram shot and killed politician Modu Bintube outside of his home in Maiduguri..
* October 22, 2011: Boko Haram slew Alhaji Zakariya Isa, a Nigerian Television Authority journalist, claiming that he was a government informant.
* November 5, 2011: A series of coordinated attacks in Borno and Yobe states, primarily around Damaturu, killed at least 67 people, leaving a new police headquarters in ruins, and government offices burned.
* November 11: Explosion in Bauchi left five people injured
* December 8, Bomb blast at a market in Kaduna claim 15.