By Emmanuel Aziken, Political Editor
Prof. Steve Ugbah until recently a United States based university lecturer was the gubernatorial candidate of the Action Congress of Nigeria, ACN in the recent elections in Benue State. Though he was declared as the loser of the election, Ugbah in a petition to the Election petition tribunal claimed to have been robbed of victory.
His petition has suffered several challenges and was recently redirected by the Supreme Court to the State Election tribunal. An undaunted Ugbah in an interaction with journalists in Lagos explained why he is seeking to recover what he claims as his mandate. Excerpts:
HOW has it been with you since after the election?
It has been an exhilarating rocky ride so far. We are at the tribunal right now contesting the announcement of Gabriel Suswam as the winner of the April elections in Benue State. Our petition has seen its ups and downs. But lucky enough the Supreme Court revived, resurrected our petition when it ordered the tribunal to retry our petition based on its merits. So, we are back to Benue State governorship tribunal which has met and which will continue hearing our case.
We are very optimistic that justice will be served. We would be allowed to present our evidence that we indeed won the election and that the election was stolen by Dr. Gabriel Suswam and his cohorts in an effort to perpetuate themselves in power against the will of the people. So we are going to continue trying to regain our mandate using all constitutional means, all legal means, all lawful means at our disposal to regain that stolen mandate. So far, so good.
Now when I came to run for elections in Benue, I was told repeatedly that this was going to be an impossible task for me because I didn't have the structures on the ground to win. I was an unknown quantity. I didn't have money. At the time, I didn't understand what they meant but now I do understand precisely what they meant.
You see, what became very clear to me was that number one, I needed structures on the ground to ensure that I won the elections. By structures, they meant I must have either a battalion of militia with AK 47s spread across the entire state.
First, I don't have any appetite for violence and I abhor violence. My family repeatedly has been victim of violence and I was not interested in amassing any weapons or militia to intimidate people, maim people, kill people. But I have since realised that that is one of those ingredients for success in a political race in Nigeria especially in Benue State.
The second thing that I realised was that I needed lots of money which I didn't have. I am a teacher, I am a professor; that is a glorified name for a teacher. I have never worked for government except in United States where I worked for state of California as a teacher. So, I  couldn't have amassed any wealth, saying I am going to put huge sums of money on the table to convince people to vote for me.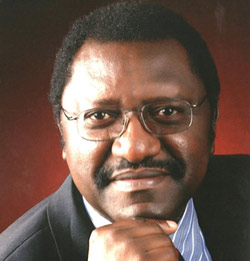 Now what do people use money for in Nigeria to contest for elections? I have realised that you need lots of money not to win the hearts of the people but you want to set aside enough money to bribe electoral officers, bribe judges, bribe justices, bribe security forces to look other way while you commit atrocities. I don't have any appetite for that and that is not why I came to run for elections here.
And I am very grateful to the current Minority Leader of the Senate, Dr. George Akume, for standing firmly behind me to prosecute our election campaign. I am also very grateful to Dr. Iyorchia Ayu, the former Senate President who also is solidly behind me. I am also grateful to the small people that nobody care about who have stood solidly behind me in Benue State and outside of Benue as well as contributing their hard earned naira to the success of our campaign.
It wasn't a campaign based on money. The success that we registered in Benue State was based on the people's desire for a change. It was not only Steve Ugbah who deserves this change but the people of Benue wanted a genuine change. They were yearning for it, the time was ripe. So, they all supported my candidacy.
In what way do you think that your coming would have brought change to Benue?
You see, our politicians of late have created this artificial aural of leadership around them where they believe that money will buy them leadership. The Benue people today have shown in no uncertain terms that money is not a defining factor in terms of instituting leadership in a political contest in Benue State.
So, in a span of just three months, we were able to transform the landscape of Benue politics. We were not interested in going out abusing people in the public; we were not interested in stationing militia to scare people away. This is what people were yearning for and this is what we responded to.
Now when you go to Benue State even as we speak now, you will discover that people on their own strung brooms across the roads, they hung brooms in their houses. Why? Ugbah didn't tell them to do this, they on their own wisdom felt this was how they could express their need for change and that translated into voting at the ballot box.
So, we believed that we won that election not based on a slogan but based on people actually going out and voting. The votes were manipulated and we know how; we have inspected the materials and we know precisely what are in those ballot boxes. We know what happened to our agents, we know what happened at collation centres.
We have INEC material to buttress our own claim of a fraudulent announcement and that is why we are not relenting in our effort to try to expose this process of fraudulent behaviour so that other politicians tomorrow will be very cautious in terms of how they mobilise their forces to steal elections and we are hoping that Benue State will also serve as a lesson to other politicians across the country that you cannot treat people with impunity and expect to get away with it.
So you can imagine that a candidate that didn't exist and an unknown quantity like me coming from nowhere to come and dislodge an incumbent governor that had all the money in the world. Had the backing of most powerful politicians not in Benue but in Nigeria but I have the backing of the most important politicians and people that counted most in Benue. The ordinary people of Benue counted the most and they told politicians to go away with their money that their votes are not for sale. And we have the numbers.
You could imagine an incumbent administration is claiming that it won an election in the margin of 100,000 votes. That shows that it's a real problem which we are going to expose. We must be allowed to expose that so that it will serve as a lesson to other politicians. We know that in the end we are going to prevail because the evidence is right there. It is so glaring.
You talked about stolen mandate; this is what most politicians say after losing an election. So, at what point was this mandate of yours stolen?
I didn't come to contest for elections to steal votes. I came believing in Prof. Jega when he preached one man one vote and that is what gave me the courage and motivation to inject myself into this process. When I came I discovered that the one man one vote was a myth and was not something that others took seriously. I took that seriously, my party, the Action Congress of Nigeria (ACN) in Benue State took it very seriously.
But unfortunately the Peoples Democratic Party (PDP) and Suswam didn't take the one man one vote seriously. So, their entire strategy was plotting on how to steal votes and how to prevent people from voting. Knowing this, we still went to the field and contested the elections.
In spite of this, we were declared winner in more than half of the local governments in Tiv land that control over 60 per cent of the votes. We have three zones: zone A, zone B and zone C. Zone A and B combined that is where the bulk of the Tiv local governments are. Zone C is Idoma and Igede. We won overwhelmingly in zones A and C. in Zone C, PDP claimed it won because they exploited the real run down local governments.
Now if PDP and Suswam had won this election fair and square, Steve Ugbah will not be sitting down here today talking to you. I will be the first to call Dr. Suswam and congratulate him on hard fought battle because it's not a do it or die for me. However, if those elections were stolen and which I believe they were stolen because the stealing didn't just start at the collation centres because Government House was monitoring the returns and instructed people to go back and change numbers.
We didn't have the capacity to tell people to change numbers, government did using the Resident Electoral Commissioner, Alhaji Nasir Ayilara, whom we had complained severally that he was a biased empire. As a biased empire, we didn't want him around. We wanted him changed because of his own behaviour as far as our elections were concerned. But of course Jega knew better and kept him and in spite of that he went ahead with the elections.
So, we believe and not just ACN, the people of Benue believe and if you go to the streets today and ask any one who won the election, they will tell you 'we didn't vote for Gabriel Suswam. We voted for Steve Ugbah'. What happened? So, I owe it to our constituents, I owe it to the good people of Benue to fight and retrieve that mandate.
This is not the first time that PDP in Benue has stolen someone else's mandate. What they told me each time I went on our campaign trips or rallies, the first question they asked me was 'Governor, if  we vote for you how are you going to ensure that our votes count?' Every single place that I went to that is what they kept asking me.
At first, honestly, I  didn't understand what they meant until the day of the election when I started receiving phone calls 'we don't have ballot papers here', 'people have run away with ballot boxes', 'they are shooting guns in the air', 'they are preventing ACN people from voting'. I then understood exactly what they meant. They were powerless and needed someone to stand up and fight for them.
Their expectations are very high. People are mad, people are upset. They yearn for positive change. We want to discourage the culture of impunity in Benue State, to give people a chance to develop as the state is too backward we can't afford the status quo maintained.
The time frame for election petition is six months going by the 2010 Electoral Act. As such the PDP is saying that your petition has expired. What is your position on this?
Our case, just like other cases at the tribunal in Benue, has been thrown out on technical grounds. You didn't put a dot here, case dismissed. You didn't sign on this line, case dismissed, you used wrong colour paper, case dismissed. We have been challenging these rulings and the cases have been coming back including this provision of 180 days.
The truth is that, our case was aborted and dead by the time we got to the Supreme Court which means there was no case and time was not running.
In the recent past, Benue politics has become violent with either PDP or ACN accusing each other of instigating violent attacks. Where do you stand on this?
You see, for people who followed election events it's curious to ask: how come there is always violence between PDP and other parties? The last time it was PDP and ANPP (All Nigeria Peoples Party). Then another party comes its PDP and that party and violence. So, when a party now tries to oppose PDP there must be violence? We need to ask ourselves that critical question. My entire being, my entire make up abhors violence.
My family repeatedly had been victim of violence, political violence. My own ancestral home was torched, my grand parents' bodies exhumed and burnt. My own younger brother was killed in 1983 because of political violence. Paul Unongo, a Minister of Steel, is my father. He is not my biological father but that is the person who trained me to be what I am today.
He ran for governorship in 1983 after he was declared a loser few years after that my immediate younger brother who just came back from United States on holidays was intercepted and slaughtered because of politics. So, we have house of mourning because of politics. So, I left and I went back to school trying to maintain my sanity. So why will I still come back and want to institute violence on people that I want to govern. So it's not in my nature.
Subscribe for latest Videos