BY OPEOLUWANI AKINTAYO
Nigeria's Hip-hop act,Terry Tha Rapman has indeed proven that he's a force to be reckoned with in the music industry by dropping a new 'bomb shell' single, Zombie.
According to our findings, the new single, Zombie, is a chip off his much longed_for album, World Domination mixtape.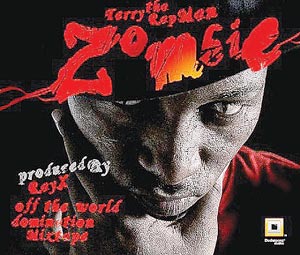 It would be recalled that the hip_hop act won his way into hearts with the release of his last album, Boyz Are Not Smiling. He also had series of collabos which helped push him to the top.
But this time around, the beat and lyrics are different.
The artist who's known for his comical flow of words mixed with slow and calm beats has suddenly on his 'dark side'. He brought to the fore his love for hip_hop, saying that if this genre of music is dead, he'd be better_of as a zombie.
" If hip_hop is dead, I don turn Zombie."  The song was produced by  Raycon X