By CHARLES KUMOLU
TO a lot of people the name Emeka Odumegwu Ojukwu means different things.
While some see him a national hero, it would be hard to convince others that he was not a tribal god.
He was also regarded as  a reluctant rebel, who led his people into an unnecessary thirty-month civil war.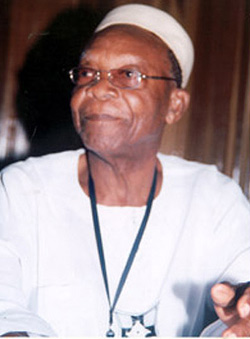 The sports-car-driving son of one of Nigeria's richest men, an urbane student of history,  who read voraciously, wrote poetry, played tennis and, with his wealth and connections.
However, whichever he is viewed, Ojukwu, even in death remains a defining figure in Nigeria's journey to nationhood.
Perhaps, this is why, ignoring, his place in history, would be at the detriment of any historian.
One man, who aptly described the late Biafran War Lord, is a Former Secretary General of Ohaneze Col Joe Achuzia.
Achuzia, who is a personal friend of Ojukwu in an exclusive chat with Vanguard described the late Head of the defunct, Republic of Biafra, Chief Odumegwu Ojukwu, as a national hero, who was misunderstood by a lot of people.
The civil war hero,  who was the most dreaded commander in the Biafran Army, also noted that Ojukwu's death does not mean the end of Biafra, saying that Biafra still exist in the mind of every Igbo person.
According to the former Oheneze scribe, "It will be very difficult to forget a man like him. I am still very sad. We were very close. People think that he created controversies, he did not.  Controversies trailed  him. Ojukwu so much loved Nigeria and he wanted the best for this country."
He further noted that Ojukwu's kind of person would never be found in Igbo land, adding that Ojukwu was a colossus. "That kind of colossus would never be found anywhere in Igbo land, He wanted the best for his people,  we schooled together at Kings College and also in England, I am still trying to digest the shock of his death, like I said, I should be left to mourn my friend.
He was a national champion, it was people who thought he was an ethnic leader." Continuing, he said, " No! Ojukwu's dreams for better Nigeria would never die. This nation has lost a great man and that vacuum will be difficult to feel. Men like Ojuwkuwu are rare to come across. I am still coming to terms with his death."
Subscribe for latest Videos