BY TONY NWANKWO
His rank as Army general in 1997
It seems rather odd that people found it difficult to know how to address me. They didn't know whether to say lieutenant-colonel or to say general. And then on that basis, I indicated that that was still one of the things that bedevilled our effort at coming together. We have not been able to come together because, you see, when you strip a man of everything, be careful, don't strip him of his plans.
We are in a position today where coming together, even though we all know it's necessary and laudable, is hindered by actions that people don't realise how insulting they can be. Here is, sitting beside me at that time, Major-General Philip Effiong.
How can I contribute fully to the War College when you, in front of me and in front of him, call him colonel, or when you cannot even call him any rank? The American civil war was fought very bitterly, but in personal relationship, all the officers on the other side bear their ranks. I will always be a four-star general. General of the Biafran Army. I have never claimed to be a General of the Nigerian Army.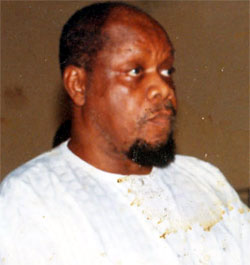 If even you have, let's say, a man, a Biafran major-general, I don't even think actually we should even go through all the rigmarole converting him into the Nigerian Army. No. Even if a Biafran, he is a general. But courtesy makes him to be. We should then give him, call him, refer to him, with respect.
We say we are trying to come together. Let us remove all the various things; let's all come together. What was said, in fact it was left unto me, it will be the beginning of a healthy relationship between the past officers and men.
How Abacha treated him
I felt very good. The only thing, because to me – and let me take this opportunity – some people will misunderstand and say there is a bit of sycophancy. No! I praise the openness of General Sani Abacha. It is that openness that has made this reunion possible. And I say this bearing in mind that the first act, particularly in my direction, of this regime was at the death of President Houephet-Boigny (of Cote d'Ivoire).
General Sani Abacha, in choosing the delegation that went with him to the funeral, put me on the delegation. And nobody had considered me as having any positive capacity in Nigeria, until he did it. Oh, no! It's another evidence of his openness that I, the arch-rebel, would come to the Nigerian War College, stay at the high table and pontificate to the officers, who are serving the Nigerian Army.
Peace keeping and role of military
We were hardly independent when we went to the peace corps and ever since this, there's hardly any place that Nigerian troops have not taken part in. In fact, I look upon it and I put it side by side with this problem which has beset Nigeria's image. When the whole world should be pointing at Nigeria with envy and pride, certain dissidents have been making a lot of noise abroad. I don't say Nigeria is perfect; no human organisation is perfect.
But certainly, let us accept that on this peace-keeping effort, Nigeria has done a lot more than other African countries. I would like to point out that in running to the aid of impoverished neighbours, Nigeria has done more than other West African countries.
In rallying and giving a sense of pride to the black man on the continent of Africa, I believe Nigeria has done more than most. If you permit me, my own view is this, and I say this in Nigeria, I do not support military government. I was part of the first but then, I do not still support military government. But once it has arrived, I cannot wish it away. It is there. I have to deal with it or I live with it. Confrontation is not the answer in any case.
Igbo agenda in politics
The day I came out from the Constitutional Conference, and we had talked so much about rotation, I said it's Igbos' turn next. That's what I said. And I have been saying so all along. I still believe that the one thing that will bring peace, absolute peace, to this country, the type of peace we want attached to development, is to liberate Ndi Igbo and there is no better act of liberation than accepting that they have equal right in Nigeria.
I don't say that presidency should be handed over to the Igbos on a platter of gold. I will be an idiot if I say so. But let no obstacles be placed before them in the realisation of their manifest destiny.
The Igbo agenda is so clear. We are bored with the slow pace of Nigeria in development and progress. We are bustling with energy to clear the way for Nigeria to make progress by leaps and bounds. We see many gross feelings and obstacles on our way. We weep for Nigeria because we believe we can contribute so much to Nigeria. The Igbo agenda is to be allowed to give Nigeria the best of Ndi Igbo.
On Ohanaeze Ndigbo
There are many things wrong with our Igbo system and one of the worst is the whole question of Ohanaeze, which I find very painful. I have been a member of Ohanaeze in that I am a member in a situation where Ohaneze has no membership.
It is an obtuse organisation and there is nothing other than if you happen to be an Igbo man who fraternises with them, there is nothing against one. But if you attend meetings you are seen to be a member. I am worried. I am worried for a long time about this amorphous nature of the organisation because if we really want something done, you need a tighter organisation. You don't have a market organisation to do or to live.
It is significant that this Ohanaeze would appear more important to the Yoruba, to the Hausas, in general, to the non-Igbo than it is to Ndi Igbo. And I get amazed at the amount of tears shed from outside Igboland for Ohanaeze than the regret you will find in Igboland. Of course, we should be part of the organisation. But, the strategy of a people cannot be discussed just like that. It needs a tight organisation.
Subscribe for latest Videos