By Prince Osuagwu
If resolutions at a three day conference preceding the launch of Nigeria's replacement satellite, NigComSat-1R, are anything to go by, Nigeria is gearing up for massive transformation, any moment from December 19, 2011.
The transformation would among other numeral benefits, create huge job opportunities for the country's teeming unemployed youths, change the appalling state of health services, uplift the falling standard of education, strengthen the frightening and detoriating national security, spurn more interests and change the crude agricultural practice and implementation in the country.
Nigeria's strong statement in world satellite
All these are said to be capable as Nigeria sets to make a strong statement in the world satellite business with the launch of NigComSat-1R in December. NIGCOMSAT-1R is a replacement satellite for Nigeria's communications satellite, NIGCOMSAT which was de-orbited in June 2008 barely one year after it was launched by the Asian satellite builders, China Great Walls ind Corporation.
As a prelude to the launch of this satellite, managers of the country's satellite business, Nigerian Communications Satellite, NIGCOMSAT, Limited, decided to hold a three-day conference which it said was meant to present the deliverables of the new satellite to the Nigerian stakeholders who are actually the beneficiaries and are expected to buy into the transformational business opportunities it could bring.
The 3-day Stakeholders' Conference and Exhibition recorded full attendance of stakeholders from the ICT sector, Military, financial advisers, IT consultants, researchers, government functionaries and the academia.
Papers presented each day at the technical sessions, focused on the level of preparedness for the launch of the replacement communications satellite for Nigerians, importance of communications satellite in boosting broadband penetration and addressing homeland security challenges, as well as the business opportunities it will offer.
Chief Executive of NIGCOMSAT Ltd, Engr. Timasaniyu Ahmed-Rufai, while welcoming participants at the opening of the conference, assured Nigerians that NigComSat-1R has been fully integrated even as every necessary performance test has been carried out to ensure smooth launch.
According to him, having seen the benefits that accrue to so many other countries of the world, through communications satellite, Nigeria made sure that the prospects of the new satellite would enhance the country's standing in both Africa and world economy.
He said that the satellite's remote sensing platform, for instance, could help Nigeria keep an avalanche of experts anywhere within the Africa region and service businesses off-shore, from Nigeria. This to him would create more jobs, bring more money and attract a lot more respect to the country just like it happens in India.
Why govt backs launch
Giving reasons why the government was backing the investment in satellite technology, Rufai said that it has been discovered that one of the factors militating against the growth of Africa and the developing world was their continued adoption of ICT from other countries.
He said that those were some of the areas that the satellite would take care of, adding that NigComSat was a strategic intervention by the Nigerian government to domesticate ICT.
Rufai who announced that up to 50 Nigerian Engineers have been trained since the 29 months period the replacement satellite has been on course, promised that by the time the satellite goes into the orbit again come December, a lot of benefits, including the speeding up of bandwidth and its price reduction among other things, would trickle down the Nigerian economy.
Benefits
Listing the benefits of the satellite, Rufai said it would foster the growth of broadcasting industry as it will allow broadcasting to concentrate on provision of quality content in order to realise maximum revenue. He noted that the satellite would also act as open-door to attract foreign direct investments into Nigeria.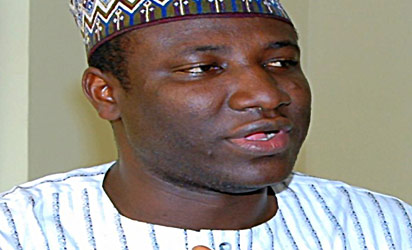 He explained that mobile and broadcast operators could set up and receive signals from any location and be sure of quality reception because satellite's signal strength and speed are stable.
The satellite was also said to be capable of providing good security for Nigerians and Africans; enabling better flow of information to multi-channels; Improving interconnectivity among the military (Army, Navy and Air force); enhancing communication across the Police force as well as providing easy access to information seekers through robust internet platform.
Transformative technological innovations
While waiting for the satellite to go up, NigComSat said it has already developed transformative technologies and initiatives that could leverage on the benefits to usher Nigeria into the first top twenty economies by the year 2020.
Unveiling them, Rufai said "the most recent agenda is the transformation agenda, but the sad news is that Nigeria is a consumption economy, importing almost everything.
In order to achieve transformation, we need to be less dependent on imported products. Nigeria is heavily dependent on crude oil. Subsidy of 2yrs will make Nigeria self sufficient as we would have been able to fix our refineries. we need skills to be able to achieve transformation.
We need to develop our educational system to develop our infrastructure. With the launch of NIGCOMSAT-1R we are implementing some projects, some ground networks. For instance, we in conjunction with the Ministry of education have developed an initiave we called Nigeria Secondary School Networks, NSSN.
It is intended to connect 10 secondary schools in each state of the federation into virtual classrooms. We have a Direct To Home, DTH platform and we are in the process of getting an Outside Broadcast, OBVan. We will target some teachers and broadcast their lectures live to multicast to other schools.
"The second project is to enhance hardware integration expertise and software programming. All applications will be written by our engineers from scratch and we are going to educate others free of charge . We are doing this to create jobs for the youth. In china they are graduating one million students from the tertiary institution and 26 million secondary school students annually, using the china education network.
Telemedicine is one of the projects. We are planning to deploy virtual kiosks to bring medical services to the unserved rural areas. This would enable quality consultants to remotely examine patients and give them quality healthcare.
We have also developed a rural irrigation system here in NIGCOMSAT which will help farmers a lot. We believe that until the face of agriculture is changed and farmers here begin to embrace mechanized and new ways of farming, the economy would not be totally reliable.
Yet we also have developed e-voting system. This technology was started in 2007 as a staff attendance system and was later developed into the evoting system. The unique features are that the results are transparent and can immediately be seen. One can vote from anywhere and the results cannot be altered because it has an audit trail".
Recommendations
At the end of the conference, stakeholders recommended that government, ministries, departments and agencies (MDAs) should take advantage of NigComSat-1R for seamless connectivity in terms of information flow within the government circle.
The Forum called on the National Drug Law Enforcement Agency (NDLEA), the Immigration and Police to begin to make adequate preparation to leverage on the opportunities of NigComSat-1R in combating boarder crimes.
The 102 Response Centres created by NEMA, were also discovered to have the potentials of highly getting enhanced by NigComSat-1R even as broadcast and other communications operators were advised to strengthen their operations with the satellite.
This is even as security agencies were also advised to key in on NigComSat-1R to solve the mirage of security issues plaguing the country.