By PETER DURU
Ter Ukum, Chief Daniel Dzahan, is the traditional ruler of Ukum Local Government Area of Benue State comprising among others Zaki Ibiam which was invaded by soldiers ten years ago reportedly on a revenge mission. In this interview, Dzahan bemoans the scar on the community which he claims is yet to heal, the negligence of Federal Government in providing compensation to the victims and vows his people will not forget.
Excerpts:
Your Royal Highness, it is ten years ago when the military allegedly invaded your territory?
Yes. There was destruction in my territory Ukum Local Government especially Zaki Biam, Gbeji, Vaase, Kyado, name them. We pulled ourselves together and with the little that we were left with we tried to build our lives. But it is however, our responsibility to educate our children on what actually took place in our land. We are moving on, as a matter of fact, despite all the odds.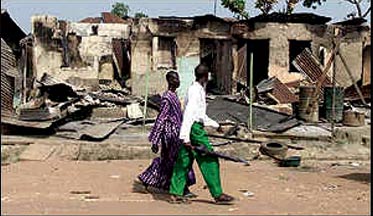 How have the victims been able to recover after all these years?
To be very frank with you, my people are yet to recover from the shock of the military invasion. Let me give you one example of one of my subjects, a renowned politician and former speaker of the House of Representative, Hon Akaai Chaha.
All his property in Zaki Biam here were destroyed and he keeps thinking over it. In fact, it will take many years before we will wipe it off our memory.
Can you recall exactly what happened on that fateful day?
Yes, what happened was that some fake soldiers were said to have been killed and after their burial on 23/10/2011 the Federal Government deployed heavily armed soldiers who raided the area.
I was actually in Abuja then to represent the Tor Tiv at a particular occasion and on reaching my local government I got wind of the mayhem in Zaki Biam and I returned to Gboko and briefed the Tor Tiv about the sad incident. I, among other prominent sons of Ukum Local Government were those particularly hunted for.
My family members were also badly affected. My brother-in-law who was a pastor was also killed in my house here. We were demoralized completely. The destruction was overwhelming. The wounds may have been healed physically but our hearts are still bleeding.
Can you say that the invasion was justified?
Not at all because it was built on a fake story that my people killed some soldiers and there were some connivance. At first, the names of the so called soldiers were published but later withdrawn and another programme organized where the same names were dropped and circulated without the names on it. It was all stage-managed and manipulated to wipe us out of Nigeria. It was a ploy to destroy the Tiv nation and permanently destabilize us.
How have you been able to advice your people on moving forward?
We cannot shy away nor move away from our land. Tiv land is in the entity known as Nigeria and we have to pick up courage to become committed to ourselves, our land and indeed our country Nigeria. We should pick up courage to build up Benue state and Nigeria.
We Tiv people are the fourth in terms of the population of the nation and if we sit down only to blame people without coming out together to reconstruct, rehabilitate ourselves, we cannot move forward.
So what has the Federal Government done in terms of compensation to the victims of the military invasion since ten years ago?
That is the sad part of it. Up till this moment I am speaking to you, we have not been sympathized with by the Federal Government.
We are still praying and hoping that something should be done for us, at least to sympathize with us as a part of this country that has been badly injured. That sympathy can give us a sense of belonging as Nigerians.
Subscribe for latest Videos