BY EMMA UJAH, Abuja Bureau ChiefDANIEL IDONOR
ABUJA— PRESIDENT Goodluck Jonathan, yesterday, assured Nigerians that the Federal Government would transparently invest the petroleum subsidy funds on the provision of basic infrastructure in the country.
Declaring open the first session of the Presidential Retreat with the private sector on economic development and job creation, at the Banquet Hall of Aso Rock, the President said government was prepared to deregulate the oil and gas sector of the economy to make it more attractive and beneficial to Nigerians.
He said: "In the event of deregulation, this administration is committed to investing the resources in tangible infrastructure and providing social safety nets and other mechanisms to moderate the impact of the reforms on the most vulnerable segments of our society."
Jonathan hinted that to further strengthen the economy, the government was keen on reviewing the nation's external trade and tariff policies.
The President noted : "There is no denying the need to promote our own domestic industries and protect them from unfair trade practices. We must also adopt a more responsive tariff policy that recognises the limitations of an over-extensive prohibition list.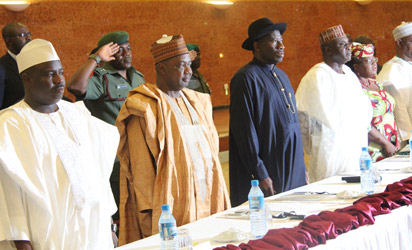 "In this regard, we need to arrive at more effective trade and tariff policies that facilitate the creation of local businesses and jobs. We are determined to accelerate the implementation of the 48-hour ports clearance reforms, improve the efficiency of the Nigeria Customs Service and other related agencies, and reduce the incentives for smuggling."
He listed government's proposed interventions to include revitalising key segments of the manufacturing sector; increasing capacity utilisation and developing manufacturing clusters for leather, textiles and food processing; promoting housing and construction through the development of a viable mortgage system.
According to Jonathan, in line with the government's commitment to ensure good and responsible fiscal policies, "we are committed to maintaining the fiscal deficit at below three per cent of gross domestic product (GDP) during the life of this administration. This would result in a deliberate and systematic reduction of domestic borrowing by government to bring it to sustainable levels.
"This administration is also accelerating the implementation of key trade, tariff and customs reforms mostly to improve the domestic investment environment".
He stated that infrastructure and not corruption was the main problem hampering the development of the country, stressing that "my thinking in that direction is that a lot of money is in the private hands. The private sector in this country can really make things work.
"If we were waiting for the government, we wouldn't have had cell phones that is why I believe that to fix certain things, the private sector is critical".
Earlier, Dr. Ngozi Okonjo-Iweala, Minister of Finance and Coordinating Minister for the Economy, said the retreat was not an avenue for talk but where the private and public sectors would brainstorm to find lasting solutions to the nation's long economic problems.
Though she argued that the country has made progress down the road, Okonjo-Iweala, however, noted that there remained key challenges that the nation needs to tackle to be able to get to the desired goals of growth and development
Subscribe for latest Videos