By Evelyn Usman
For maritime operators in Nigeria, it has been one long tale of woes over the raw deal they have been having in the hands of pirates and sea robbers on waterways who delight in seizing their ships with near impunity. The hijacked ships and trawlers most times are used as bait to attack other unsuspecting ones on the sea.
Fishing trawlers tend to be more vulnerable to such attacks. Usually the sea robbers will wait till a trawler releases its fishing gear which takes time to haul up. Since they can't haul up and run fast enough, they are easily overtaken by pirates who then gain easy access into the vessels.
Some of these sea robbers even go as far as sinking trawlers after making away with the goods, a worrisome development that necessitated an outcry by maritime operators in Nigeria, who claimed to have lost some of their members during such attacks.
In some cases, some of the hijacked vessels and crew members were rescued by Naval personnel. Vanguard Metro, VM, gathered that in most cases, the pirates demobilize the communication gadgets in the hijacked vessels, thereby preventing the crew from contacting rescuers. In other cases, vessels were released after payment of a whooping ransom.
Maritime domain
Regrettably, these attacks do not only portend grave implications for commerce in the maritime domain, thereby impacting negatively on the country's image, but have also hampered seaborne trade and economic activities of the country.
But the good news is that these attacks may soon become a thing of the past as the Nigerian Navy has declared war on pirates, warning them to leave the waterways in their own interest.
To match words with action, the Nigerian Navy has extended its dragnet beyond the nation's waterways, as it has begun a joint patrol with the Republic of Benin, on both countries water routes, with the official launch in Cotonou, two weeks ago. The joint patrol code named 'Operation Prosperity' is headed by Commodore Mufutau Bola Ajibade, a Nigerian Navy personnel.
Delivering his maiden speech during the launch, Commodore Ajibade recalled that: "There is an upsurge in the reported cases of piracy acts of armed attacks against shipping along the approaches to the Port of Cotonou and this impacted negatively on shipping activities, maritime trade and the economy.
However , the pragmatic and and laudable leadership of both countries presidents has provided the pedestal to eliminate this menace of piracy and acts of armed attacks against shipping from our territorial waters".
He pointed out that the establishment of the joint maritime patrol by both countries satisfied and provided the required blueprint needed to combat water crimes and also turn the fortune of maritime trade in the sub-region into a favourable one. Three war ships, all from Nigeria, including five support vessels , two defender boats and helicopters would henceforth be patrolling the waters ways of both countries for a period of six months.
Commodore Ajibade further explained that his vision was to secure the maritime environment between both countries territorial waters up to the outer extremities of both Exclusive Economic Zones. Handing down a strong-worded warning to sea miscreants, he said: "Let me use this opportunity to sound a solemn note of warning to all miscreants and criminals within our territorial waters and seas, to say that the Sheriff is at Sea".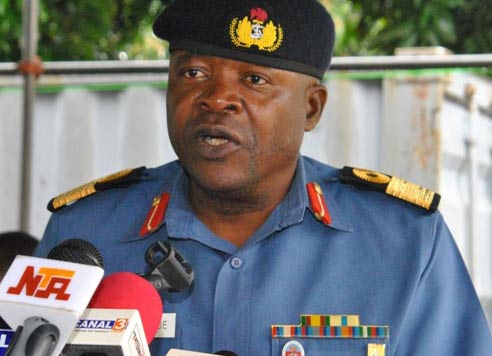 He informed that the joint maritime patrol had been structured to leave no room for any illegal activities at sea , adding that it also possesses total "Maritime Domain Awareness".
Describing the joint patrol as timely and coming at a time when global emphasis is focused on arresting this menace which has threatened global commerce, the Executive Director of Nigerian Maritime Administration and Safety Agency, NIMASA,whose organisation is also involved in the patrol, Ishiaku Shakarau, noted that the bilateral cooperation was the first of its kind in the West African sub-region .
"The exercise is very crucial to the economies of our countries, taking into cognizance the economic and security challenges posed by piracy and the attendant backlash on maritime transportation to and from Benin Republic," he said.
It is evident that the joint patrol came as an answer to the long yearning for adequate security on the Republic of Benin water ways. Worried by the incessant attack and its resultant effect on his country's economy, President Boni Yayi, as gathered, visited France for support recently. Thus the joint patrol of which Nigeria is playing a prominent role in terms of manpower and logistics, comes as a huge relief to Benin Republic.
In a clear demonstration of its support to the Nigerian Navy to rid the water ways of pirate activities, the Federal Government last week procured three gun boats for the Western Naval Command Apapa. Minister of State for Defense, Mrs Erelu Obada who delivered the gun boats to the command, also took a two-day tour of the command's platforms,pledging the Ministry's support to equip it with a view to dealing with the rising cases of oil bunkering and smuggling on the waterways.
Active participation
She noted that despite the challenges posed by sea robbers, her desire was to see that the Nigerian Navy intensified its active participation in combating piracy along the Gulf of Guinea and along the Nigeria/Benin Republic axis with the take off of 'Operation Prosperity' geared toward uprooting illegal criminal tendencies.
She observed that there was a high level of professionalism among the men as regard dedication to duty and protection of not only the nation's territorial water integrity but also to curtail illegal criminal activities that would otherwise jeopardise the economy of our nation ,by properly policing the Benin Republic/Nigeria waters.
Pledging her Ministry's resolve to support the Nigerian Navy, she said: "The level of preparedness of the Navy is one area we must assist them to be the best. Many of their platforms need urgent maintenance and more are needed; they need spare parts for some of their boats and vessels".
But for that to happen, she would want the Service to look inward with a view to fabricating spare parts for its ships and vessels rather than constantly relying on importation.
"We need to ensure that we begin to fabricate the spare parts that we need locally. We must start fabricating because we do not have to depend on importation of these spares all the time, as this may result in us being at the mercy of foreign vendors all the time.
"I wouldn't want any of our naval ships to suffer delays of maintenance because the longer you delay their maintenance the more expensive it is going to become. It is better to do them when they are due".
With all hands on deck to fight the scourge of pirate and sea robbers, Maritime operators are sure to heave sighs of relief soon. Investigations have shown that presently, ports in the West African region have been affected by dramatic increases in freight charges and diversion of vessels to other ports,no thanks to the nefarious activities of pirates and sea criminals.