Memories
It's another experience all together. For close to fifty years, every time, I wake in the morning, the first person to greet me is my wife.
And when I have performances or engagements and come back home late, she watches the time that I'd wake up. Like a mother hen, she protected me.
The kind of protection was that, she made sure the children didn't make noise because she knew I'd be tired.
And immediately I wake up, the first person whose voice I'd hear is my wife's. But now that she's gone to be with the Lord, that's why I said it's another experience all together.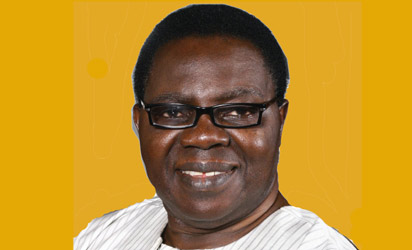 After the burial ceremony and everyone left, it then dawned on me that she's no more there. Each morning, I remember her and the memories keep coming. I have to be frank with you. At times, I shed tears when no one is there.
Morning Prayers and devotion to God
We prayed together. And we both had our morning devotion separately too. Whenever I went out to play or travel and came home, the next thing after greeting each other is the morning devotion.
I did mine and she did hers. And after, we'd have the family devotion. Whenever I'm not around, she does it with the children all the time. That's why my children testified that the memorization of scriptures that she taught them prepared them for the work of the gospel for those who are ministers of God. And for those outside the ministry, it prepared them to know that God is our father, creator, and Jesus is the son of God who came to die for us by shedding his blood.
So it was through personal and family devotions that our children were brought up. I remember her for so many things. That's why the picture you are seeing wasn't there before. I changed the position so that whenever I sit here, I can look into her eyes and remember those times we spent together. She's a wife who committed herself to the development of her family
Living without my wife
Well, the children have rallied around me and they're doing their best. When my daughter was around, she used to cook for me. But she's returned to her husband's house and I now have a cook. When my wife was alive, we had a cook but she never allowed anyone to cook for me.
When my daughter went back to her husband's house, my son Folarin and his family moved here because they don't want me to feel lonely. So, they're here supporting me.
Well frankly speaking, nobody does it better than her. But we thank God that she lived well and played her role well as if he knew she would go away soon. Her dedications and commitments were exceptional. She was always behind and never wanted to be seen. She also never wanted to be heard
How she died
Although she was very ill, she looked hale and heathy. The only thing was that, she wasn't able to walk well like she used to and it affected her. We first thought it was Arthritis.
Initially they said it was Arthritis and later, they told me it was a problem behind her back and that her spinal cord needed some correction to stop the possibility of her some her nerves being affected.
They assured me it was nothing. They hinted at an implant and recommended that she be treated in India.
So she left Nigeria to India with a hope. The first and second operations were successful and we talked. Thereafter all that was left was for the place to heal and for a physiotherapist to work on work in her body for two months. She came home and the physiotherapist started work and there was a lot of improvement.
We were happy. Despite that we didn't allow many people to see her because members of the Church wanted to see her. We restricted visitors and the doctors advised that we moved her to LASUTH and that was it. The situation just changed and the Lord called her
Nothing has changed
Ah! Her death was a big blow on me. But for the fact that the word of God is there and I know it says that we are on pilgrimage on earth and we must all go back one day. Everyman that came must either return to heaven or hell. So I just knew that there's nothing I could do because I know that I'll also go one day.
Her death has in way affected my ministry. I told God that now he's taken my wife, he should help me to serve him like never before. And I asked him to show me how I can serve him better and to dedicate myself in his service because he's been too good to me. He's never let me down and he's always there. Because I know if I serve him better, it would be better for me
Remarriage
Well, my children recently before one of them travelled back to America called a meeting. And after greeting and thanking me for everything I'd done in their lives, promised to do their best to make sure that I don't lack for anything.
They said if remarrying would help me that I'm free to do so. I told laughed and told them that it's the least thing on my mind.
Let me say that with the way I feel now, there's no thought of that because finding a replacement might be difficult. It may be difficult to see someone who understands me. I leave things in God's hands but I don't think such will ever happen.
Gratitude and prayers for all
I have to tell you that I was surprised about the support I got. The Church and everyone, I don't know how to describe it because it was a surprise. Pastor E.A Adeboye who wasn't in the country when it happened but he called me and prayed for me. He prayed and comforted me. Even the president of CAN and PFN, G.O of First Square, Primate of the Methodist Church was present. Former and serving Governors and those who couldn't come, sent representatives. I thank them for their support and pray that God will stand by them at their point of need.
I thank Nigerians, my colleagues, gospel musicians and even my friends who are not Christians for their support.
My career, my Life
Music is part of me and it'll even be better than before because when you have someone like her who had assisted and has gone to be with the lord watching over me, it will surely be better
Composition has always been a part of me and it can come anywhere and at anytime. So that wouldn't give much problems.