By Ogbonna Amadi Entertainment Editor
Although he is one of the biggest and most influential musicians in Africa, King Sunny has one regret, his l ack of University education.
Pained by this short -coming, he has forbidden his daughters from getting married without acquiring a University degree.
He bared his mind to Saturday Vanguard at the wedding of one his daughters' Ruth, last Sunday in Ondo, Ondo State and advised would- be suitors to steer clear of his daughters who are yet to meet his expectations.
Why did you decide to make your daughter wed in a low- key event?
The request was hers. She told me that she just wanted to go to the registry and have a small reception. I had to start calling my friends and apologising that we are not having an elaborate wedding. Besides, I have other things to celebrate , like my 65th birthday and my mum's one year remembrance. So, there was no need to invite the whole world to the wedding and call them again a few days later to come for my mum's anniversary and my birthday.
How much do you miss your mum?
I miss her very much. Although she warned me not to cry when she passes on or when any person dies, I have tried my best not to cry, but I can't help it. On the day she was buried, I cried and on the first year anniversary of her death when I was about laying the wreath, I realised that I was alone and that my mum is gone and that my adviser is gone. I cried too. I thank God that my mum died at a ripe age but I still miss her.
I still have daughters and sons but my appeal to you guys is that if you want to come and ask my daughters' hand in marriage, I beg you, let them acquire University education before you marry them. I cherish education, so much because I didn't have much education.
Do you still want to have more kids?
It's not that I still want to have more kids but if I decide not to raise kids anymore and one of my wives insists on having one, whom am I to say no. But the truth is, I have begged my wives not to get pregnant any more. I have grand children that are up to 16years and very soon, I will become a great grand pa and you don't expect a great -grand father to continue to father kids.
We learnt that Ademola Records based in Oyingbo, Lagos is now the major distributor of your old works. Is it true?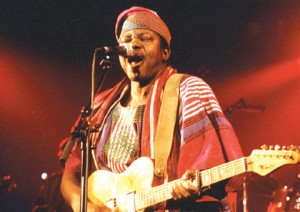 Well you are right, because I was formerly with NIRA and since the agreement between us elapsed and I found a new and reliable ally in Ademola records, I decided to give my works to him. Apart from the distributions, it will also help to curb piracy.
How many albums did you give to him?
I gave him all my oldies.
What of the ones released by TYC owned by the Late Bolarinwa Abioro?
Well, the case is still in court so I can't speak on that. But as far as all my oldies are concerned, the sole distributor is Ademola records. And to make the job easier, my company is the one printing the album sleeves to avoid any problem.
What is the duration of the agreement between you and Ademola records?
It is a year agreement with an option that if he performs, it could be renewed.
As a visiting lecturer to Obafemi Awolowo University, what was your first day in the classroom like?
It was interesting because rather than teaching ,I was taught. The students had done their research work on me and had an insight into what they expected from me. First they had entertained me on stage and I did the same for them.
At 65 how do you feel?
I thank God for my life and I thank God day in, day out because someone had predicted that I'd die before I attained the age of 60. I thank God I'm 65 today.
Are you planning to retire soon?
You can't retire from music unless you want to retire from active stage shows. But I'm praying to God for strength because you and my fans will not allow me to quit active stage show.
How does it make you feel that none of your children is playing juju music ,instead they prefer hip- hop and other genre of music?
I did not inherit music from my father. By playing music, I became a rebel in the family and I damned the consequence. So, I don't want any of my children to damn my own kind of consequence. Now I make bold to tell you that those that went to hip- hop are back to juju music.
And how do you feel seeing your colleagues in music dropping the guitar?
As far as KSA is concerned, I still play the guitar. So , whoever does not play, it is his or her own problem. The difference is that I hardly play the guitar at shows but at concerts, it is a matter of must.
Sometime, don't you feel embarrassed when you play at the wedding of those you played at their naming ceremonies? .
There is one thing I appreciate in transport business, especially those that ply in the Eastern axis of the country. There is a particular one that has the slogan 'the young shall grow'. So I am presently playing for third generation now and I pray that I will be able to play for the fourth generation. Let me give you an example. A young boy saw me about 16years ago and said King, you will play at my wedding but the mum almost slapped him. But I stopped her and said that is his wish and recently I played at his wedding that shows consistency and God's favour.