By Tony Ubani
AFTER two weeks of motion without movement on whether to sack or retain Samson Siasia, the Nigeria Football Federation has finally decided to weild the big axe.
And this Friday is D'day, Sports Vanguard can authoritatively reveal.
Having passed the sack baton to the Executive board, the technical committee are miffed that their overwhelming vote to relieve the coach of his job has been delayed by the executive.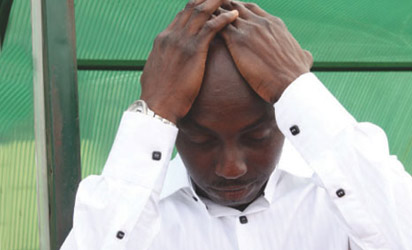 But an authoritative source informed yesterday that the executive committee after weighing the options has finally agreed to move Nigerian football forward by respecting the contract that clearly spelt out the consequences of failure.
Also, the executive board would announce on Friday the hiring of former skippers of the Super Eagles, Stephen Keshi and Sunday Oliseh as interim coaches for six months before the hiring of an expatriate coach to tinker the team, our source further revealed.
"The NFF left this issue hanging for too long and were going to burn their fingers by listening to lobbyists and almost succumbing to pressure groups", our reliable source said.
However, the loss of the Super Falcons from the London 2012 Olympic football event may have removed the log in their eyes to act fast before they get consumed by the scheming of their critics who claim that the NFF should be swept aside if indeed our football would breathe fresh air.