If only the residents of Alimosho knew that living in that area would pose unending hardship on them, they would rather have taken a second thought. The burden of living in that area is so unbearable that lots of people have either lost their jobs or resorted to taking their fate within their hands.
One of them is Mr. Olabode Balogun who lives in Governors road area of Ikotun/Egbe in Alimosho, Lagos State.
For him, the thought of relocating to that area has completely changed as he is faced with different problems everyday.
According to him, I spend nothing less than N1, 400 plying the road on a daily basis.  The road is completely bad that from Ikotun to Cele Expressway, one would spend nothing less than four hours.  Between Iyana-Ejigbo and Jakande Gate, the road is completely bad.
I can only call it a death trap. The transportation has increased by 100 per cent as terrible traffic is now the order of the day. It is only those who earn close to N250, 000 that can afford taking commercial bikes (okada) everyday to work."
For those living at Gafaru street, off Ijegun road, there is no life and no road. Gafaru street has totally  succumbed to erosion. Residents on the street no longer  use their cars as the road has become unpassable. The street has been chopped off by erosion. To these residents, there is no government in Lagos State.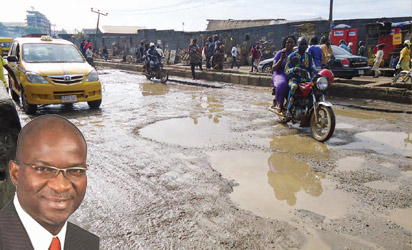 " We don't have light and we have no road. Yet, PHCN would come and disconnect us and people from the Ministry of Environment would trek the un-inhabitable road to invade private homes  under the guise of making sure  the enironment is clean and end up estorting money from residents.
I don't know how they manage to pass through the terrible street to enter into private compounds", said Mukaila, a resident. The story is not different in other parts of Alimosho Local Government.
The sorry story of okada on that road is enough to give one a heart attack as there is no assurance when one would get home safely. Because of bad road, the bike riders drive recklessly as they drive against  the traffic to manouvre their ways.
Commercial buses spend about four hours in the traffic. Precisely, at Jakande Gate, the pot holes are indeed a death trap or gates of hell. Commercial buses that narrowly escaped Jakande/NNPC/Iyana Ejigbo road still encounter other pot holes and this time, a very big one at Egbe junction after Synagogue Church. And instead of getting to the final bus-stop, they turn back to pick passengers who would be going back to Cele Expressway or otherwise.
It is only Police intervention in checking on the commuters that has eased traffic at Ikotun round-about at rush hours. But there are also situations when people have to abandon their private cars to join commercial buses.
Just during the week, precisely on Tuesday, a man who was returning back from work almost lost his life to okada.
He joined okada from Cele Expressway bus-stop going to Hostel bus-stop, Egbe area of Lagos State when he was knocked down at Gideon bus-stop along Cele/Pako road. He sustained injuries on his legs. Narrating the ordeal to Saturday Vanguard, he said, "I used to park my car at Hostel bus-stop area of Egbe and join okada to Cele to navigate my office at Apapa.
I have been doing this for a while, especially since this problem started.  I think, it is high time government visited this road for good for the sake of the people.
"It will interest you to know that people stay in their offices till 11 pm in order not to experience this terrible traffic, as it is assumed that only one route leads to Ikotun."
Alimosho consists of Egbe, Abaranje, Ijedodo, Ijegun, Idimu-Egbeda, Egan, Isheri-Osun, LASU/Ojo road, Igando, Iyana-Oba, Jakande-Buckunor/Isheri-Osun, amongst others.
Alimosho Local Government is a hell-hole where  instead of a smooth businss transaction,  the reverse is the case. Right now, people no longer  see why they should  live or do their businesses in that area.  Residents in Alimosho no longer know peace as they are not finding it easy with the present state of those roads.
The road project was awarded to Hitech Engineering and Construction Company about three years ago but nothing has happened. The inside streets are un-imaginable. Yet, Lagos state manouvres its way to go and collect taxes.
The residents also complained about the deplorable condition of the road with the commencement of the rainy season. Bisi Kosoko, a trader in Bucknor Estate, complained that the delay in completing the road was causing health hazards to the residents of the area.
"We are faced with dust, causing us to develop sore throats and catarrh during the dry season while the road becomes slippery and not motorable during the rainy season," she said. "Many residents have ended up in hospitals for being victims of hit-and- run commercial motorcycle operators along the road, especially during the dry season."
She added that many vehicles have  broken down due to many bad portions on the roads.
Chukwuma Okonkwo, a tenant, said house rents were already going up in the area, in anticipation of the completion of the road.
For years, the rumour that the state government would  construct a new road network that would connect Alimosho to Festac / Satellite town has gained ground but nothing of such is in the offing.
One of the things that probably defines Ijegun, Ijedodo, and Ijagemo communities in Iba local council development area of Lagos is bad roads.
The uneven roads stretch through the communities, connecting each street and collecting water  in pot holes from the year's early rainfall.
Many of the residents say they are bracing up for  the coming rains with attendant muddle with their rain boots.
Some business owners, however, complained that their livelihood is being threatened by the poor state of the roads, saying prospective buyers are often discouraged from coming to the communities.
A cement dealer in Ijegemo, Atanda Awolowo said, "It's really affecting us; even people who have land here are not ready to develop, and some that have houses are not even ready to move in. Many of us have rain boots that we take down from the cupboards each year in readiness for the rainy season."
One of the community chiefs, Abdul-Jeleel Odolaye, said "several letters to the state government" have only met with "promises after promises".
Like Ijagemo, the socio-economic development of Ijedodo community is also a far cry from the community's expectation, particularly with the 250,000 population figure released at the last national census.
Ijedodo community development association patron, Felix Omoviro, explained that being enclosed by Iba, Festac and Jakande estates, has failed to give the community any expected edge because of its poor connecting roads.
"It is now worse as the rainy season is here the whole place will be flooded and it will be impossible to bring a car in or out; that is what we go through every year," he said.
Ijedodo road, a makeshift road and the only entrance to the community, which is sitting on an oil pipeline, managed by the Nigerian National Petroleum Corporation, is as bad as any other road in the community, but more dangerous.
There are, however, no plans to develop the makeshift road because of the chance that it could spark an explosion.
Uzondu, a tricyclist, also known as keke NAPEP who lives in Isheri explains the effect of the bad road on his machine. "It spoils our Keke. We do not have enough passengers, especially during rainy season. Government has forgotten us. We are begging them to come to our rescue because they collect fees from us. The fees we are paying to the local government are not yielding results as roads keep deteriorating day by day."
The bad roads has not only crippled their businesses but also pose serious danger on their health, he added.
Ifeanyi, a businessman along Ikotun said, "This Ijegun road is very bad. We, the residents, are suffering from it. Effort to fix the roads have not yielded any result. We don't know if the contractors are on strike or not. The construction work has been on standstill since three years.
"During rainy season, this particular road is a nightmare. During the dry season, it's always dusty." According to him, many people have lost their lives on the road when work initially kicked off. There was a particular caterpillar machine that caught fire after hitting a pipeline at Ijegun road thereby leading to loss of lives.
lzuchukwu, a businessman, said, "Bucknor Estate -Isheri/Ijegun-road has killed a particular family of four. Ejigbo-Ikotun road being under constructed by Chinese Company has been abandoned too."
A man who pleaded anonymity explained how he suffered on a daily basis to get to work. "I wake as early as 4 am in order to escape the traffic every day because I work in Surulere."
Others said, "It is so stressful for some of us that are working in areas distant from Ikotun.  Places including Wharf, Alaba, Mile2, Oshodi, Oju-Elegba, Ilupeju are far and for those who resume at 8am, it is difficult. Because of these problems, transporters have resorted to increasing transportation fares compared to the initial prices. All these are to the detriment of the poor masses.
Students  are also caught in this web. For those in of Ijadodo Grammar School, they sometimes have to stay home when the road to their school gets flooded.
One of the supervisors of Hitech, a construction company handling the road said, "The company is not financially buoyant to continue the project without Lagos State government." He said the cheque has been signed to proceed construction work on the road by Lagos State Governor Babatunde Fashola but it has not been approved by the Lagos state House of Assembly.
In his reaction, Alimosho local government chairman, Hon Moshood Ashamola Bode, lamented that although the residents of Ikotun and its environs have been undergoing unendurable pains over the years, he maintained  that government is fast tracking efforts to ensure that things are put in place. The chairman who was represented by his press secretary, Ayo Faloye, said some roads have been fixed especially at Igando axis.
According to him, Alimosho is large. There are more than 4000 streets in Igando-Ikotun LCDA. "That is why the volume of traffic is more. There are more than six communities including Ijagemo, Okerube, Abaranje, Ijeododo, Isheri-osun, Ijegun.
"For instance, Ijegun road is always very busy and the volume of people plying that road is more compared to other areas. Although the state government has succeeded in relieving some problems on those roads, it is not enough. We have problem with drainage and I believe the state government is focusing on that for now. Although there are still some hitches. Babalegba is waterlogged as well as Ijegun.
"The road was constructed during Asiwaju Bola Ahmed Tinubu tenure when Aregbesola was commissioner for works and that is  the only major road that is linking about six communities. And from Ikotun-Egbeda, the road is under construction. Although some areas have been completed, whenever it rains, the whole place will be messed up again. Right now, the state government is ready to construct permanent roads as soon as the local government election is over.
"The chairman, Alimosho Local Government Area,  Hon Moshood Ashamola Bode has been able to construct some roads including Obabiyi, Da-Silva street and Fatimoh Alani-Ige. Alimosho reaches  Toll-gate, Ogun State boundary and we are sharing border with Iba and Ojo and Isolo local government respectively.
The Jakande link road is also under construction although it has been there during Asiwaju Bola Ahmed Tinubu's tenure. And because road networking is a capital project, there are lots of measures to be put in place. Another thing is the issue of pipeline which is a critical thing. We are just praying that things should work fine. We believe work will commence very soon. I believe the Governor is ready to focus on this road."