* Thugs snatch ballot box in Ojo as residents disrupt exercise in Ajegunle
* ACN set to reclaim seats
By Clifford Ndujihe, Olasukanmi Akoni, Charles Kumolu, Olalekan Bilesanmi, Monsur Olowoepojo and Fredrick Okopie
AMID voter apathy and minor hitches here and there, Lagosians yesterday held peaceful elections into 20 Local Councils, 37 Local Council Development Areas (LCDAs) and 376 wards across the five Divisions of the state.
On a day that Lagosians obeyed the 'no movement' restriction order between the hours of 7 a.m to 4p.m because  of the grassroots election, most of them did not turn up at the polling booths to exercise their franchise in spite of the clement weather that prevailed in most parts of Lagos throughout the election period.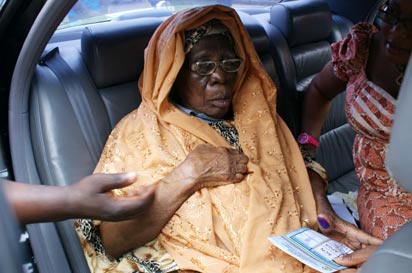 Rather, the younger ones elected to pour into the empty streets and roads and busied themselves playing soccer. Party agents resorted to ringing bells on some streets to urge residents to come out and participate in the polls. Some agents also went into apartments and knocked on doors to sensitise voters.
However, those who chose to vote encountered some hitches in many parts of the state. The hitches include late arrival of electoral officers and materials in some locations where voting started late; inadequate ballot papers in some units, and cases of voters with voters' cards not finding their names in the voters' register. Most of the polling units did not have voting cubicles where voters could actually thumb print the party of their choice in secret.
Nevertheless, the polls were generally peaceful and orderly apart from the snatching of a ballot box by thugs in Ojo Local Council and disruption of the exercise in Ajegunle. There was also adequate security by the police and men of the National and Civil Defence Corps (NCDC)  At press time, the ruling Action Congress of Nigeria (ACN) led in the polls and looked set to reclaim most of the seats.
Before yesterday's polls ACN had all the 57 chairmanship slots.
With the ruling ACN, People Democratic Party (PDP), All Progressive Grand Alliance (APGA) and Labour Party (LP) being the most visible political parties in the contests, accreditation and voting began before 9 a.m. in many locations such as Epe, Badagry, Ikorodu, Lagos Island, Agege and Isolo. Some delays were observed in parts of Badagry, Surulere, Maryland, Oyingbo, etc.
Voting began at 10:30 a.m at the polling unit 2, Ward G3, Surulere where Gov. Babatunde Fashola voted at 11.30 a.m. Elections in Lagos Island, Ikoyi and Victoria Island were characterised by late arrival of election materials and electoral officials in most the polling units visited. The council elections in Lagos Island area was peaceful and orderly. The turnout of voters was impressive in some polling centres while in other areas it was very low.
Mr Yemi Oyetokun, Presiding Officer at Ward I Unit 009, Olowu/Epe Street, Lagos Island, expressed satisfaction with the conduct of the exercise. Mr Ikenna Obi, polling agent of the PDP at Ward D Unit 001 Ademola Olokun Street, Ikoyi, said that the elections were very peaceful and orderly. He commended LASIEC for the smooth conduct of the exercise and adequate arrangement put in place.
Hundreds of youths converted the empty roads to football pitches. The Orile-Mile 2 Road, the Agege Motor Road and the Lawanson Roads are among those turned into fields.
Security personnel were scarcely seen on the roads contrary to what obtained during the general elections in April.
Meanwhile, what could have panned out as a clash between ACN national leader, Asiwaju Bola Tinubu, and the Nigerian High Commissioner to Ghana, Musiliu Obanikoro, at Bourdilion Street, Lagos was averted yesterday.
Obanikoro, with his eldest son, were seen moving around polling stations ( Ward C 001, 010, 013) along Falomo and Bourdilon, Ikoyi, 'mobilising' PDP supporters but they left the scenes on time before Tinubu drove past to his house along Bourdilon.
Inadequate electoral materials mar exercise in Badagry
In the meantime, complaints of shortage and delay in the distribution of electoral materials reigned in Badagry. At Badagry Grammar School Polling Centre, only 100 ballot papers each were received for the chairmanship and councillorship elections, whereas registered voters were 700.
Similar scenario was observed at L.A Primary School Badagry where polling officials were issued with 100 ballot papers for the 700 voters registered.
Alhaji Ajagbe Adejumo, a PDP leader in Badagry, said that the observed delay might demoralize the party's supporters from voting.
Ahmed Olabisi, LASIEC officer in Badagry, said the delay was due to refusal of the police to accompany voting materials from LASIEC office to the polling units.
Indeed, many eligible voters were turned back following shortage of ballot papers and incorrect voters' register at some polling stations.
At Our Lady of Apostles polling centre, Badagry many voters were turned back after the poll officials had exhausted the 100 ballot papers issued for over 700 names on the register.
At Ajara Primary Health Centre polling unit in Badagry, enthusiastic voters could not find their names on the voters' register. Voters who possessed valid voter cards with their photographs were allowed to vote after an agreement by the party agents who registered the voters in an exercise book.
Thugs snatch ballot box in Ojo
IN Ward B, Ojo Local Government Area, thugs suspected to be from the opposition, snatched ballot boxes. The hoodlums, who invaded the polling unit, however, ran away when the police was called in to rescue the situation.
Sunday Vanguard also gathered that rampaging thugs also attacked the house of the ward chairman, Mr. Napoleon Awan.
AtWard B, Etiosa East, there was massive turnout of voters, just as Ward B Bonny Camp recorded impressive turnout.
The exercise started early in Amuwo-Odofin Local Government Area, as sensitive and non-sensitive  materials arrived the various polling units on time.
However, elections were marred by voter apathy  in Ijesha, Aguda, Surulere, Oyingbo, Lagos Island  and other areas visited.
But for some few elderly people, who were seen in some polling units, others remained in their  houses.
An eligible voter, Mr. Tobia Onyemalukwe, who spoke on why he did not participate, noted that local government chairmen had failed to provide essential services at the grassroots.
"All these people you are seeing around are angry, that is why they are not voting. Why should I vote for people, who don't care about us? I can tell you and I want you to publish it like that, local government chairmen are worthless. You can imagine how the roads are.  Did you enjoy your ride when you were coming with this Vanguard car?" he fumed.
Others lamented that they did not know the candidates, hence there was no need to take part in the exercise.
Ajegunle residents disrupt polls
Residents of Onibaba Street, Ajegunle stopped the polls in the area following alleged shortage of ballot papers.
As at 11:30a.m., voting was yet to start in Polling Unit 003, Ward C located on the street.
Also, in Polling Units 52 and 27 in the same ward, the residents protested alleged provision of a wrong voters' register.
A resident, Mr Segun Abiodun, said that they stopped the polls to express their dissatisfaction.
"We have 678 registered voters on this street but they brought 100 ballot papers, 50 each  for chairmanship and councillorship elections. It is deliberate,'' he said.
Another resident, Mr Christian Ekenna, made the same allegation, claiming that the commission intended to disenfranchise the residents to the advantage of a particular political party. "We are wiser now,'' Ekenna said.
We provided materials – LASIEC
Reacting, Mr Musbau Oyefeso, LASIEC Commissioner in charge of Operations and Logistics, said that the allegation of inadequate ballot papers was false.
However, he said that the commission would bring more election materials on demand.
"Our judgement is based on the turnout for the April general elections. We don't want to waste the materials," he said.
Oyefeso assured that LASIEC would extend voting time in polling units where there was a mix up in voters' register.
Meanwhile, Oyefeso averted a clash between party faithful at Ward D Unit 032 Ajeromi-Ifelodun Local Council. At 11.16 a.m voting had not commenced at the unit because wrong electoral materials were brought. Opposition parties claimed the electoral umpire deliberately brought the wrong materials. However, the commission made amends in term to avert trouble.
Election slightly disrupted in Ejigbo
Voting was halted at Ejigbo LCDA o when a free for all fight broke out between members of the ACN and PDP  over omission of  names and pictures of eligible voters in the ward.
An eyewitness noted that after few minutes of  argument, a  fight broke out and the electoral officials left the scene with their materials.
Confirming the report, the Senior Presiding Officer (SPO) for Ejigbo, Mr. Rasak Adeolu said "we used the official voter register provided by LASIEC. But the party loyalist argued that the electorate cannot find their name of the list. So when I discovered that the situation is not safe for the officials and all effort to persuade both parties provided abortive.
I called the Department Police Officer (DPO), Ejigbo, informing him of the latest development. And he advised that the safety of the officials is more paramount. I instructed them to take the ballot boxes in company of the accredited party agents to the secretariat of Ejigbo LCDA. And when it is 3:00pm, we will return the ballot boxes to the area to count the votes we have in the box."
Why turnout is poor – observers, agents, council boss
Chairman, Agege Local Council Chairman, Jubril Abdulkareem, decried the poor turnout of voters despite what he claimed as massive publicity.
Asked his views on the polls, he said: "Every where is peaceful, every where is calm and they are all voting accordingly except that there is apathy on the part of the voters. They are not coming out as expected even though we had a lot of publicity regarding the election. But I think most of the electorate are yet to know the difference between the local and federal government.
But beyond that Nigerians don't believe in performance anymore, rather everybody wants money, money is all they are asking for instead of looking at your performance. In other words, our value system is gradually going down and that is why the media like the Vanguard need to help in this regard because our youths are no longer interested in hard work but quick money. If performance is yardstick for measuring success, I can assure you that we are going to be returned unopposed. Our achievements speak for us.
"For there to be better performance on the part of the local government, I think there is need to look into the revenue sharing formula between the three tiers of government. Presently the Federal Government takes about 52 per cent of the revenue, but you and I know that the bulk of work in terms of governance is in the local government."
Chairman of Mosan-Okunola Local Council Development Area (LCDA), Rasheed Abiodun Mafe, agreed that there was voter apathy.
"There is no doubt that there is apathy on the part of the electorate. It is like there is this lackadaisical attitude when it comes to local government election, this was in spite of massive sensitization. This is the closet government you can ever have. Before the state or federal government comes to you, it is the local government you meet first but unfortunately it is like they are not bothered about it. They seem to prefer the governorship and presidential elections may be because it has more resources than the local government," he said.
Mr Abolaji Quadri, an agent for the NMPP at Badagry Grammar School polling booth said the poor turnout of voters had made nonsense of the peaceful and orderly conduct of the polls.
He said, "people did not come out because they are tired. They say government is not working that those they voted for the last time did not perform. 'What is the essence of voting when those voted in will not achieve anything at the end of the day?"
An observer on the platform of the Independent Corrupt Practices and other related offences Commission/ National Anti-Corruption Volunteer Corps ICPC/NAVC, Abdullahi Ibrahim, also decried the low voters turnout as shortage of election materials.
Fashola, Oba of Lagos hail exercise
Governor Fashola, shortly after casting his vote, said the elections were credible.
Sporting a  cream coloured kaftan, the governor voted at about 11.30 a.m  at State Junior Grammar School (Special ) Surulere and his wife, Abimbola, followed suit a few minutes later.
Speaking to newsmen shortly after casting his vote, heexpressed satisfaction with the ballot, noting that it had so far been peaceful and devoid of violence.
"We planned for the worst and we hope for the best to ensure that we have hitch-free elections. Reports reaching me from different parts of the state, though not conclusive, however, indicate that the election has been peaceful and  free of violence. We are committed to the success of this election, and because of this, we would not hesitate to punish electoral offenders. We will not take it lightly with those who might want to try to subvert or  interfere  with the process of this election," Fashola said.
The governor described the council election as significant in view of its impact on the people at the grassroots, adding that the success of the exercise in Lagos was particularly imperative, owing to its peculiarities and strategic importance to the nation
On his part, Oba of Lagos, Oba Rilwan Akiolu, noted that the state government had shown that it could conduct free and fair local government election, as shown by yesterday's exercise.
Akiolu spoke with newsmen shortly after he cast his vote at Ward 'E' Iga-Iduganran Polling Unit 003, Idumota, Lagos Island.
" I believe the state government is capable of conducting local government elections in an atmosphere of peace and harmony. I think we should all join hands to make it a success. Lagosians are good people and accommodating. I am using this opportunity to appeal to everyone to exercise their civic responsibilities with utmost patriotism," he said.
Rigging: Tinubu faults Obanikoro
Meanwhile, Tinubu has dismissed as false allegations by Obanikoro that he had perfected plans to rig yesterday's elections using the police.
In a statement by his Media Office, Tinubu said: "To start with, the allegation is as harebrained as it is ridiculous.The last time we checked the Police are under the authority of President Goodluck Jonathan, who belongs to the Peoples Democratic Party (PDP). So, on what basis would Asiwaju Tinubu engage the Police to harass opponents? Do the Police report to him?
But former Senator Obanikoro's plight is understandable.  His son, Babajide, who lost the Lagos State House of Assembly election in the April general elections, is running as chairman in the Ikoyi/Obalende constituency, and he is mortally afraid that the poor boy might lose, as he did in the April polls.But what has that got to do with Asiwaju Tinubu? Is winning and losing not between the contestant and his voters?"