By Victor Gotevbe
Young people have often been considered as vulnerable and with the potential of the future. There have been several arguments that young people are not just the leaders of tomorrow but also leaders of today as it is believed that leadership starts from our circle of influence.
In Nigeria, the demographic statistics show that young people make up a huge part of the population. A number of them are without resources, have challenges getting good education and jobs, and are worst hit by conflicts, poverty and corruption. They are sometimes not taken seriously, and the right to speak is reserved for elderly people. However, it is arguably a fact that young Nigerians cannot be ignored or seen as the problem.
The future is already here, it's just not evenly distributed -William Gibson (author)
It is in the light of the foregoing that Youthful Vibes is given birth to so as to showcase the efforts of several young Nigerians making the difference in their own little corner and beyond. Some have been celebrated and are still being celebrated by the Media whilst there are others whom the Media is yet to spotlight.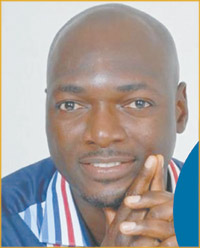 Therefore, the stories of young Nigerians making positive impact will be profiled ,national issues and projects of interest to young people, collaborative efforts of youth organizations and Corporate bodies working on youth brands will be highlighted by Saturday Vanguard Youthful Vibes.
Also, we shall highlight the powerful position and influence Young Nigerian Professionals have both inside corporations and through government to achieve change.
This edition will focus on a young man who is making the difference amongst several youths.
Growing up
I come from the Isoko speaking tribe of Delta State, the last child in a family of thirteen (13) children. I was born and raised in Warri and proudly raise the "Waffi" flag everywhere I go! Growing up was fun but not without its own challenges, but coming from a very closely knit and Godly minded family like mine made up for all the everyday challenges. At the age of seven (7), my older siblings started a family choir called "The Zion's Grace singers" and we would perform at our church events at the time.
That was my first exposure to music and how I loved it! At the age of nine (9), my eldest brother taught almost all of us to play the guitar and he bought me one – which I treasured deeply. My dad, who is now eighty (81) and still sings baritone excellently, bought an organ in the 60's on one of his trips and he later introduced us to sight_reading music scores. It was at that time I discovered I had a penchant for music and songwriting and realized that I could use music as a tool to send out a message.
Patriotism
In 2005, I travelled to Switzerland to participate in a month_long internship program organized by the Initiatives of Change International (IofC), formerly known as Moral Re_Armament (MRA) – an international NGO which believes that positive change can only come to the world when one dares to start with oneself. My interest in this rather unpopular ideology grew and it culminated into a 9_month long trip to four Asian countries including India, Malaysia, Cambodia and Indonesia in November that same year to participate in a leadership training Program organized by the same organization called Action for Life. This trip gave me a firsthand experience of how Nigerians are viewed abroad.
Almost everywhere we went, there was always one negative tale or the other to tell about Nigerians. Being the only black person in the group of 45 people from 26 countries, it burdened me greatly as I was always confronted by immigration officers in some of these countries for questioning. Whenever I asked why this was so, the immigration officials bluntly told me it was because I was a Nigerian passport holder. At that moment, I made up my mind to be a self-appointed ambassador of Nigeria to the world.
I honestly do not seek for anyone's approval or any national recognition, as a matter of fact I see those as distractions capable of veering anyone off their God-given drive to make our society a better place.
Rather my drive to continue being a change agent is further strengthened by the numerous non-Nigerians I have encountered abroad who tell me "thank you for making me see Nigerians differently". Such moments can never be described in monetary or material terms! Although my work with this organization which allows me to incorporate music into it, has taken me to over 10 countries, I'm grateful to God that every time I travel, I flaunt my "Nigerianess".
Giving back
Besides my work as a Leadership and Conflict resolution trainer with IofC, I write gospel and inspirational songs and I volunteer as a counselor at a remand home in Abeokuta, once in a while. Here, I take my guitar along with goodies for the over 30 children there and I play and sing with them and encourage them as well as listen to them. These kids get to tell me things they won't even dare to tell their facility director.
This is so because they found me trustworthy enough not leak out our discussions to the director. It makes them believe that trust still exists and hasn't gone extinct! Each of these trips is self funded and you can't imagine how excited these kids get as soon as they see me coming through the gate!
They thank me at the end of each visit but little do they know that I ought to be thanking them for bringing me joy and fulfillment and making me feel "human" each time I am with them. I don't believe one has to be wealthy to render such acts of service to humanity.