By Victor Gotevbe
Victoria O. Adigun is in her early 20's and a Nigerian youth in the Diaspora. She is  passionate about developing   the Nigerian entertainment industry through her efforts  to work against  every negative image that is damaging to the country.
She engages in charitable programmes such as talent hunts and other  related progammes. She is committed to building a solid platform for US-Africa social and business relationship and she hopes to achieve this with her company. Her interests include:  arts and music, youth empowerment, events planning, fundraising and community work. Youthful Vibes offers her the opportunity to share her inspiring story.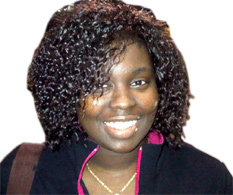 I was born in the United States of America to  Nigerian parents.  I am a graduate of Political Science with emphasis on International Relations from the University of Central Oklahoma. Growing up for me has been quite interesting and I must be grateful to the almighty God for some of my achievements.
I have been privileged to serve in the Diaspora as a young Nigerian in some capacities which include operating as the President of the Nigerian Students Association, Public Relations Officer of the African Students Association, and youth representative of the Nigerian Community Leaders of Oklahoma City.
In 2006, I founded and launched the Nigerian Student Association Scholarship at the University of Central Oklahoma. The next year, I started the Annual Youth Nigerian Independence Celebration in Oklahoma. I have actively participated in the United Nations Students Alliance Group, French Club and Model United Nations.
In 2007, I received a place in the Louis Carr Internship Program and I interned at the Advertising Council in New York City. This really exposed me to increased multiculturalism and diversity in the communications industry.
As a matter of fact, I consider myself as an advocate for social change and social media. I serve as a Public Relations Consultant for businesses and celebrities in the USA and Africa.  In 2008, I hosted the Nigerian independence celebration. The gathering featured the hilarious comedian, Julius Agwu in Oklahoma City and there- after, I  established Ovacom Media the same year.
Ovacom Media is a full-service Public Relations and Marketing firm that designs and implements customized strategic campaigns in the areas of specialized brand building, entertainment and product launch to create excitement among the media, buyers, consumers, the entertainment and business communities.
We have been privileged to work with some of the reputable personalities in the entertainment and corporate world, some of whom include Olu Maintain, Faze, Mr. Solek(UK Based), King Rokan (USA Based), Dee Bee Collabo, Kay Nay Drenco, Mayor and Maye Hunta.
We have worked with Yinka Ayefele live in Atlanta, Georgia, Usa-Rokan Entertainment, King Wasiu Ayinde concert in New Jersey, USA-Wadeco Promo, Tic TAC live in Maryland, USA-Kicking it live Inc, Nigerian Entertainment Awards (USA), just to mention a few.
I visit Nigeria periodically and I know what Nigerian youths are facing. I want to encourage other young Nigerians to look beyond the circumstances they are facing because every adversity has within it the seed of an equivalent benefit. Things will change for better. Please keep a positive mind.