HAVE you washed your hands today?
Did your children wash their hands
before their breakfast? As a parent or guardian, these are the sort of questions likely to run through your mind even as you read this piece.
Washing your hands and your children's hands is the best way to stop the spread of germs. We are always collecting germs on our hands, by opening doors, wiping faces, playing with toys and changing diapers. We can't avoid them, but can reduce the chance of passing them to others by washing our hands.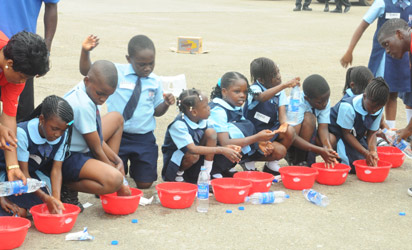 Washing hands correctly is the most effective thing you can do to protect against a number of infectious diseases. Not only will it help keep you healthy, it will help prevent the spread of infectious diseases to others.
Health hazards
When people who are sick sneeze or cough, the germs that are making them sick are expelled into the air in tiny droplets. If these droplets get onto the hands, and then you touch your mouth, eyes or nose without washing away the germs, you carry the infection. You can also get sick if you don't wash your hands before and after preparing food, after handling raw meat, and after using the toilet.
Washing hands not only prevents getting sick, but it also reduces the risk of infecting others. If you don't wash your hands properly before coming into contact with others, you can infect them with the germs on your hands. Other people can also get sick from the germs unwashed hands leave on shared objects like doorknobs, keyboards, and other equipment in the home or workplace.
Hand-to-hand contact can spread mild conditions, such as the common cold, but also more severe or life-threatening diseases. Infectious diseases are a particular risk to the very young, the elderly, those with a pre-existing disease, and people with a compromised immune system, such as those with HIV or AIDS.
Proper methods of hand
washing
Although hand washing might seem like a simple task, follow these steps to thoroughly rid your hands of germs.
Use soap: Use regular soap to wash your hands. Anti-bacterial soaps are not recommended because they destroy good bacteria as well as bad and can add to the problem of antibiotic resistance.
Remove any hand or arm jewellery you may be wearing and wet your hands with warm water. Add regular soap and rub your hands together, ensuring you have lathered all surfaces for at least 15 seconds. How long is 15 seconds? The length of time it takes to sing Happy Birthday.
Wash the front and back of your hands, as well as between your fingers and under your nails.
Rinse your hands well under warm running water, using a rubbing motion.
Wipe and dry your hands gently with a paper towel or a clean towel. Drying them vigorously can damage the skin.
Turn off the tap using the paper towel so that you do not re-contaminate your hands. When using a public bathroom, use the same paper towel to open the door when you leave.
If skin dryness is a problem, use a moisturizing lotion.
If you have sensitive skin or are in a position where you must wash your hands constantly (as a healthcare worker must), you might want to use an alcohol-based hand rub instead.
When should parents wash their
hands?
Every parent or guardian should wash their hands before cooking or eating, feeding a baby or child (including breast feeding) and giving medication to a child.
Wash your hands after changing a diaper, helping a child to use a toilet, using a toilet yourself and taking care of a sick child. Other times to wash your hands include after handling pets or animals, cleaning pet cages or litter boxes, wiping or blowing your own nose or your child's nose and after preparing food.
When should children wash
their hands?
It is now well known and established that children should wash their hands before eating or handling food and after using the toilet. They should also wash their hands after playing outdoors or in sand or playing with pets or animals, sneezing or coughing into their hands or blowing noses.
Four steps to proper
handwashing
Wet your hands under running water.
Scrub your hands well with soap.
Rinse your hands under running water.
Dry your hands with a clean towel.
When water and soap are not available, use premoistened hand wipes or alcohol-based hand rinses. Keep hand rinses out of the reach of children because they may be harmful if swallowed.
How baby's hands be washed?
Wash your baby's hands with soap and a warm, wet, fresh towel (either paper or cloth).
Rinse the baby's hands with another fresh, warm, wet towel.
Dry the hands well.