BY HECTOR IGBIKIOWUBO
FINALLY! The Federal Government has exhibited single minded determination regarding the removal of fuel subsidy, a programme that has occupied national discourse in the last 19 years – with government going back and forth and organised Labour playing to the gallery at every opportune moment.
Even though the four year financial outlay made available to the National Assembly by President Goodluck Jonathan did not include details of how the subsidy would be removed, it goes without saying that any plan contrived to plug gaping holes and create an environment conducive for investment to thrive in the business space would be welcome.
Mounting cost of subsidy
Fuel subsidy cost the Nigerian state N1.3 trillion (about $8.38 billion) in the 2010 fiscal year alone, about 25 per cent of the entire budget expenditure for the year under review. Last year, the approved amended and supplementary budget amounted to N5.159 trillion (about $33.2 billion).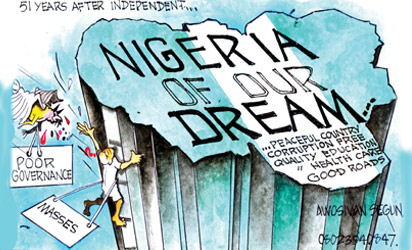 Investigations have revealed that fuel subsidy incurred by the Federal Government may have exceeded the N1 trillion mark by the end of the third quarter, with indications that payments to petroleum products marketers may surpass 2010 levels at the end of the year.
Government regulates the sale of Premium Motor Spirit, PMS and House Hold Kerosene, HHK, selling both at N55 and N40.90k per litre, ex-depot price respectively at the depots of the Petroleum Products Marketing Company, PPMC, a subsidiary of the state-owned Nigerian National Petroleum Corporation, NNPC. The Petroleum Products Pricing and Regulatory Agency, PPPRA, allots quarterly imports quotas to the NNPC and petroleum products marketers and pay both parties the differential between the landed cost and the approved pump prices under a subsidy regime.
Checks however revealed that the petroleum products marketers have turned the subsidy payment regime into a huge racketeering and profiteering enterprise ripping the state of hundreds of billions each year under bogus subsidy claims for petroleum products they neither imported nor delivered to the pumps.
Three quarters through 2011, independent checks revealed that outstanding subsidy payments amounts over N1 trillion, while ongoing racketeering surrounding Kerosene supply and distribution appears set to raise subsidy payment claims to an all-time high by the end of the year.
According to the PPPRA pricing template, even though petrol is sold at N55.90k and N65 per litre, ex-depot and pump price respectively, if deregulated, consumers would have to pay N138.20k per litre. Essentially, the subsidy element on current petrol price is N82.30k per litre.
Similarly, although ex-depot and pump prices of House Hold Kerosene, HHK is N40.90k and N50 per litre respectively, if deregulated. Consumers would have to pay N151.15k per litre. Essentially, the subsidy element on current kerosene price is N110.25k per litre.
Deregulating for the wrong reasons
Indications are that the government may be deregulating for the wrong reasons, especially in the face of events that sparked the current pursuit.
Deregulation of the downstream oil industry was sparked in June when the Governor's Forum led by their chairman, Governor Rotimi Amaechi of Rivers State visited President Goodluck Jonathan to plead their inability to pay the proposed N18, 000 minimum wage.
The governors suggested the removal of fuel subsidy to guarantee more revenue receipt into the federation account which would subsequently be split among the three tiers of government.
In August, as though on cue, Dr. Ngozi Okonjo Iweala, the Minister of Finance and head of the Federal Government's economic management team followed through with the suggestion of the Governor's Forum when she pleaded government's inability to sustain payments of petroleum subsidy anymore.
"There has been a lot of debate on fuel subsidies and we have all resolved that (removing it) is a good direction to go on. You have to leave it to us to decide when it is prudent to do so," she told reporters.
Social safety net
Although government touts the introduction and implementation of social safety nets as mitigation for removal of subsidy, Nigeria's intriguing history is replete with such failed enterprises. In an exclusive interview with Sweetcrude, Diezani Alison-Madueke, the Minister of Petroleum Resources disclosed that government was working on palliative measures to replace petroleum subsidy which she emphasised does not serve the purpose for which it was intended.
She said the government designed an effective social safety net system to ensure that the massive volume of resources expended on subsidy payments annually is ploughed back to the provision of essential social/health amenities and services to the common man.
"The package would help guarantee improved maternal and child health services while also providing conditional cash transfer scheme to pregnant women in the country, a package which as you know is unprecedented our history. There is also provision for primary school feeding programme, youth employment package which also entails what we call active labour market and public works programmes for youth.
"The novel scheme also allows for electricity rebate, fuel voucher, equipment voucher among other items. Though details of the overall cost implications are being finalised by the Ministry of Finance, suffice it to say that experience from abroad suggests that to establish an effective national safety net system in a country as large as Nigeria would require capital outlay of $100-$200 million annually for 3-4 years window depending on the envisaged design.
As a first step, focus would be placed on designing the outlines and establishing a national registry to allow beneficiary identification. And later the focus would shift to the erection of other relevant building blocks which would spell out the conditions for eligibility, enrolment etc," She enthused.
Prospects
Whatever the reasons for removal of fuel subsidy, indications are that for a country with a reserve portfolio in excess of 36 billion barrels of oil and daily output capacity put at about 3 million barrels per day, a deregulated environment would engender an environment conducive for investments to thrive. Refineries would start springing up across the country, jobs would be created and the country would become a petroleum products refining and petrochemicals hub, at least in the West Africa sub-region.
Granted, prices of petroleum products would increase in the short run, in the medium to long term, investments in development of infrastructure would go up owing to the large volume of human and vehicular traffic, jobs would be created, technology would be domiciled and under such circumstance, the Gross Domestic Product, GDP of the country can only go up.